If you are looking to emulate your DualShock 4 controllers, you should check out DS4Windows for PC. This tool maximizes the potential for your games as it comes with automatic mapping systems for buttons and that's highly user-friendly! In this article, we will show you the best features, some similar alternatives to DS4Windows and everything you need to know to download and install DS4Windows on Windows.
Language(s)English | French | Dutch | Spanish and 11 more.Store(s)Microsoft Store
| | | | |
| --- | --- | --- | --- |
| Name | DS4Windows | Developer | Travis Nickles |
| File Size | 3.5 Mo | Supported OS | Windows |
| Category | Utilities and Tools | License | Free |
| Official Website | www.ds4-windows.com | Rating | |
Download and install Ds4windows on your computer
To Download and install DS4Windows on your computer, follow the steps below:
Download the latest DS4Windows x64 package.
When you run DS4Windows for the first time, it may prompt you to install some drivers (ViGEmBUS, HidHide, FakerInput). The first one is essential, so install it according to your needs. Once you're done, click the Finished button.
If your controller is not yet connected, take the necessary steps to do so. Once connected, it should appear on the main controllers tab with the Default profile selected. For more setup information visit this page.
Features of DS4Windows for PC
User-Friendly Interface
DS4Windows for PC allows you to emulate computer, Xbox and Playstation games using any handheld device. With this software, you can play console and PC games even if it's not compatible with the game. DS4Windows has a simple interface that allows you to customize various functions for seamlessly emulating any game on your device. Its user-friendly interface also guides you through the initial setup process, allowing you to create many systems and profiles for a particular game.
Add Profiles and Options
Profiles allow you to switch through numerous functions and options for your controller. With DS4Windows for PC, you can create as many profiles as you would like to make. The more profiles you create, more it will be easier for you to switch your controller to a different profile automatically. With this tool, you can either set functions and options for individual profiles on a particular game or you can link different profiles to several different games. This allows you to directly launch the game with the specific profile you have chosen.
Customize your controller
DS4Windows allows you to customize various functions and options for your controller. It has preset options where you can choose your controller between a gamepad, joystick, keyboard or mouse. It also has other functions that include gamepad with a gyro mouse and a high-precision camera. DS4Windows has various gyro modes that can be easily controlled with any of these options. With these modes, you get separate functions like inverting X and Y, smoothing and sensitivity. One of the best things about the customization tool is that DS4Windows controllers can also be remapped into virtual gamepad or keyboard and mouse control.
Rumble and Haptic Feedback
DS4Windows desktop app enhances your gaming experience thanks to its Rumble and haptic feedback. Vibration plays a major role in modern-day controllers. With this tool, you can enjoy real-time effects on your games when connected via bluetooth or a wireless device. DS4Windows for PC offers you accurate and reliable wireless rumble and haptic support for your DualSense controllers.
Community Support
Ever since DS4Windows for desktop was released, it has received unconditional support from its community by launching frequent updates. Thanks to the DS4Windows community, this tool has many updates ensure a fast and reliable experience with new-generation controllers. One of the best upgrades it has received is that DS4Windows is not limited to only Playstation 4 or Playstation 5 controllers. DS4Windows can connect your handheld device with any DualShock 4 or DualSense controller. Now you can connect your Xbox controllers, Nintendo Switch or even generic controllers using the DS4Windows desktop app.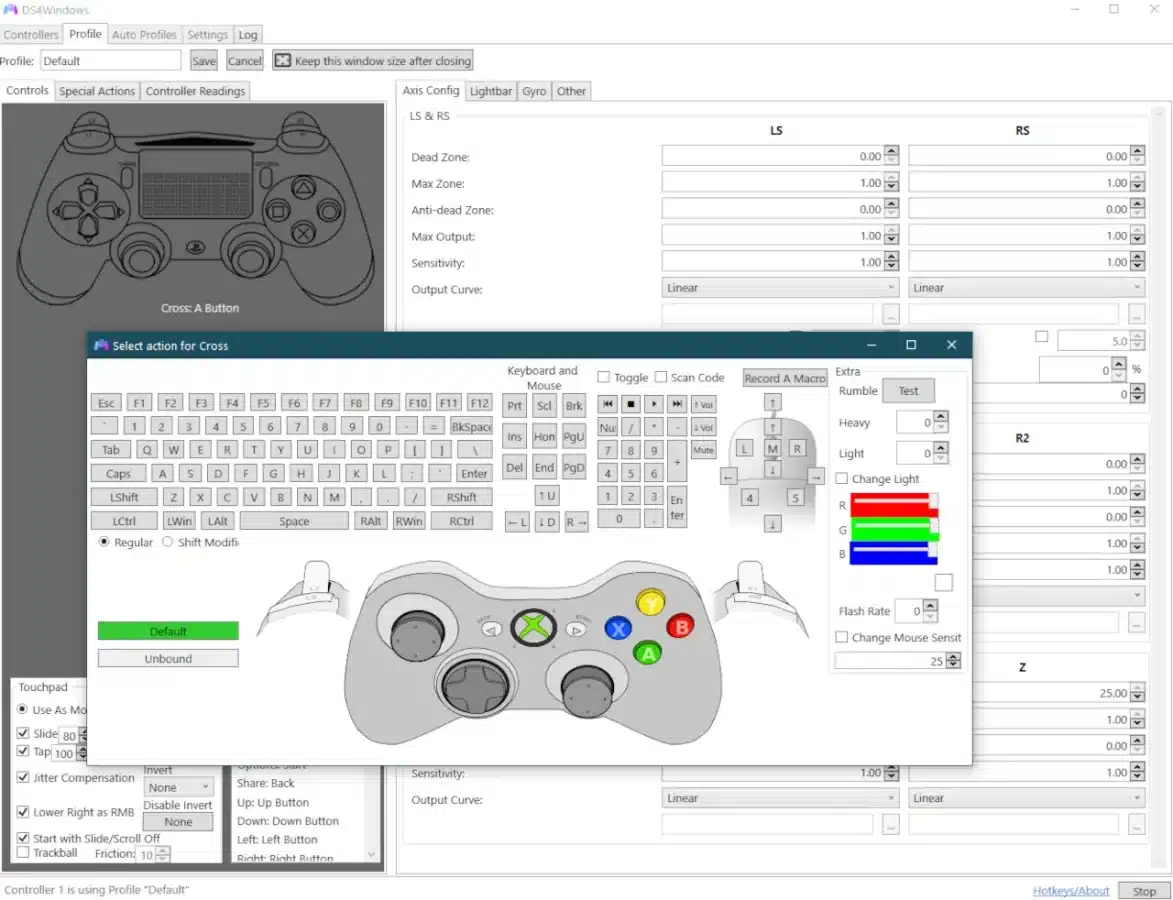 Alternatives to DS4Windows for PC
This tool allows you to connect your DualShock and DualSense controllers with the help of Bluetooth, USB or both. DualSenseX is a great tool to check whether your controller is working properly. Here you can test different configuration settings to map a game to your controller. DualSenseX gives you the freedom to choose many games where you can connect your DualShock and DualSense controller.
With this tool, you can configure various vibration and adaptive trigger modes for your controller. For instance, if you have a PlayStation 4 controller but want to play games that are designed for Playstation 5 controllers, you can simply map different functions and options to one another. Mapping functions with DualSenseX can also be useful to emulate games that don't support your controller.
This is another great alternative for the DS4Windows desktop app that allows you to configure your controller to make it compatible with non-compatible games. Xpadder can't only be used to play non-compatible games on your computer but you can also set up controls to manipulate buttons and original movement keys. With Xpadder, you get the ability to use more than 10 controls simultaneously in multi-user games.
This allows you to link various buttons of your controller, keyboard, mouse or both to a specific function. This tool can also be used to create and share the configuration settings of your controller with other controllers. It is useful when you are setting up multiple controllers with Xpadder. One of the best features of this free tool is that Xpadder is designed for every controller that your Windows OS can recognize. This allows the software to work well with joysticks, gamepads, steering wheels and other gaming controllers.
reWASD is a good alternative for those who use the Xbox 360, Xbox One or Xbox Elite controllers. reWASD is a powerful gamepad mapper that allows you to remap your Xbox controller with a keyboard and mouse. reWASD also allows you to link your controller functions with Xbox elite paddles. This turns your handheld device into a Macro and Turbo controller, a must-have tool to enhance racing and surfing games.
It's also straightforward to switch between DualShock and DualSense controllers using the reWASD tool. This tool can't only be used to remap the Xbox controller but you can also assign several buttons to your keyboard and mouse to replicate the functions of your controller. Another great feature about reWASD is that you get full control of the Xbox, DualShock, DualSense and Nintendo controllers all in one place.
Frequently asked questions about DS4Windows for PC
What DS4Windows for PC is for?
DS4Windows for PC is an excellent tool to emulate your DualShock 4 controllers with your handheld device. It comes with various automatic mapping systems that can enhance your gaming experience together.
Does DS4Windows for PC work on Windows 11?
Yes, the DS4Windows desktop works well on Windows 11. However, ensure the system requirements are met to use this software on Windows 11.
How do I connect my PS4 controller to my PC Wired Windows 11?
DS4Windows can automatically detect your connected PS4 controller, if you are facing any issues, you can manually enable Playstation configuration support. Simply go to DS4Windows settings where you will get access to Controller settings. Here you can check whether you have enabled PlayStation configuration support.
What is better than DS4Windows for PC?
DS4Windows is the best software to use to emulate console games on your controller. However, check the alternatives we have mentioned that are equally as good as DS4Windows, each offering almost the same functions.
Why is DS4Windows for PC not working?
There could be various reasons why DS4Windows may not be working. Check if your controller's battery is dead. Maybe you are too far from the PlayStation and lost your Bluetooth connection. You may also want to check whether you have enabled PlayStation configuration support on the DS4Windows app settings.
Can you get DS4Windows for PC?
You can easily download the DS4Windows on your PC. This is a must-have tool for any controllers that are especially not compatible with games made for other controllers. To download DS4Windows on your computer, all you have to do is to go to the official website and download the software.