If you are a content creator and want to have the best quality videos for your followers, FlipaClip is the right choice. The application allows you to draw, animate and share videos with an easy-to-use interface. The app is not officially available for Windows but we have the solution and will show you the detailed steps to download and install FlipaClip for PC Windows with an added description of the app features.
Name
Flipaclip
Developer
Visual Blasters, LLC
Year of Launch
2013
File Size
150 Mo
Supported OS
Android | iOS
Category
Graphics and Design
License
Free
In-App Purchases
View the listCustomize onion settings | $0.99
Customize canvas sizes | $0.99
Back up projects | $0.99
Add longer videos | $1.99
Fight – Sound FX | $1.99
Toons – Sound FX | $1.99
Language(s)
English | Spanish | Hindi | Arabic and 26 more.
Store(s)
Google Play Store | App Store | Amazon Appstore
Official Website
www.flipaclip.com
Rating
Install FlipaClip for PC Windows using an emulator
BlueStacks and MEmu Play are famous Android emulators that work well with Windows and MacOS. With them, you can download and install Android and iOS applications on your computer and also use external hardware like your mouse and keyboard.
Is FlipaClip for PC Available for Windows 11?
Yes, FlipaClip is available for Windows 11. You can install it with an emulator on your computer which is a software that emulate another operating system on a host. If the device fulfills the requirements to run the emulator, you can easily download and install FlipaClip by following the methods above.
Features of FlipaClip
Animation tools
The tools and controls of the application are highly intuitive and practical, making the frame-by-frame animation easy to achieve. It supports Samsung S Pen and the Sonar pen so you can flipbook-style animations. There is an onion skin animation tool, back and forward animation controls and more.
Inserting Image and Video
FlipaClip allow you to insert and animate images on top of the videos and add a rotoscope. The option of overlay grid that the app supports is highly lauded.
Drawing tools and animation layers
Brushes, multiple font options, lasso and ruler shapes are all free options. The custom size of the canvas is up to 1920×1080 pixels and provides three free to use layers. To add more layers, you need to take the pro subscription, which lets you add up to 10 layers.
Audio tools
With the voice recording option, you can add a dialogue and music to the animation. Also, the application let you import your own videos for a very low cost. Up to eight audio clips can be added and edited from audio tracks for free.
Sharing options
The application let you easily share your animation anywhere on social media sites, YouTube, Instagram, TikTok or Facebook for example and it doesn't claim copyright to the content created with, optionally the user can monetize his videos.
Competition opportunities
If you are learning animation, you can compete in the different kinds of contests organized which will help you to learn faster and even help you to pick up some new skills. Similarly, for advanced users, these contests allow them to brush up on their skills. These contests lead to exciting prizes while having fun.
Movie creation
You can make animated movies with these awesome features which can be saved and shared as MP4 or GIF files. FlipaClip support PNG sequences with transparency for movies but the creation feature comes under the premium subscription.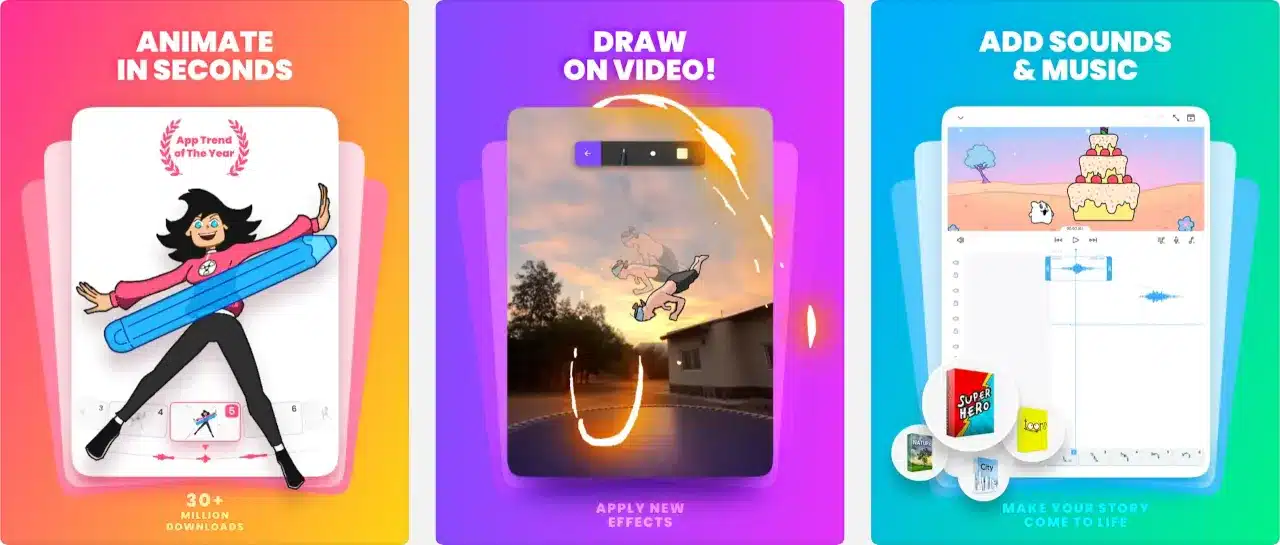 Alternatives to FlipaClip for PC Windows
If your computer is not compatible and you can't install FlipaClip or you simply want to try another application with same features, we have some to show you. The four most popular and creative alternatives to FlipaClip are mentioned below with their features.
It's an open-source 2D animation application that allow to transform any vector shape into another. Simply set the positions of the vector images and the app automatically calculates the twining frames. With this app you can have 50 layers for designing and animate. The best tool allow you to design cut-out animation with bitmap images along with the ability to control all the vector art. Additional layers of skeleton distortion allow you to put out complex deformations in your bitmap art.
This is a 2D animation application with a very straightforward UI. It's free and provides a hand drawing environment for painting and animation. Both vector and bitmap graphics are supported. You can switch between vector and raster workflows anytime while you are making your animation design. The UI is lightweight and minimalist, providing a highly immersive experience.
If you are an anime fan, you will be surprise with the OpenToonz app which is free and can be used by anyone for industrial production or for social media websites for example. It has a GTS facility, a scanning tool that provides compatible scans in black and white, colored and binary (with or without). Both sheet and timeline interfaces are available and plug-ins make it easy to use more effects. Finally, it's easily compatible with both raster and vector images.
The Animation Desk application is one of the favorites from beginners and advanced animators alike. It provides story boarding, sketching and animating tools. You can create animation over videos, PSD layers and even images. Drawing frame-to-frame animation and sharing it on social media websites on your storyboard is highly convenient with it.
Frequently asked questions about FlipaClip for PC
Why use FlipaClip for PC?
FlipaClip has a very high ratings on Google Play Store and is an easy-to-use option for all animators.
Is FlipaClip good for animation?
Definitely, the app is very good both for beginners as well as the experts and have a very easy-to-use interface with loads of cool features as an old-school vibe. All the features are mentioned above.
How do I install FlipaClip for PC Windows?
To install FlipaClip on Windows, you need an Android emulator such as BlueStacks or Memu Play and install FlipaClip through it.
Is FlipaClip copyright free?
According to the FlipaClip support page, they don't claim any copyright on the animations drawn with the app. Users can monetize videos made with FlipaClip by putting them on YouTube for example.
How long can a FlipaClip for PC video be?
The free version of the app allows only six seconds of video import, a viable option if you're making videos or animation for social media sites. With premium availability, you can even create a movie.