If you are looking for a video conference application where you can remotely work with colleagues, clients or friends, Google Meet for PC is definitely worth a try. This is a leading software made by the tech giant where you can organize virtual meetings, share your screen or present slides and documents for example. This article will show you every features Google Meet has and provide you some alternatives you might like.
| | | | |
| --- | --- | --- | --- |
| Name | Google Meet | Developer | Google LLC |
| Year of Launch | 2017 | File Size | 171 MB |
| Supported OS | Windows | MacOS | Android | iOS | Browser | Category | Video Conference |
| Language(s) | English | Spanish | Portuguese | Hindi | Arabic and 26 more. | Store(s) | Google Play Store | App Store |
| Official Website | meet.google.com | Rating | |
Download and install Google Meet for PC Windows
By using your browser
Google Meet can be used on your computer fairly easily. This powerful virtual meetings software can be used for free by simply typing google.meet in your browser. You can also install the Google Meet PWA (progressive web app) by clicking the Install button at the top right corner of the home page or put the Chrome Extension to your browser.
By installing it with an Android emulator
BlueStacks and MEmu Play are famous Android emulators that work well with Windows and MacOS. With them, you can download and install Android and iOS applications on your computer and also use external hardware like your mouse and keyboard. This method can be useful for those have laptops with touchscreen or prefer the Android version.
Here is how you can download and install Google Meet on your PC using BlueStacks or MEmu Play:
Head over to BlueStacks or MEmu Play and install the emulator of your choice.
Launch the emulator and open Google Play Store.
Log in to your Google Play Store account and search for the app Google Meet.
Select the app when Google Meet icon appears in the search results and click on the

Install

button.
When the installation is complete, Google Meet icon will appear on your emulator's home screen.
Click on the icon to launch the application on your computer.
Features of Google Meet for PC
Create Meeting:
On Google Meet, a meeting can be immediately created. To begin a new meeting, simply enter google.meet into your browser.
Join Meeting
By entering the meeting code that was sent to you, you can join and participate in an existing meeting.
Create Future Meeting
You can create a meeting for later by sharing the meeting invitation code with other people.
Schedule Meeting
If you don't want to send invitations manually, you can schedule your meetings from your google calendar. It will send invitation links to everyone you have listed in your schedule.
Real-time Captions
Google Meet's text-to-speech allows you to read the transcript of every word that is being spoken.
Share your Screen
You can share valuable information with the audience by sharing your entire screen or a specific part of your screen.
Safe to Use
Google Meet is extremely secure. No one can attend the meeting unless they are specifically invited to do so by the host and co-host.
Add Co-Hosts
The Host Management option in Google Meet enables you to add up to 25 co-hosts to your meetings.
Lock Audio and Video
To prevent attendees from sharing their audio and video feeds during a meeting, you can lock the audio, the video or both.
Noise Cancellation
This helps you to limit all interruptions during your meeting. Background noises like traffic, keyboard typing, door and appliance sounds, construction and other noises are automatically filtered out by Google Meet.
Google Meet for PC : Saver mode
You can make your data have lower consumption and also preserve your battery life and limit CPU usage by activating the saver mode during a meeting.
Google Meet for PC : Backgrounds
Google allows you to add backgrounds for your video meetings. You can change your background by replacing it with an image or a video, by blurring the background or by using a 3D background.
Customized Video Filters
You can customize your video by applying various styles and filters such as color filters, themes, stylized backgrounds and more.
Layouts
You can automatically save your layouts for future meetings by changing the number of attendees you see on your screen.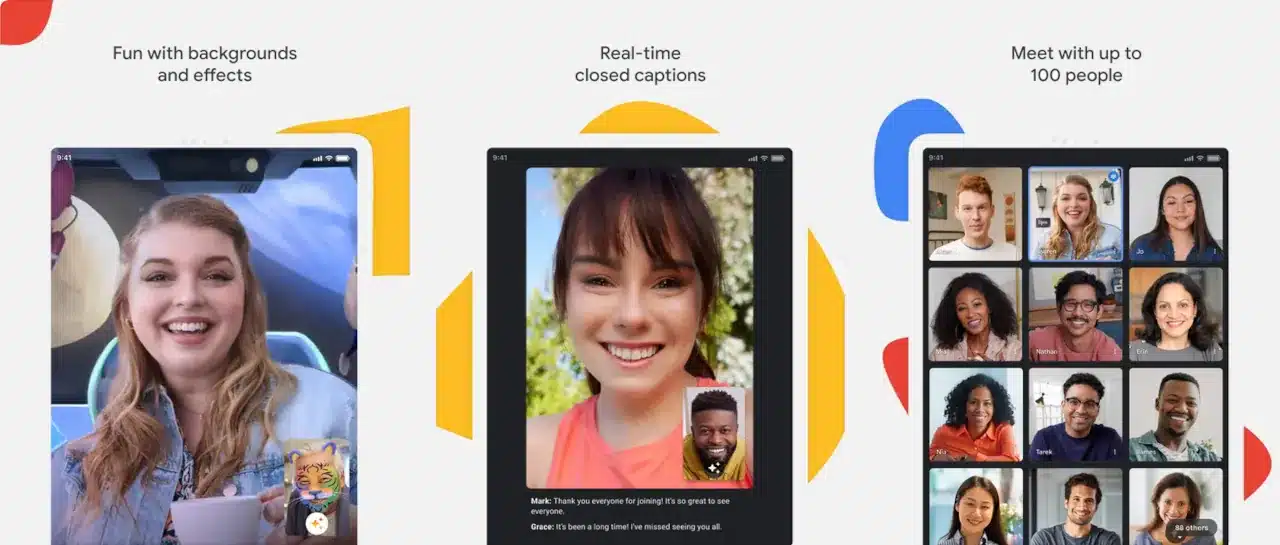 Alternatives to Google Meet for PC Windows
One of the most popular virtual meeting platforms, Zoom allows you to organize video conferences, work together on projects, and send direct messages. It is easier to sync your data across different operating systems when using this app, which can be used on various other devices. The primary purpose of this application is to make organizing webinars in workplaces, colleges, and schools more convenient. Although Zoom can be downloaded and used for free, it also has various subscription-based services that allow you to use more features.
Thanks to its straightforward interface and setup procedure, this application has gained popularity among business clients, coworkers, and teachers worldwide. With Zoom, you can not only set up video calls but also share files, send text messages, share screens and more. This application is also useful for feedback and reviews, allowing you to download manual transcripts and captions.
You can create or join webinars and virtual meetings using the Webex Suite communication and virtual conferencing platform. This application, created by Cisco, has many features, including voice and video calling, screen sharing, messaging or setting up online conferences for example. The market-leading software Webex Suite can be used on various devices. This is the ideal platform for companies, celebrities, and influencers who want to connect with a broad audience. Up to 40.000 participants can join a conference meeting using Webex Suite. This program is loaded with tools and features to support large and small businesses. Webex Suite allows you to express your gestures with on-screen emojis when you are at a virtual conference with a group of friends.
One of the most widely used virtual meeting platforms, Microsoft Teams, is packed with features that can be relied upon. Ever since its release, MS Teams has built a broad user base that allows anyone to organize and participate in online meetings and webinars on various platforms and devices. This application's user interface is incredibly quick, error-free, and responsive, making it simple for you to work on tasks. It has already established itself as a top platform for companies and enterprises worldwide.
The ability to integrate MS Teams with other Microsoft Office products makes it an attractive option for regular virtual meetings in offices and classrooms. This application has many features, including a messaging tool, file and screen sharing, task organization and collaboration, and more. With Microsoft Office, you can also connect with many people and create a shared workspace, allowing you to add up to 25.000 participants in a meeting.
This fantastic alternative enables more effective video conference calls with other people. With a simple user interface and robust features, BlueJeans Meetings can attract a large number of users. This application was created using cutting-edge technology like Dolby Voice, which makes it one of its best features. With the help of this technology, you can speak and hear clearly.
Regardless of the device or platform, video calls have a natural feel, as if you are conversing and listening to others in the same room. You can also set reminders for online meetings using this application, which can sync with your default calendar program. The BlueJeans Meetings software also measures a cloud-based security protocol, which is another positive feature. OTP and AES-256 encryption are used to protect your meetings. This feature is crucial to have because it protects your shared files and conversations while working remotely.
Another social and communication tool from Alphabet Inc. is Google Chat. Here you can make video calls and send messages, emojis, share photos and more. With this application, you can chat in groups and send text messages to any device for offline use. In addition, you can hold simultaneous video calls with up to 10 people. Google Chat is available on many platforms and can be accessed directly from the web, application or as a Chrome extension. You can keep up with other users who have a google account using its straightforward interface.
This program's features are quite comparable to those of Google Teams and other messaging apps. However, Google Chat is solely a social app where you can connect with your friends and send messages, videos, photos and emojis, unlike Google Teams, which is primarily used for online meetings. Although, Google Chat can still be used for brief video conferences.
Frequently asked questions about Google Meet for PC
Why to use Google Meet for PC?
Google Meet for PC is an excellent choice for organizing virtual meetings with colleagues, clients and friends. Its modern and fast interface makes it easy to share your screen, present slides and documents or generate real-time captions for example.
Is Google Meet for PC free?
Yes, Google Meet is 100% free on PC but if you are using Google Workspace, you can also opt for its various paid versions for businesses and enterprises.
How to Use Google Meet on PC?
To use Google Meet on your PC, go to your browser and type google.meet. Now you can either create a meeting or join a meeting by entering the code sent to you.