Happy Color for PC by Number has a huge fan base. Most of the audience of this game are young kids and developers claims that Happy Color by Number helps kids to enhance their creativity by giving them the choice then to associate a colors with a number on an image. This game application is easy to understand and has been created only for Android devices but here we will show you how to download and install Happy Color on Windows or MacOS.
Download & Install | Features | Alternatives | Frequently Asked Questions
Name
Happy Color by Number
Developer
X-FLOW LTD
Year of Launch
2020
File Size
192 MB
Supported OS
Android | Windows | iOS
Category
Game
License
Free
In-App Purchases
View the listRandy the Raccoon pack | $1.99
Captain America picture pack | $2.99
Invincible Women picture pack | $2.99
Spider-Man picture pack | $2.99
The Avengers picture pack | $2.99
Guardians of the Galaxy pack | $2.99
Iron Man picture pack | $2.99
Love Stories picture pack | $2.99
Remove banner and interstitial | $7.99
Remove ads | $7.99
Remove banner and interstitial | $7.99
Language(s)
English | Arabic | Finnish | French | German and 14 more.
Store(s)
Google Play Store | App Store | Microsoft Store | Amazon Appstore
Official Website
www.xflowgames.com
Rating
Install Happy Color using MEmu Play or NoxPlayer
MEmu Play and NoxPlayer are free Android emulators who are mainly used for gaming purposes. They have flexibility and fast performance and are considered as the best choice to download and install Happy Color by Number game.
To download and install this application on your computer, here is what you need to do:
Go to MEmu Play or NoxPlayer official website to download and install the emulator on your computer.
After the installation, open the MEmu Play or NoxPlayer software.
On the home screen of the chosen software, you will find the Google Play Store icon, which comes preinstalled with it.
Click on the Google Play Store and type Happy Color by Number on the search bar with developer's name X-flow.
Click on the

Install

button to get the app on the emulator's home screen.
Once the game is downloaded and installed, you can access it through the emulator.
Features of Happy Color by Numbers
Here are some of the most exciting features of Happy Color:
Happy Color has thousands of images available in its image gallery and can be used for creating artwork or painting.
The gallery is segregated into categories such as sport and puzzle for example.
The application has a simple user interface thought for young children.
The paint brushes are also sensitive and work smoothly on the screen.
The app has an eraser option that allow you to undo any wrong paintwork.
You can add external hardware such as a mouse and keyboard to have a better holding about your artwork on your computer.
You can also check this video about Happy Color on YouTube.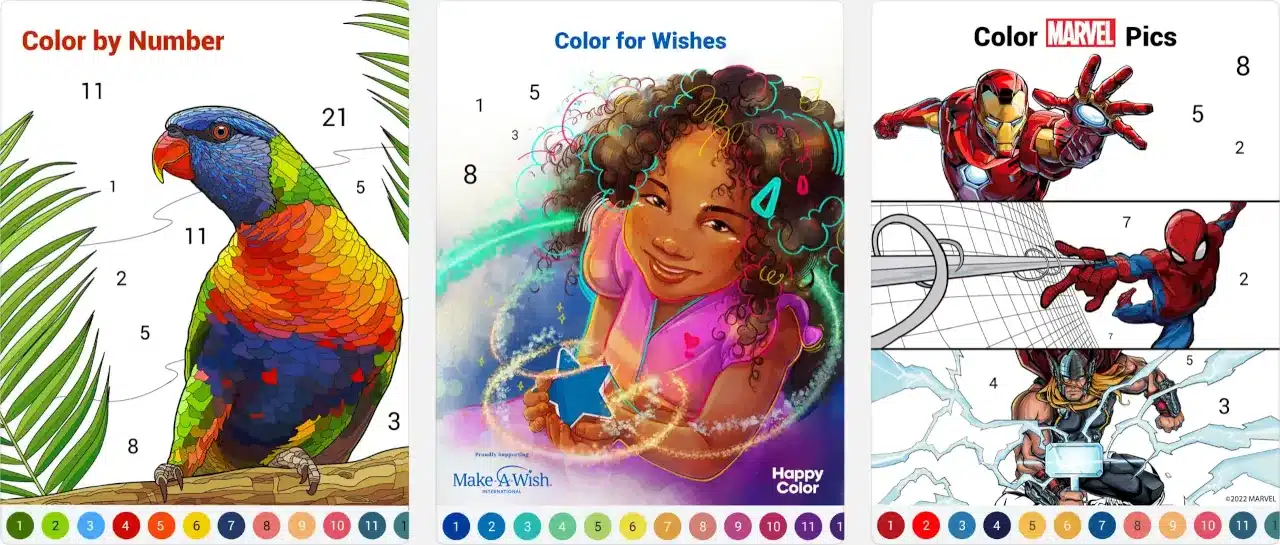 Alternatives to Happy Color by Numbers for Windows
The first one is Paint by Number, a game application that allows you to draw and colorize your artwork using the coloring by numbers option. The app includes several pages with coloring books and puzzle options. You can also paint over an image from the app gallery or add one from your computer. Interestingly, the app image gallery is updated so that you will find new things daily.
The Paint by Number app allows you to create mandala designs, design quotes with unique colors, floral prints and various theme-based coloring designs. The color palette includes solid colors or gradient color for example. You can also share your artwork with your peers on social networks. The Paint by Number application also has a Premium version which unlock all the gallery images and removes ads and watermarks from the final artwork.
Paint.ly – Color by Number Art is another good alternative to the Happy Color by Numbers. It's a fun game that allows children to colorize pictures with a great platform.  All the pictures in Paint.ly are marked with a number which allow users to color it only with the predefined number, you can't use more than the given numbers but you can find hints to be used to find the numbers if you get stuck. Paint.ly has several themes available to choose and you can share your final work with your friends on social media.
Happy Wheels is slightly different from the above games and is a good choice to replace Happy Color by Numbers. The Happy Wheels game is based on the laws of physics and has several obstacle courses. Over a billion game have been played and completed worldwide. The game is about a racer that is not ready to go and must avoid obstacles to win. Happy Wheels has more than 60 different levels and many challenges to complete.
Last on our list is Happy Glass. The game is about an empty glass, which is sad because it has nothing. The player's job is to make the glass smile by drawing a line over the glass to fill it with liquid content. There are several levels and each level is more complicated than the previous one. There are no rules to fill the glass so use your creativity and find the best ways to do it. While some levels are easy to complete, getting 3 stars for any level will be a challenge.
Purble Place is a suite of three games and was developed by Oberon Games and is included in Windows 7. The collection has a single home screen that offers three packs of games: Purble Pairs, Comfy Cakes and Purble Shop.
Frequently asked questions about Happy Color by Numbers
Why play Happy Color on PC?
Happy Color is a great game and for those who love painting, it's a total stress buster with great features and has many options available. Playing such an exciting games like this on your computer is always better than on a smartphone. So, enjoy coloring pictures and designs with Happy Color by Numbers.
Is Happy Color available on PC?
Although there is no official version available for PC, you can run Happy Color by Numbers on your computer with an Android emulator such as NoxPlayer or LDPlayer.
Can Happy Color run on Microsoft?
You can play Happy Color by Numbers on your Microsoft Windows using an Android emulator.
Is happy Color available on Android?
Yes, Happy Color is an application developed for Android devices only.
Can I play Happy Color online?
Yes, you can play Happy Color by Number online as an HTML5 game and downloading and installing the game on your computer isn't required.
Can I play Happy Color offline?
Yes, the Happy Color by Numbers application can be played offline without internet.
Is Happy Color free?
The Happy Color – Color by Number application is free and can be played on your smartphone and Windows.