Mozilla Firefox for PC is a widely used, light and organized open source web browser. It is regularly one of the top 3 most used browsers globally and is likely to remain so with the release of Firefox 30. The prime reasons for its popularity are its user-friendly UI, swiftness and reliable security features. Developers particularly appreciate Firefox's open source development as well as an active community of advanced users.
Features | Download & Install | Alternatives | Frequently Asked Questions
| | | | |
| --- | --- | --- | --- |
| Name | Mozilla Firefox | Developer | Mozilla Corporation |
| Year of Launch | 2002 | File Size | 106 Mo |
| Supported OS | Windows | MacOS | Android | iOS | Category | Web Browser |
| Language(s) | English | Spanish | Hindi | Arabic and 27 more. | Store(s) | Google Play Store | App Store | Microsoft Store |
| Official Website | www.mozilla.org | Rating | |
Mozilla Firefox for PC Features
Firefox is available across multiple platforms, from the classic Mac and Windows personal computers to modern Linux systems, Android and iOS mobile devices. The latest version of Firefox even supports synchronization between these devices so you can easily access your browsing history, open tabs and bookmarks no matter which device you are using.
Easy of Browsing
Mozilla has put a lot of effort into streamlining their user interface to make browsing faster and more efficient. They created the tab structure that other browsers have since implemented, as well as maximizing browser area by condensing toolbar controls to one Firefox button containing settings | options and back | forward buttons. The URL box comes with direct Google Searching and the Awesome Bar that predicts and stores history. Below the URL box stand bookmarking, history, refresh, view, download and home buttons on the right side of the box.
Speed
Firefox is widely known for its fast page loading speeds due to its powerful JagerMonkey JavaScript engine. It also features speedy start up times and graphics rendering, making it one of the most efficient internet browsers available. Complex video and web content can be displayed seamlessly with the help of Direct2D and Direct3D graphics systems. Furthermore, Firefox's Crash Protection feature ensures that if a plugin malfunctions, the rest of the content remains unaffected. All you need to do is reload the page and the affected plugins will be up and running again. The Tab system and Awesome Bar has also been optimized for quick launching and results.
Security
Firefox was the first to take steps towards safeguarding your identity with its private browsing feature. When you turn off the browser, all traces of personal data such as history, passwords, are effectively wiped out – thus preventing other users from accessing them. To further guarantee safety while browsing online, Firefox also provides content security, anti-phishing technology and antivirus | antimalware integration. This way, you can enjoy your internet sessions with peace of mind.
Customization
Customizing the Firefox UI is extremely simple: Right-click on the navigation toolbar allows you to modify components or simply move elements around with a drag and drop motion. Additionally, the inbuilt Add-ons Manager provides users with access to reviews, recommendations, descriptions and an array of add-ons that can be installed directly from within the browser. For those looking to modify the look and feel of their browser, an extensive selection of themes are available. Furthermore, Mozilla's open source platform along with its advanced API allows developers and creators to create powerful applications and content.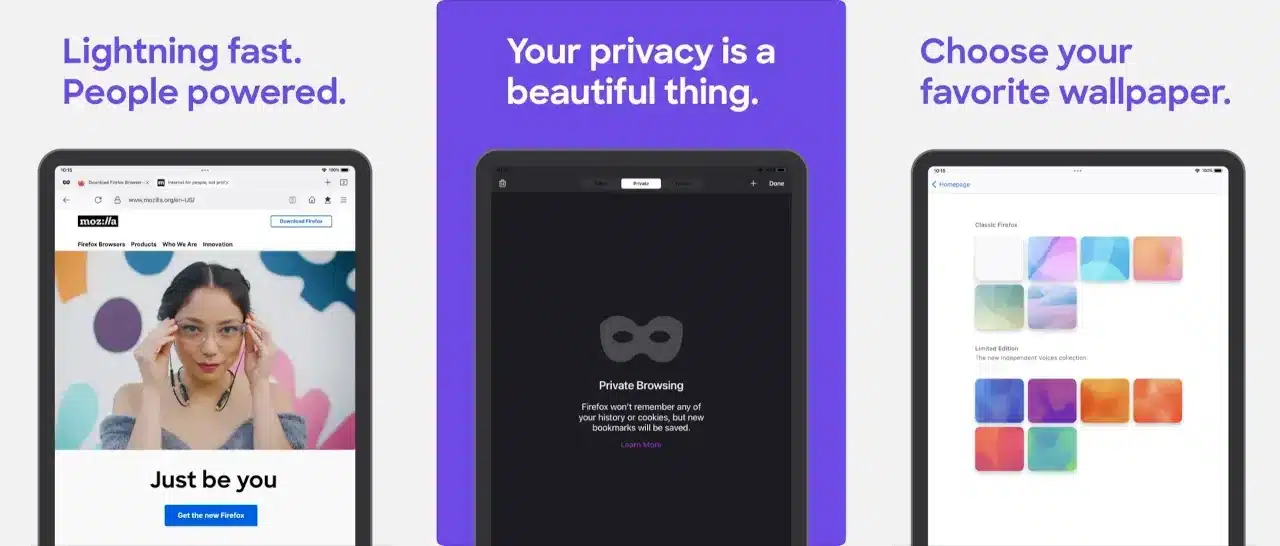 How to install Firefox for PC Windows
1.Install from Mozilla's download server
Visit the Firefox download page in any browser.
Click the

Download Now

button and Open file in the Downloads notification to start the process.
Allow User Account Control to make changes to your computer when prompted.
Wait for Firefox to finish installing, then double-click the icon that was placed on your desktop to open it.
Congratulations, you have successfully installed Firefox!
2.Install from the Microsoft Store
Click the Windows icon located on the taskbar and open Microsoft Store.
In the search bar, type Firefox and press Enter.
Select Mozilla Firefox from the available applications.
Click

Get

to begin installing Firefox.
Alternatives to Firefox for PC Windows
Google Chrome is one of the most popular web browsers on the market and has a ton of features. It can synchronize with other Chrome browsers that you may have on other devices, it has a built-in password manager, and its incognito mode allows for private browsing.
It is the default browser for Windows 10. It load fast page loading speeds and has integrated Microsoft services like Bing, Office 365 and Skype. It also includes a few unique features that make it stand out from the competition, such as its newsreader, Reading View mode and tab preview.
Another great Firefox alternative is Brave Browser. It's a relatively new browser but has been gaining traction in the tech industry due to its privacy features and built-in ad blocker. Brave also offers additional features like automatically changing your IP address for improved security, support for Ethereum-based tokens and integration with Tor for anonymous browsing.
This browser has recently gained a lot of popularity due to its speed and security features. It comes with an integrated ad blocker, a VPN and a built-in cryptocurrency wallet. You can also customize the look of your browser with themes and backgrounds.
Frequently asked questions about Mozilla Firefox for PC
Is Mozilla Firefox for PC Safe?
Firefox, created by the Mozilla Corporation, is known for its regular security updates that make it a secure browser. It's constantly scanned for viruses and other malicious threats to ensure optimal protection while browsing online.
Can Mozilla Firefox be Used on a Mac?
Yes, Firefox for MacOS is available on the official Firefox's homepage in downloads for Mac section. Automatic system type detection can occur when downloading the software.
Is Firefox free on PC?
Yes, Firefox is free to download and use on PC. It has been around for many years now and continues to be one of the most popular web browsers in the world due to its features, reliability and its simple user interface.