Looking for a way to mod your GTA 5 game? Script Hook V for PC is the software to have. Script Hook has powerful tool features, you can add features and customizations to the game. Here we will show you some of the best features, alternatives of Script Hook V and how to download and install Script Hook V on Windows 11 | 10 | 7.
| | | | |
| --- | --- | --- | --- |
| Name | Script Hook V | Developer | Alexander Blade |
| File Size | 1.3 MB | Supported OS | Windows |
| Category | Game Modding | Language(s) | English |
| Official Website | www.dev-c.com | Rating | |
What is Script Hook V for PC and how to install it on Windows
Script Hook V is a GTA modding tool that allows you to add various customizations and modded features to your gameplay. The fact that this tool is open-sourced makes it available for anyone who wants to make contributions to the GTA community and customize the game. The plugins in Script Hook V are particularly made for Grand Theft Auto IV and V which enables you to unlock more flexibility and fascinating features.
Being one of the top-rated GTA modding tools, it allows you to access any scripts programmed in the .NET and C | C++ languages. Furthermore, you can also contribute and improve the community by implementing plugins based on the .NET and C | C++ languages. They are extremely easy to customize where you can view the changelog and alter its functions to make your own mods.
To install Script Hook V on your computer follow the steps below:
Download the file from the official website.
Copy the

ScriptHookV.dll

to GTA V main folder.
To load ASI plugins, you need to download the ASI loader tool first.
You can either download it from internet or use the one that comes pre-loaded with Script Hook V for Windows.
Launch the game and you can access the modded menu.
Example of some mods from Script Hook for PC
You can use many cool features with the Script Hook V and can be implemented once you have activated specific modules in the game. Within these modules, you can view or alter various .ASI contents to further tweak your gameplay such as altering the weather, unlimited money, unlimited ammo or huge jump for example, you can choose a lots of mods to enhance your GTA V gameplay experience.
Character Mods
You can change the default character in GTA V with celebrity characters, cartoon characters or animals for example. Within this mod, you can also teleport to other areas on the map, recover your HP and get unlimited money. You can also choose to lower or increase the wanted level by the police or you can even turn it completely off. Other character mods include faster running and swimming, super jumps, noiselessness and other endless players.
Vehicle Mods
This modding tool allows you to change the appearance of the vehicle where you can ride many popular cars like Mercedes, Ferrari or Lamborghini. You also have the freedom to alter the acceleration, transport the spawner, rotate the vehicle and repair it instantly. You can alter the car so it doesn't even get damaged and you can paint it, this thing isn't possible with the GTA V vanilla script.
Weapon Mods
This mod should be a necessity as you will mostly be spending time using weapons to complete missions. It will allow you to quickly complete your objectives and missions to move to the next round. With Script Hook GTA V, you can access every weapon in the game. Whether it's guns or missiles, you can fire unlimited bullets by disabling reload of weapons. You can even alter the graphics of the bullet to explosive strikes.
Create and share your own mod
Script Hook V is a powerful modding tool where you can create your own mods for GTA IV and GTA V. To create your own mod, you need to download the SDK tools set for Script Hook V. The SDK is available on the Script Hook V website. You can find many tutorials available on internet to learn how to use the SDK and make mods but you have too be sure to test the mods and read the SDK documentation carefully, as it contains useful information. Once you have created and tested your mods by running them in Script Hook V, you can also share them with your friends and other players. There are various websites and forums where you can share your mods and help the community to grow up.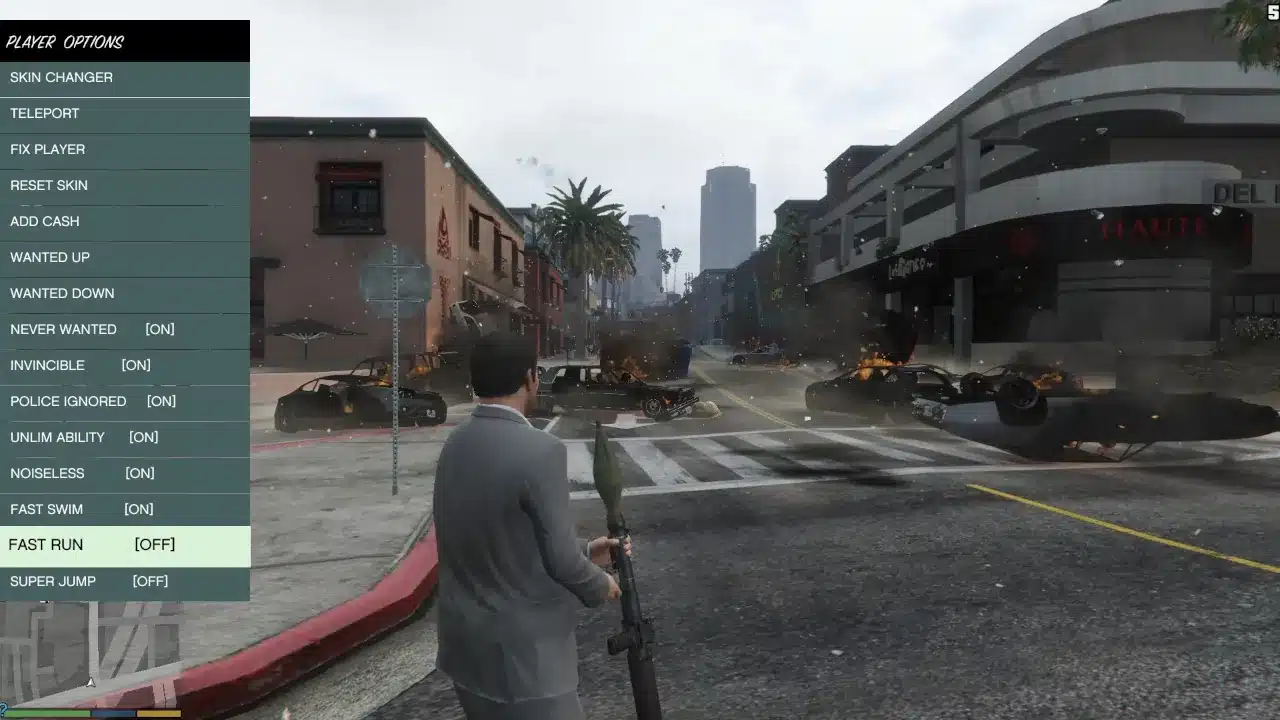 Alternatives of Script Hook for PC
SA-MP is a similar multiplayer online game mod for Rockstar Games. You can fully control the game using the server callbacks provided by this tool. With the help of SA-MP, you can fix many bugs that are commonly found in GTA San Andreas. In addition to fixing bugs, you can also fix range check errors in the server browser. Minor security updates for the server and clients are routinely released by SA-MP which add more than 500 new items to the game, including land and stunt objects.
FiveMP is a free client and multiplayer mod for Grand Theft Auto. By setting up countless servers, you can play Grand Theft Auto with your friends using this tool. Users of FiveMP can build different scripts and run dedicated servers. All devices, including tablets and mobile, are well-optimized for it. It offers you a variety of tools you can use to improve your gaming experience. You can also choose and create your preferred game mode using this software.
FiveM is a modded multiplayer platform for Grand Theft Auto V that offers an incredibly authentic and immersive experience. It allows players to explore the game world, interact with other players, and create custom content. The platform will also allow you to further develop your experience using plugins, other maps and scripts. They have created many support forums for your server and client development where you will find various tutorials on how to use the mods.
This tool is specialized in Grand Theft Auto games and offers free modifications and a mod database. Some of the most advanced mods that can be used in the game are offered by this software. You can customize various mission scripts, vehicles and graphics. Additionally, it offers a search bar from which you can look up the mods you want. The mods offered in this tool give the GTA game a boost and a completely fresh experience.
Frequently asked questions about Script Hook V
How do I fix the Script Hook V error?
Check whether you are running the latest version of Script Hook V as you will face an error if you use an outdated version. You might also face errors if you have an antivirus installed so make sure to disable it before running the software. Also, make sure to open Script Hook V by clicking on Run As Administrator.
Where do I put Script Hook V GTA 5?
You should put the ScriptHookV.dll in the main folder of the GTA V game, where GTA5.exe is located.
How do you open the Script Hook V in GTA 5?
Once you have copied the ScriptHookV.dll to the main folder of GTA V, launch the game and you will find a separate menu for SciptHook V with all the available mods.
Can you get Script Hook V for PC?
You can download the Script Hook V for PC from the official website we have mentioned above. It's a modding tool with many features that allows you to use scripts and GTA V mods written in C | C++ and .NET languages.