The Super Mario Odyssey for PC game, released in 2017, was developed for the Nintendo Switch Console. This action-adventure game let you go in an extensive, global 3D adventure with Mario and his new ally: Cappy but Nintendo only released this game for their Switch customers. Thanks to the internet, you can download and play Super Mario Odyssey on Windows with an emulator.
| | | | |
| --- | --- | --- | --- |
| Name | Super Mario Odyssey | Developer | Nintendo |
| Year of Launch | 2017 | Processor | Intel i5 Gen. 4 |  AMD FX-6350 |
| Graphic Card | Nvidia GTX 1060 | Radeon RX 570 | Memory | 4 GB |
| File Size | 5.6 GB | Supported OS | Nintendo Switch |
| Category | Open World | Language(s) | English | Spanish | Portuguese | Arabic and 28 more. |
| Official Website | supermario.nintendo.com | Rating | |
Install Super Mario Odyssey for PC using Yuzu Emulator
Yuzu is an emulator to simulate the Nintendo Switch console on your Windows specifically.
Follow the steps below to play Super Mario Odyssey through the Yuzu emulator:
You have to download Yuzu from www.yuzu-emu.org and install the lastest version of the Yuzu emulator.
Run the application and click on

File

→ open Yuzu folder →

Keys

. If you don't have the keys folder, you can create one.
Download Super Mario Odyssey's file and start Yuzu then click on

Add New Game Directory

→ select the downloaded game.
Now set controls by clicking

Emulation

→

Configure

→

Controls

→

Custom

→

Configure

→

Player 1: Dual Joycons

→

Enable Docked Mode

→

Enable Touchscreen

. Now click configure next to Dual Joycons and set up your preferred controls.
For graphics settings, click

Graphics

→

API: Vulcan

→

Okay

. Launch the game and close Yuzu. Right-click on the game →

Open Transferable Shader Cache

and put the file from this YouTube Video.
Now you can run the game and enjoy Super Mario Odyssey.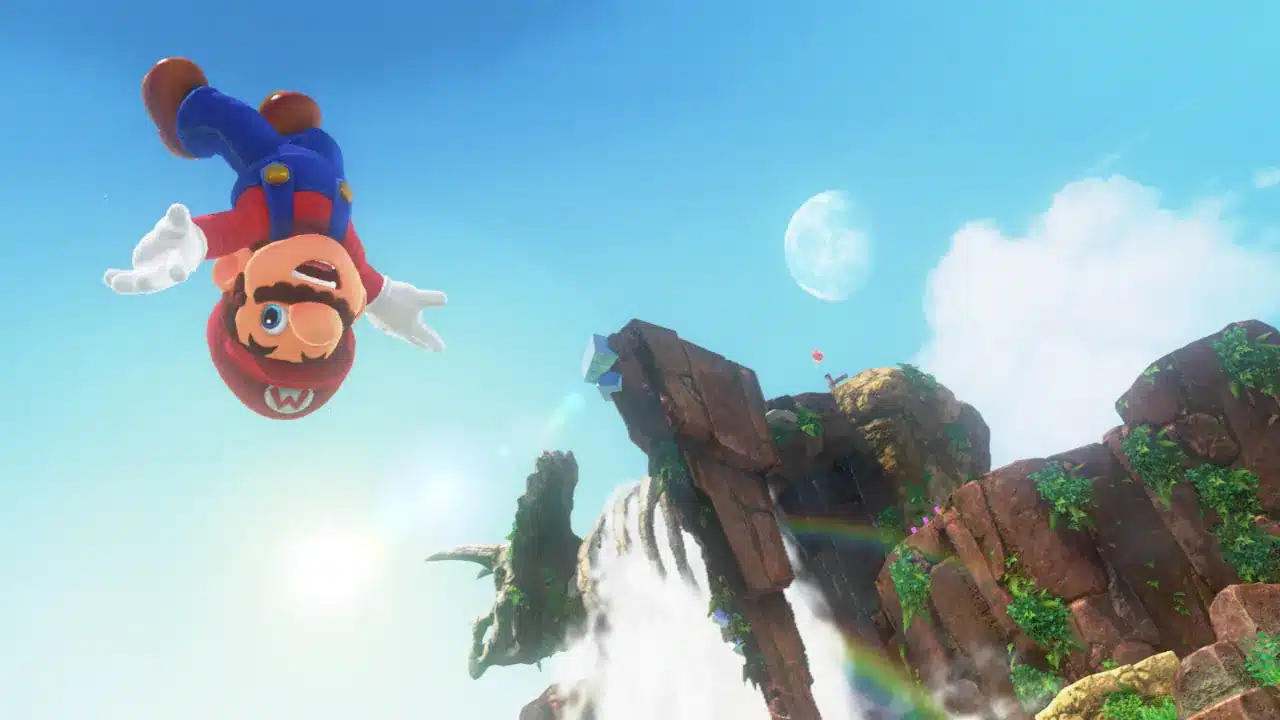 Features of Super Mario Odyssey for PC
Cappy
Mario's hat has always been basic in his previous games, like Super Mario Galaxy and Super Mario Sunshine. This time in Super Mario Odyssey, Mario's cap is called Cappy. Cappy is his ally in the game and enables Mario to capture and essentially possess enemies that attempt to thwart his quest to gather the power moons.
Power Moons
In his 3D adventures, Mario usually has to collect stars. However, the power moons that Mario must capture in Super Mario Odyssey are dispersed all over the place, and you can pursue them in any order you like.
8-bit Platform
If not for the original Super Mario Bros. game, Mario games like this one would not be what they are today. Nintendo has put in a gorgeous 8-bit retro-inspired section in Super Mario Odyssey. Every world has one of these sections, and the only way to get to them is by hopping into a pixelated green pipe.
Snapshot feature
The ability to take screenshots on the Nintendo Switch does exist but it's not quite as awesome as the actual in-game photo feature. It turns out that Super Mario Odyssey does have a snapshot mode that allows you to stop time whenever you want to get the ideal angle.
Dress-up Mario
Mario can buy and change into various costumes in Super Mario Odyssey. If you have experience with other Mario games, you might recognize some of the costumes at the crazy cap shop that you can unlock using in-game currency. It should be noted that these disguises do not grant Mario any upgrades or special abilities.
Alternatives to Super Mario Odyssey for PC Windows
Ratchet & Clank is fundamentally a well-known action shooter. With its pace, the range of interactions, and the variety of objectives, Insomniac does an outstanding job of keeping things interesting. However, the presentation is what really pulls this off. The science fiction setting of the games follows Ratchet and Clank's explorations of the universe as they battle evil forces that constantly threaten it. The series is renowned for incorporating numerous exotic, unusual and extravagant weapons and devices. Ratchet & Clank series combine third-person shooting with action platforming.
A 3D platform video game called Skylar & Plux: Adventure on Clover Island was created by Right Nice Games and Grip Digital. Games like Jak & Daxter and Ratchet & Clank served as inspiration. Third-person controls are used to steer the game's titular Skylar. The game takes place on the titular Clover Island which have various environments such as a ferocious desert, a snow-capped mountains, a volcanic caverns and tropical beaches. Orange crystals that recover the player's health can be collected and the island's residents are called Lo'a.
A Hat in Time is a platform-based action-adventure game created by the Danish game studio Gears for Breakfast and released by Humble Bundle. Hat Kid is an alien girl who attempts to return to her home by finding lost "Time Pieces". Running through an open world while hopping from platform to platform, avoiding obstacles, and collecting stuff are how the game is played.
Four unrestricted levels, that can be explored at any time, are accessible to the player as they can move between them. The player can solve puzzles, gather various objects and use a baseball bat or an umbrella to defeat enemies. The game's main goal is to gather Time Pieces, of which there are 56 in total. As more are gathered, new levels become available.
In Super Mario Party you have to challenge your friend in mini games. You can choose between all Mario's games characters and play online or at your home.
Frequently asked questions about Super Mario Odyssey
How to play Super Mario Odyssey on PC?
Super Mario Odyssey might have been released only for the Nintendo Switch Console but thanks to emulators, it's now available for computers by simulating the Switch Console, Super Mario Odyssey is just a few clicks away. The 12 hours game comes with features that were never seen before in the world of Mario.
Will Super Mario Odyssey 2 come out?
There is no official release date for Super Mario Odyssey 2. However, there are rumors that it might release around the end of 2023 or the beginning of 2024.
Will there be a new 3D Mario game in 2022?
The new 3D Mario game, "Mario + Rabbids Spark of Hope", is set to release on October 20, 2022.
Is Super Luigi Odyssey real?
A campaign called Super Luigi Odyssey was created by Nightcap Devs and is placed during the Super Mario Odyssey game. If you already own Super Mario Odyssey, you can purchase the game as DLC for it.
How many Magnavox Odyssey were sold?
Around 350.000 units of Magnavox Odyssey were sold.
Why was the Magnavox Odyssey discontinued?
Magnavox's manufacturing cost of the software had increased due to rising inflation from about US$37 to US$47, and the company could not increase the retail price to keep up.
How long is Super Mario Odyssey?
Super Mario Odyssey is roughly 12 hours long when you concentrate on the main goals. If you are a gamer who tries to complete every aspect of the game, it will probably take you more than 60 hours to do. There are more than 160 levels to complete because it contains both the base game and its Luigi-themed expansion.