SuperPhoto is one of the most popular filter application, which allow you to edit your pictures using different and unique filters. With over 200 filters, you can edit your pictures and make it unique. If you want more options, you can opt for the paid package which add more than 1300 different effects and filters. In this article we will show you how to download and install SuperPhoto for PC Windows and MacOS.
Name
SuperPhoto
Developer
Moonlighting
File Size
170 MB
Supported OS
Andoid | iOS | Windows | MacOS
Category
Photo Editor
In-App Purchases
View the listUnlock 3D effect category + HD + No Ads | $1.99
Unlock Combos category + HD + No Ads | $1.99
Unlock Backgrounds category + HD + No Ads | $1.99
Unlock Frames category + HD + No Ads | $1.99
Unlock Bokeh category + HD + No Ads | $1.99
Unlock Patterns category + HD + No Ads | $1.99
Unlock Brushes category + HD + No Ads | $1.99
Unlock Cutouts category + HD + No Ads | $1.99
Unlock Filters category + HD + No Ads | $2.99
Unlock everything! + No ads + HD | $5.99
Language(s)
English | Arabic | Danish | Dutch | Finnish and 19 more.
Store(s)
Google Play Store | App Store | Microsoft Store | Mac App Store
Official Website
www.moonlighting.io
Rating
Features of SuperPhoto for PC
How to use SuperPhoto for PC
SuperPhoto provide you over 200 free filters and effects and for more options, you can purchase the premium pack. All the filters are sorted into categories: Free and Premium. The bookmarked filters in Favorites appear on top of the home screen. You can browse the effect library with the panel on the left side. After finding the filter you want to use, you can preview it by tapping on the thumbnail and select the image you want to upload from your computer. You can easily adjust/change the dimensions of your image and apply the preferred filter and see it on the preview screen.
Key features of SuperPhoto for PC
Provides its user with more than 200 filters to use for free.
The users can bookmark their favorite effects and filters.
SuperPhoto allow you to upload an image from different social platforms, gallery or take a fresh picture to edit it.
There are separate categories for patterns, textures, borders, brushes, filters and effects.
You can easily adjust the dimensions, size of their image as per their requirement.
After uploading the image, you can easily add a filter and some effects.
You can share your final edited image on different platforms or other SuperPhoto users.
The Premium version includes more than 1300 effects and filters.
You can get the ultimate experience with all the features unlocked, no ads and HD uploads and downloads.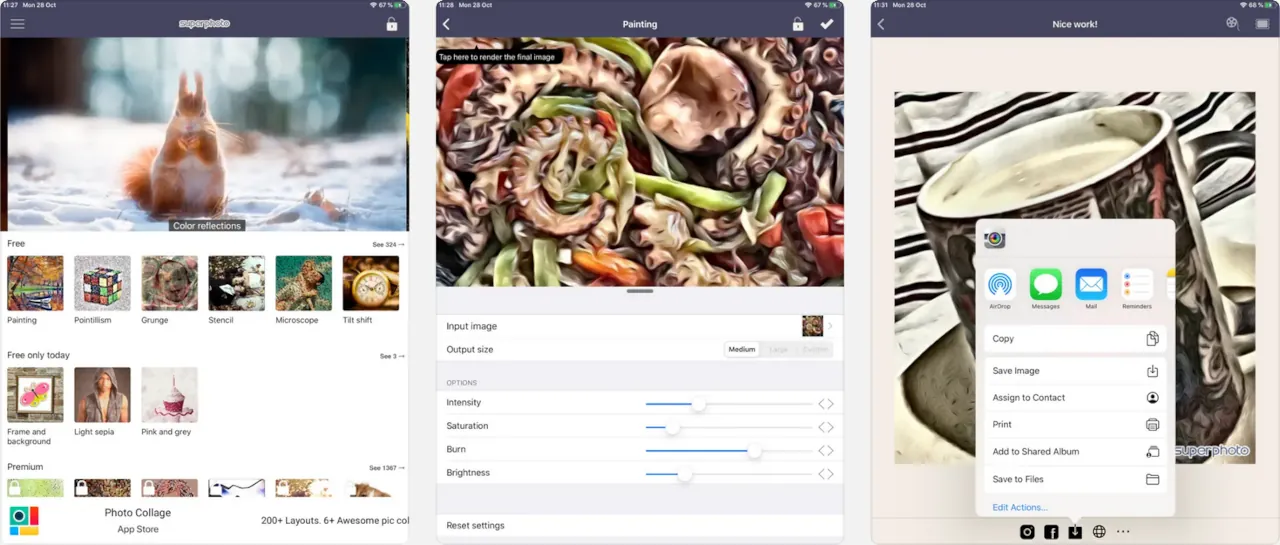 Alternatives to SuperPhoto for PC Windows
Line Camera is an extremely popular photo editing applicaton. It help you to give a professional and creative twist to your pictures with the filters, thousand fonts, stamps or borders. It also allow you to change the skin texture, add smoothness or change the size for example.
Andwobble allow you to add 3D wobbling effects to their images. You can upload a picture, define the area you want to wobble and play with the effect by dragging, tapping or shaking you device to see the area to be wobbled.
InstaBeauty is a selfie editor with 100 more effects and makeup filters. Popular by its selfie filters, quick snaps and videos this application count more than 300 millions users. You can easily edit your pictures in one tap by choosing your preferred presets, filters and effects such as enhancing the natural skin color or change the entire skin texture.
Pixlr is one of the most popular and high-rated photo editing application. It allow you to create virtual posts, edit with graphic effects and use beautiful presets and templates. With all the different features such as brushes, illustrations and shapes, you can create beautiful designs. This application is famous for being extremely user-friendly and beginner-friendly which give you comfort and ease while editing.
Instagram is one of the top social media platforms. It's popular for its photo/video sharing and editing features. You can edit and add a new twist to your images using various overlay options and filters available on the application. Instagram has various effects such as retro, vintage look, highlight the colors or emphasize the various tones in the picture.
Frequently asked questions about SuperPhoto for PC
Which version is the best between PC and phone?
Using SuperPhoto on PC gives the same experience as using it on your Android mobile phone. Users get the option to use numerous effects and filters without any price to be paid and can unlock more options by getting the premium package.
Why use SuperPhoto for PC?
SuperPhoto App is an immensely popular application that enables its users to have fun, turn their pictures into creative creations and share them with people worldwide. It's extremely easy to work with and user-friendly, giving it an extra advantage.
Is SuperPhoto for PC free?
Yes it's a free application but have a Premium version you can buy.
Is there a SuperPhoto for PC?
yes you can have this software from the Microsft Store or any trusted websites.
Is there a SuperPhoto for MacOS?
Yes, SuperPhoto is available on the Mac App Store.