If you are struggling to transfer files from your computer to your Apple's device, then you must definitely try 3uTools for Windows. This software doesn't only help you to transfer data but can also unlock your iPhone capabilities beyond limitations. In this article, we will show you everything about 3uTools can do for iOS device and also some alternatives that you may like.
| | | | |
| --- | --- | --- | --- |
| Name | 3uTools | Year of Launch | 2010 |
| File Size | 115 Mo | Supported OS | Windows |
| Category | Transfer Tool | Language(s) | English |
| Official Website | www.3u.com | Rating | |
Features of 3uTools
Jailbreak your iOS device
Your iOS device's firmware can be quickly matched by 3uTools, which can then jailbreak the device in accordance. It's one of the most powerful tools available for upgrading or downgrading your device. You can regularly flash your iPhone and iPad in recovery mode or as a device firmware update. The process is pretty easy and only requires a single click of a button. This simple procedure is highly reliable and lowers your risk of damaging your device by trying to jailbreak it yourself.
You also get three flash options:
Easy Flash is very suitable for normal users as the name suggests.
Pro Flash shows you the whole process including viewing SHSH backups and more.
Finally, the Multiple Flash option allows you to flash or activate multiple iOS devices at the same time.
Manage and customize your files
You can easily identify and locate the files you want to transfer to your computer using 3uTools. In addition to moving files, you can start a full backup of all the data on your device. Simply begin the restoration process within the application itself to use the backup whenever needed. This software also offers extensive customization options. Your ringtones are simple to edit and create. The icons on your home screen can also be managed and rearranged. Even making personalized wallpapers is possible using customization options.
Download Programs not available in the App Store
With 3uTools, you can download and install a variety of iOS programs that might or might not be on the App Store. These consists of games, wallpapers, ringtones or apps for example. 3uTools make it extremely simple to manage all these programs. You can also view a real-time log of events on your iPhone and iPad or share its screen as you do a task.
Toolbox
When using 3uTools, you'll notice that the iDevice section allows you to view the basic info of an iPhone. Here, you can use the "Toolbox" feature to manage and access additional iOS device tools. It can convert HEIC, make ringtones or transfer data and allows you to back up and restore your data. 3uTool's website has many tutorials and tips for using these effective features. You can simply type your keywords in the search bar to find everything you are looking for. For instance, you can enter the keyword transfer data on the 3uTool website if you want to transfer data but are unsure how to do so. The tutorial provides you with all the steps to operate any function.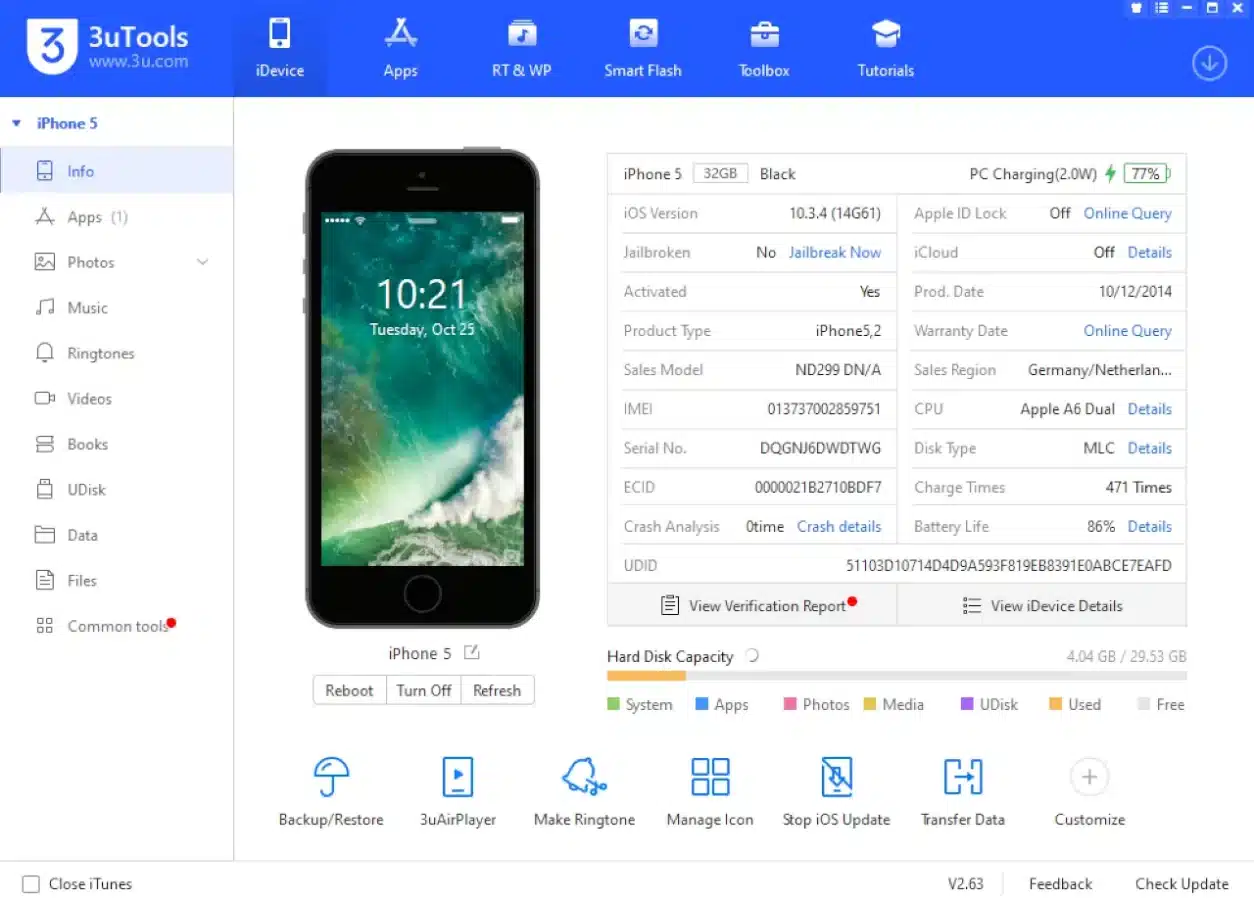 Alternatives to 3uTools for Windows
Performance-wise, this substitute slightly outperforms 3uTools. The fact that iMazing has a better free version of the software and is versatile makes it one of the best apps to download on your computer. This app can replace iTunes and iPhoto since it has a much easier way to transfer music and access your iPhone or iPad photos from your computer. Additionally, iMazing offers improved backups that are available for free. It has the ability to build or clean backup archives automatically. With time-limit safeguards in place, iMazing does it safely. iMazing also has a paid version, allowing you to use more features than you would find anywhere else.
This is yet another wonderful option that makes it simple to transfer music from your iOS device to your computer. Without relying on complex iOS applications, AnyTrans can transfer all sorts of files. AnyTrans has a great portability and ease of use are two of its biggest benefits. This software allows you to transfer a wide variety of files, including contacts, music, photos and videos. In order to transfer files to a new device, you can also backup your iOS device and migrate all your data to a computer. Unlike its competitors, AnyTrans has a much simpler setup and transfer process. It enables you to quickly manage your iOS device from your computer and get everything done without any issues.
iSHSHit is similar to 3uTools which lets your jailbreak and downgrade your iOS device in a much easier way. With this software, downgrading or upgrading a version only necessitates a few simple steps. iSHSHit is very user-friendly and has a quick menu search that makes it easy to find the tool you're looking for. This software can be used without any prior knowledge as it only requires a few clicks to complete a task. Its free version has a decent number of features as well but if you want to use its premium features, you can choose the paid version.
Frequently asked questions about 3uTools for Windows
Why to use 3uTools for Windows?
If you want to unlock your iPhone's capabilities and tweak the core file system, 3uTools is one of the best software.
Does 3uTools work on Windows?
Yes, 3uTools works well on Windows and can be installed on Windows 11, 10, 8 and 7.
Is 3uTools for iPhone only?
Yes, 3utools is an app that is made specifically for iPhone, iPad and Mac devices.
Is 3uTools free or paid?
3uTools is free to use and doesn't has a paid version. You can use all its features for free on any Windows platform.
How many MB is 3uTools for Windows?
The latest version of 3uTools, has a download size of around 115 MB.
Can I use 3uTools for Android?
No, 3uTools is not an Android platform base tool. It only supports iOS devices but you can use the software to transfer data between Android and iOS devices.
What is the use of 3uTools for Windows?
3uTools can help you view and manage files on your iOS devices. It also offers professional flashing and jailbreaking functions.
How to Download 3uTools for Windows?
3uTools is a free software that allows you to manage your files on your iOS device through your computer. To download 3uTools on your Windows PC, simply head over to the official website and install the latest version of the software.