Generally, backup data means all the data necessary for the running workload of the server. This can include documents, media files, configuration files, machine images, operating systems, and registry files. Essentially, any data you want to keep can be stored as backup data and that's why AOMEI Cyber Backup for PC was made. In an increasingly digital business environment, data backup is critical to the survival of organizations. You could be hacked or extorted and lose your data. Building a reputable brand can take years, and destroying it can take minutes.
| | | | |
| --- | --- | --- | --- |
| Name | AOMEI Cyber Backup | Year of Launch | 2010 |
| File Size | 124Mo | Supported OS | Browser |
| Category | Servers Backup | Language(s) | English |
| Official Website | www.ubackup.com | Rating | |
The Importance of Enterprise Backup Solutions
To understand the potential impact of a disaster on your business and the importance of a data backup strategy as part of a comprehensive disaster recovery plan, consider the following statistics:
According to Gartner, the average cost of an outage for a business is $5,600 or €5,112 per minute.
Another Gartner study found that only 6% of disaster-affected businesses that did not undertake disaster recovery (ITIL protocol in France) survived and continued to operate more than two years after the disaster.
The most common causes of data loss are hardware/system failure (31%), human error (29%), and viruses, as well as ransomware malware (29%).
You can set up flexible data backup operations with a reliable backup tool.
Today, here's a business backup solution that can help you calculate your costs, prevent data loss, and maintain business continuity.
AOMEI Cyber Backup for PC: Business backup
Choosing the right backup utility can help ensure that you are creating the best data backup plan for your needs. AOMEI Cyber Backup is an efficient enterprise backup software that provides centralized data protection management of virtual machines on VMware ESXi and Hyper-V. parent company AOMEI Tech, is the data assurance leader in the backup industry and focuses on providing user-friendly and affordable backup software for data protection across different platforms including PC , smartphones and servers.
AOMEI Cyber Backup supports paid and free versions of VMware ESXi 6.0 to 8.0, as well as Hyper-V on Windows 7/8/8.1/10/11, Windows Server/Microsoft Hyper-V Server 2008 R2 and later versions. You can choose to install this virtual machine backup software on your Windows or Linux system. It simplifies the backup process and presents the steps through an intuitive GUI. You can back up one or more virtual machines to a free esxi or Hyper-V host, or even a large number of virtual machines managed by vCenter Server.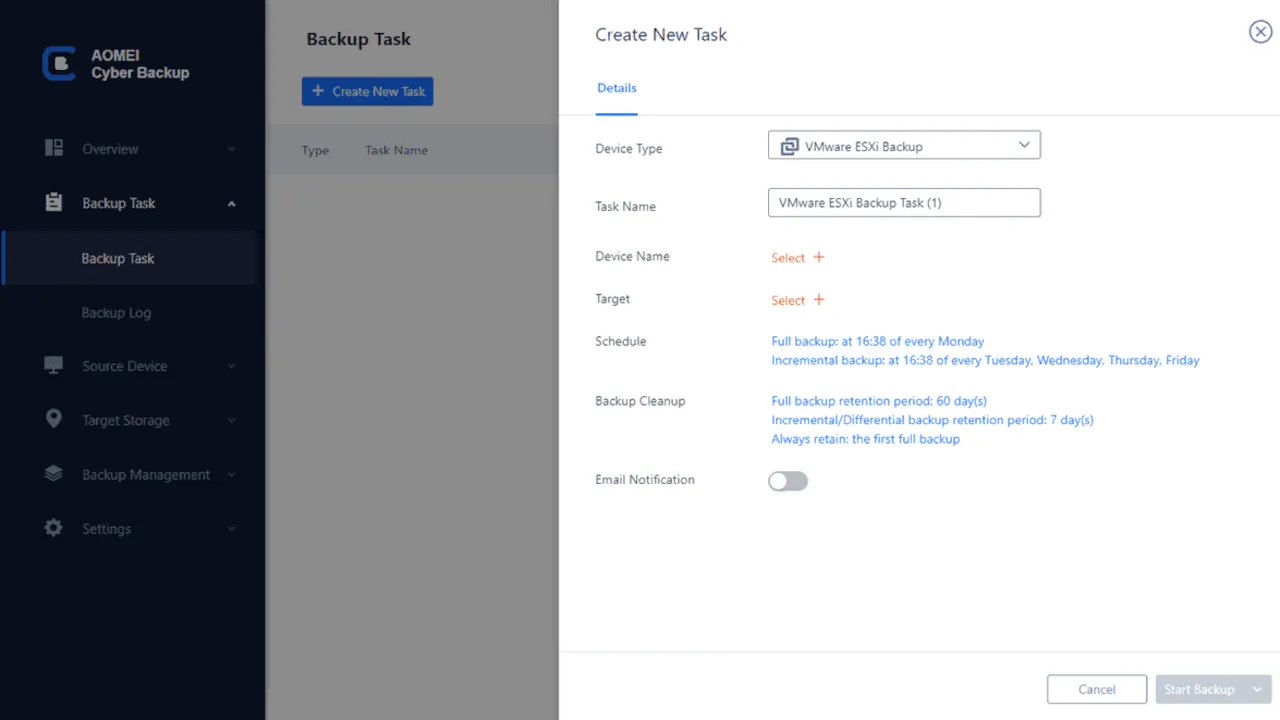 Advantages of AOMEI Network Backup
AOMEI Cyber Backup Utility has proven to be a user-friendly and powerful business backup solution that provides comprehensive automated backups designed to fit your business needs while remaining easy to manage and quick to restore.
Centralized management via a single interface.
Agentless virtual machine backup (Hyper-V and VMware vsphere).
Full image-based backup.
Backup Storage Backup Cleanup.
Backing up a running virtual machine.
Hyper-V Incremental Backup.
Restore to another Datastore/Cluster/Host.
Distribution of roles.
As an extension of your IT department, AOMEI Enterprise Backup expert team steps in to make sure your business backups are safe and you are able to quickly recover from any disaster scenario.
Take VMware ESXi Backup as an example, the advantages of the backup process are as follows.
Easily plan a VMware ESXi backup solution
To back up a VMware ESXi VM, you need to bind an esxi host / standalone vCenter Server host for authorization before you start. Once authorized, you are free to manage protection for all VMs on the host without having to install an agent on each VM. You can then replace multiple virtual machines on standalone VMware ESXi hosts or a large number of virtual machines managed by vCenter in one backup job. By clicking plan, you can create full/differential/incremental backups and run them automatically daily/weekly/monthly. Along with the upgrade, you can also perform a "cleanup" to automatically remove outdated saves.
Backup jobs created are listed and monitored separately for later restoration, progress checking and modification of plans. A good backup plan ensures that data loss and multiple recovery points are minimized, and that you can restore the entire virtual machine from any point you prefer. Also, you can choose to return to a new location. This way, you can restore the entire virtual machine to another host as a new cloned virtual machine.
For most businesses, a reliable VM backup solution not only reduces the time spent managing large virtual environments and dramatically improves backup efficiency. But also allows monitoring the data health of virtual machines at any time to restore data in a timely manner and minimize business continuity.
Alternatives to AOMEI Cyber Backup for PC
Acronis Cyber Backup Cloud protects any virtual, physical, and cloud environment, and lets you quickly realize incremental revenues with zero upfront costs and a pay-as-you-go business model.
Comet is a flexible backup platform, giving you total control over your backup environment and storage destinations.
MiniTool Power Data Recovery is the best all-in-one data recovery software, designed for Windows and Server users. In just three steps, users can recover lost, deleted, formatted or corrupted files in an easy and safe way.
Altaro VM Backup is a virtual machine backup and replication solution for Hyper-V and VMware. Designed for IT departments, IT resellers and consultants, and managed service providers (MSPs), it offers robust and streamlined features for large enterprises, such as WAN-optimized replication, CDP, augmented inline deduplication , etc.
Frequently asked questions about AOMEI Cyber Backup for PC
What is AOMEI Cyber backup?
AOMEI Cyber Backup is a centralized enterprise data backup software. It has both agentless and agented backup methods. Backup objects include VMware, hyper-v, SQL database and Windows PC/server etc.
Is AOMEI still free?
Free Windows Backup and Synchronization Software. Easily back up OS, settings, applications, and any data on your Windows PC and quickly sync files to another location. Our reliable and free backup software meets your all-round data protection needs.
Is AOMEI compatible with Windows 11?
Works for Win11. The best free backup software for Windows 11/10/8/7 – AOMEI Backupper Standard enables you to: Fully backup Windows operating system, entire hard disk, partitions and individual files without interrupt your work.