Dofus Touch for PC has been made for MMORPG's fans, we present to you one that integrates a fantastic universe from Ankama Studio. You have probably already seen derivative works such as feature films and animated series. Here, we will show you how to install Dofus Touch on your Windows or MacOS.
Name
Dofus Touch
Developer
Ankama Studio
Year of Launch
2016
File Size
5.5 Mo
Supported OS
Android | iOS
Category
MMORPG
License
Free
In-App Purchases
View the list
1400 goultines | $1.99
3500 goultines | $4.99
7500 goultines | $8.99
10500 goultines | $14.99
18000 goultines | $20.99
Bonus Pack 30-Day | $1.99
Starter Pack | $4.99
Elite Bonus Pack | $7.99
Goultines Pack 01 | $1.99
Goultines Pack 02 | $5.99
Goultines Pack 03 | $11.99
Language(s)
English | French | German | Italian | Portuguese | Spanish
Store(s)
Google Play Store | App Store
Official Website
www.dofus-touch.com
Rating
Install Dofus Touch for PC Windows using BlueStacks or MEmu Play
BlueStacks and MEmu Play are famous Android emulators that work well with Windows and MacOS. With them, you can download and install Android and iOS applications on your computer and also use external hardware like your mouse and keyboard.
What's Dofus Touch for PC?
Ankama takes over the Dofus game, initially accessible on Windows, Linux and Mac for the adaptation to smartphones and tablets. If the PC version was released in 2004, the mobile version only appeared in 2016. They both present the same gameplay and speak of a similar universe. These two versions differ only in the platform and a few specific events. Before starting, you could ask if Dofus has any similarities with the 2012 game Wakfu. Your suspicions are confirmed. Both of these games do take place in the same universe: the World of Twelve. The only discrepancy lies in the chronology. The events of Wakfu smoking place a millennium after those of Dofus.
A medieval fantasy story line
In the world of the twelve, where the Gods dominate, there are six dragon eggs: the Dofus. They are signs of hope and above all of power. Their disappearance has caused an upheaval in the peace that once reigned. Your role will be to enter this universe, to get your hands on them and at the same time, to bring order to this world filled with fantasy.
Type of game
As we just stated, it's an MMORPG (Massively Multiplayer Online Role Play Game). The principle of this type of game remains the same: create a character, train him and advance in the story to reach the final objective. Although it adopts a noble quest, it still lacks a good dose of humor. Indeed, the manga scenarios and graphics set up unique, inspiring and above all fun scenes. Regular updates will add small sequels to the background and allow for maintenance.
Gameplay
This game sports turn-based gameplay, meaning that unlike reactive games, the characters act in a specific order. So you won't have to rush. When your turn ends, wait for the others to finish theirs.
The multiplayer character
In accordance with the type of the game, you will be able to interact with other players. You have two choices. Either you cooperate with them or you challenge them. For the first option, the system first offers to add friends. Then, it also offers the opportunity to set up a guild or an alliance and to join one. With all this, you will be able to go on territorial conquest and epic battles. In opposition, you will also be entitled to beautiful PVP (Player Vs Player). This will allow you to gauge your personal abilities, improve your style of play and maintain the competitive spirit. The game features battles between guilds, challenges between alliances, and an arena where you will fight in groups of three.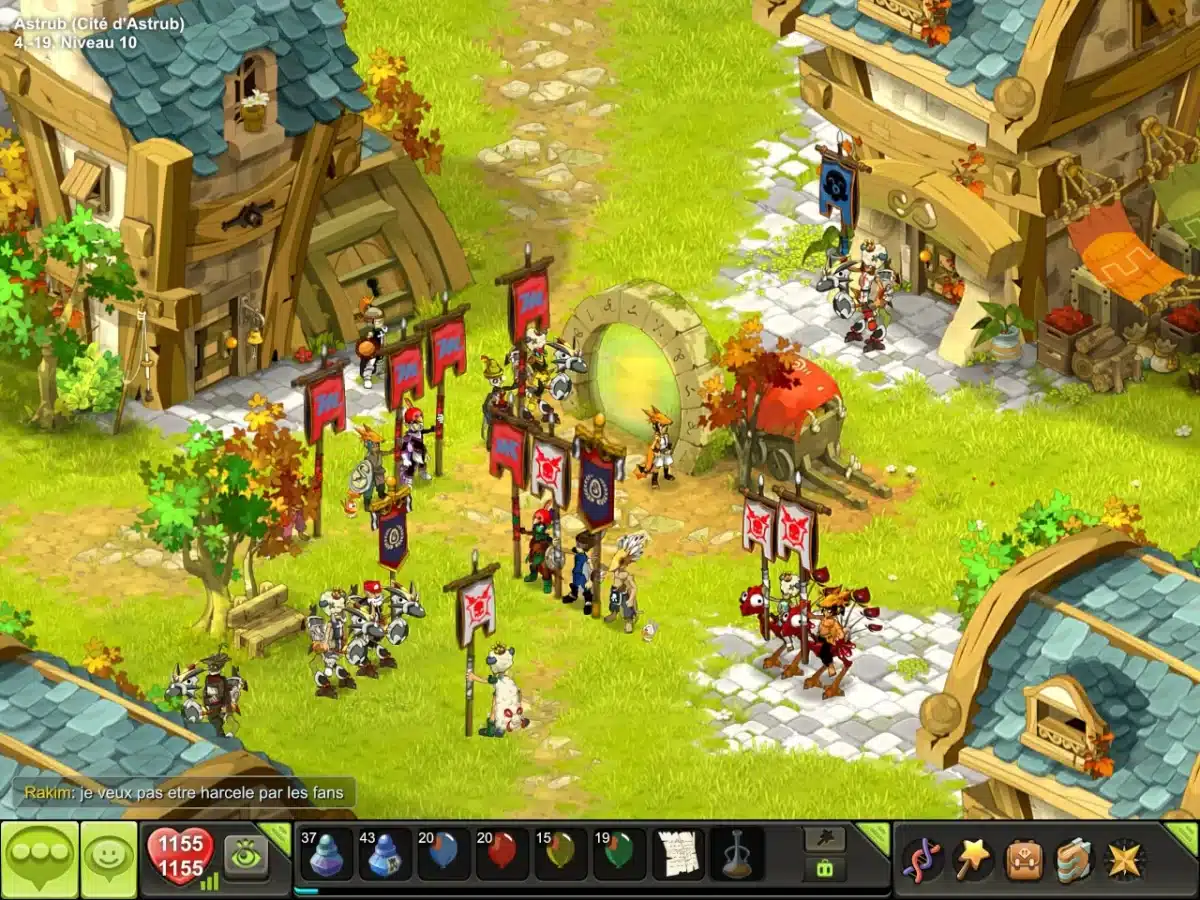 Features of Dofus Touch for PC
The classes
In the game, when creating your character, you will be able to choose from 15 classes. Each of them has multiple abilities such as improvement, healing, hindrance or even placement. Obviously, each class will correspond to a weapon and a very particular style of play. With such freedom, you will surely find one that suits not only your preferences, but also your character or temperament. Indeed, let's not forget that we are talking about a role-playing game here.
A lot of weapons
This virtual world contains more than 700 weapons of all kinds. From magic staves to physical weapons, you will have a huge variety at your disposal. Each has a type, a level, and possibly attributes and effects. You will come across more and more attractive combinations as you progress. Some players can also forge them. This will mainly depend on the profession of his character.
Trades
And yes, you are not dreaming, this game also offers more peaceful activities than rubbing shoulders with monsters all the time. You will have the choice between many professions which will allow you on the one hand to earn money. On the other hand, you will also be able to interact in a different way with other players. Some professions will give you advantages during your preparations, others will help you on your journey. So decide wisely. Otherwise, you can also seek assistance from your friends if they exercise one that you need.
Equipment
You can also equip your character. This will allow him to gain strength. Several types are offered to you such as amulets, capes, hats, belts, rings, boots, shields and backpacks. It goes without saying that they also have levels, effects and attributes. You can only wear one of each category. So it's up to you to choose the right combination and adapt to all situations.
Disguises
In addition to effects equipment, others are only used to look pretty. These are the ones that will display on your character. You have an infinite variety of accessories of all kinds. For information, using them does not require you to remove your effects equipment. They only affect the appearance.
A huge world to explore
A vast universe
In addition to the very complete gameplay, you will also be entitled to a vast universe. However, be careful. With the chaos reigning in the world of twelve, it is impossible to predict what dangers you will encounter.
A world to discover
The game offers you to travel in this territory filled with magic and fantasy. With creatures that are as fantastic as they are mysterious, discover a new world. Embark on unique adventures. Alone or with your friends, an unknown environment awaits you.
Dungeons to explore
With over 90 different dungeons, you will have plenty to keep you busy. Raise your level, improve your equipment and try to return unscathed from your exploration in the depths of the latter. If you feel the challenge is beyond your current skills, do not hesitate to ask your guild members for help. Form an alliance to facilitate your advance.
monsters to defeat
This chaotic world is full of monsters of all kinds. If you're looking to take them all on, you will have enough to do. Indeed, the game contains more than 2000 potential opponents ranging from small fry to legendary bosses. Make sure your skills are sharp enough otherwise you'll be biting your fingers.
Alternatives to Dofus Touch for Windows
We leave the Ankama universe with this time a game like Dofus, with more adult graphics and anchored in a very successful Heroic Fantasy universe. The orcs are in the game, along with the knights, elves and archers, who will have a lot to do to overcome the sometimes immense Bosses. It's a Free-to-play, playable on mobile and PC, which allows a player to cross this fantastic world by taking part in turn-based combat which requires a certain skill. Captivating, the game surprises with its graphic quality and its competitive multiplayer aspect, which will make you want to surpass yourself.
The MMORPG Wakfu is also developed by the company Ankama, responsible for Dofus, and if it takes place in the same universe, on a fictional planet belonging to the imaginary world of Krosmoz, it is a game in its own right, acclaimed by players for several reasons. On the one hand, it has magnificent graphics, which give it a style close to a cartoon (the game has its own animated series!) and traveling through this world is a real delight. On the other hand, its carefully balanced turn-based combat system is a treat for fans of strategic RPG games (If you like more classic RPGs, check out our Top Android RPGs). Choose your class, learn the profession you want and elect your own political representatives in this very deep title, where the players are the decision makers. A real success!
More oriented strategy games than exploration title (even if you will go through dungeons), Krosmaga is a title in which the player summons heroes from the world of Dofus and Wakfu, for very intense online battles, via a trading card system. We find the graphic touch specific to the Ankama studio and those looking for a game like Dofus, but more tactical in its approach (like in games like Clash Of Clan for example), will find here a deep and very fun title. The gods are in the game and the more you improve your equipment, the more devastating your summons will be. Enough to make your enemies tremble!
RuneScape is one of the most popular massively multiplayer online role-playing games in the world (with over 15 million players). It offers a very lively fantasy universe, with cartoon graphics and a very nice community. In the game, the gamer is free to choose his quests, go kill monsters or fight other players (in specific areas), for significant freedom of action.
The regions visited are very varied, the classes available allow everyone to find the character that suits them the most and the immersion is total. The more you play, the more you discover the extent of the possibilities offered by this Runescape, which is certainly the best of games like Dofus! It has aged graphically but believe me, the pleasure is intact and we quickly forget its somewhat austere appearance!
With Clash of Clans you will join millions of players worldwide as you build your village, raise a clan, and compete in epic Clan Wars! Mustachioed Barbarians, fire wielding Wizards, and other unique troops are waiting for you! Enter the world of Clash!
Frequently asked questions about Dofus Touch
Can I play Dofus Touch on PC?
The original Dofus game only came to PC. It then worked with Windows, Linux and MacOS operating systems. The mobile version Dofus Touch for PC adapts to smartphones and tablets running Android or iOS.
Which emulator to play Dofus Touch for PC?
BlueStacks 4 is an Android emulator that will give you the power to turn your computer or laptop into a mobile gaming paradise. Any video game or Android application you can find can now be played on your PC or Mac with BlueStacks.
What is the difference between Dofus and Dofus Touch?
DOFUS and DOFUS Touch are two different games that don't have the same community and don't follow the same evolution. Changes to classes are made according to the ecosystem in which they exist. Just as the zone redesigns did not follow the same evolution.
Can I play Dofus Touch on Windows 11?
Yes, you can play Dofus Touch on your Windows 11. The process to install it is the same as mentioned above with an emulator such as BlueStacks or MEmu Play. The only thing you have to do once the installation is finished with Windows 11, is to right-click on the icon application and select Run as Administrator.
Why play Dofus Touch?
But the real advantage of Dofus Touch is of course its free subscription which allows you to roam freely in the plains of the World of Twelve, without areas reserved for subscribers (although in-game purchases are available).