Fate Grand/Order is a single-player game developed by Aniplex Inc. The game is based on human civilization and its existence. Players can choose their roles from various characters developed from different eras. The game allows you to assemble your team by selecting heroes and spirits from different eras. Fate Grand/Order has several stories and plots for players. You can select your plot and start fighting your battle with your team. The game has more than 60 Japanese voice actors and various fun, challenging battle games that will force you to stick to your screen for hours. In this post we will show you how to download and install Fate Grand/Order on PC Windows or MacOS.
Name
Fate Grand/Order
Developer
Aniplex Inc.
Year of Launch
2015
File Size
118 Mo
Supported OS
Android | iOS
Category
RPG
License
Free
In-App Purchases
View the list1 Saint Quartz | $0.99
5 Saint Quartz | $3.99
18 Saint Quartz | $11.99
41 Saint Quartz | $23.99
67 Saint Quartz | $39.99
76 Saint Quartz | $79.99
Language(s)
English
Store(s)
Google Play Store | App Store
Official Website
www.fate-go.us
Rating
Story of Fate Grand/Order
2017 AD
Chaldea, an organization tasked with observing the future of Earth, has confirmed that human history will be wiped out in 2019.
Without warning, the promised future of 2017 disappeared.
For what ? How ? Who ? By what means ?
AD 2004. A certain provincial town in Japan.
For the very first time, a region that could not be observed appeared.
Assuming this was the cause of mankind's extinction, Chaldea performed her sixth experiment – time travel to the past.
A forbidden ceremony where they would convert humans into Spiritrons and send them back in time. By intervening in events, they would locate, identify and destroy the spatio-temporal Singularities.
The classification of the mission is an order for the protection of humanity: Grand/Order.
This is the title for those who would take a stand against human history and fight fate in order to protect humanity.
Install Fate Grand/Order on PC using BlueStacks or NoxPlayer
BlueStacks and NoxPlayer are famous Android emulators that work well with Windows and MacOS. With them, you can download and install Android and iOS applications on your computer and also use external hardware like your mouse and keyboard.
Below are the steps to download and install Fate Grand/Order using an emulator:
Go to the BlueStacks or NoxPlayer official website to download and install the emulator.
An installation wizard will guide you through the installation process.
Double-click the BlueStacks or NoxPlayer icon on your desktop to start the software.
You will now be requested to input your Google Play account credentials.
Enter Fate Grand/Order into the search box and click Search.
Select the icon for the Fate Grand/Order program. It will open a window of Fate Grand/Order on the Store.
Then click Install and your program will begin downloading.
The All Apps icon will appear. You can access a page with all your installed programs by clicking on it.
Now, you can see the Fate Grand/Order icon, click on it to run the application.
Features of Fate Grand/Order
The striking features of Fate Grand/Order are as mentioned below:
The game uses high-end graphics to create detail-oriented and attractive characters.
You can choose from more than 60 heroes and customize your team.
The game has easy combat controls for PC players.
The game offers several characters, stories, and plots, making it more challenging and exciting for players.
A command card battle RPG optimized for smartphones!
Players become masters and with heroic spirits defeat enemies and solve the mystery of the disappearance of human history.
It's up to players to form a party with their favorite heroic spirits – new and old.
It's available for free.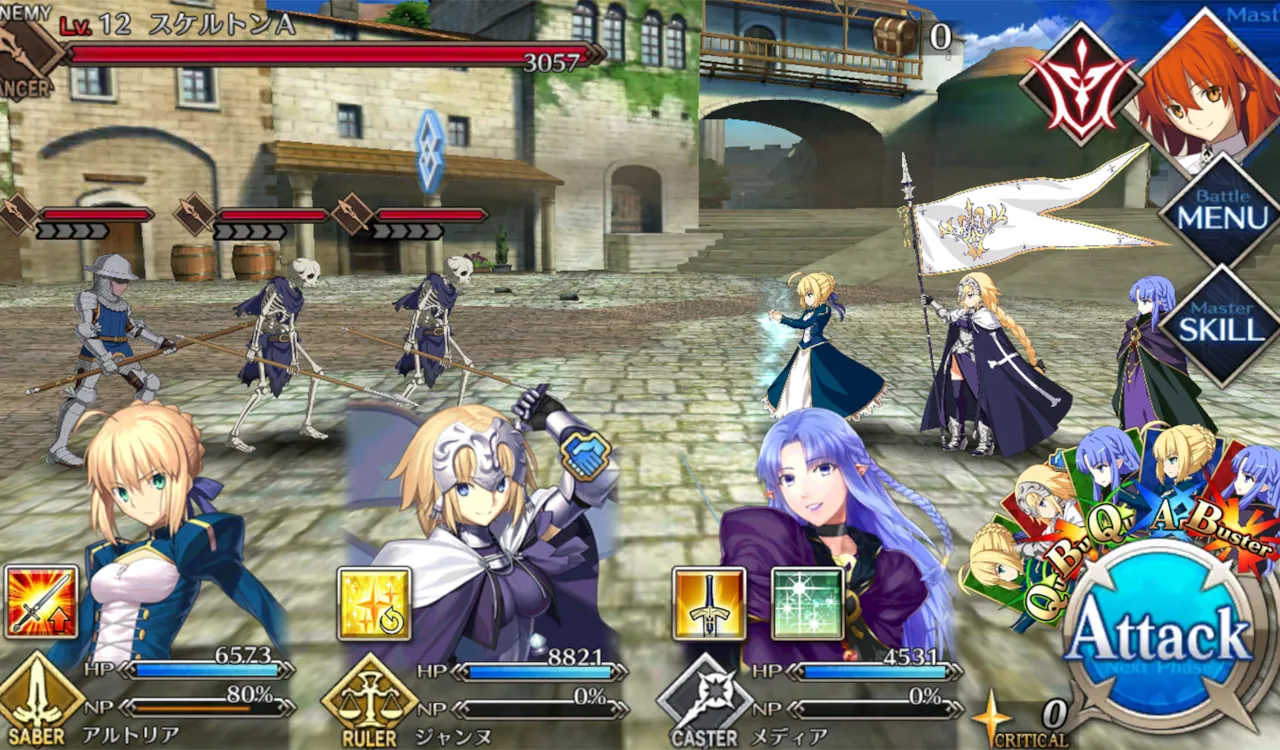 Frequently asked questions about Fate Grand/Order
How to Play Fate Grand/Order on Windows 11?
To play Fate Grand/Order on Windows 11, you need to install Fate Grand/Order on your Windows via an emulator. After installation, you can play the game as you would play on your mobile but since the game is available via an emulator like BlueStacks or NoxPlayer, you get the benefits of this software while playing the game. For instance, you can use keymapping, play on multiple instances, use keyboard and mouse controls and customize your game.
Is there a way to play Fate Grand/Order on PC?
Yes, you can play Fate Grand/Order on your PC. The game is not officially for Windows and Mac users, but you can get it via emulators like BlueStacks, NoxPlayer, MEmu Play or LDPlayer. All these apps give you access to Fate Grand/Order on your PC but you have to install the emulator on your computer first and then proceed  downloading the game.
Is there an English version of Fate Grand/Order?
Yes, Fate Grand/Order is officially available in English. The English version is downloadable in most countries, including the United States and Canada.
Why is FGO not in Europe?
Aniplex hasn't released the Fate Grand/Order for European countries. It have geo-blocked the game in these countries, so you can't play it from Europe.
Can you play FGO JP in English?
The FGO JP game is only available to Japan-based users or foreigners living in Japan. If you want to play FGO JP in English, you must get the app and translate it using the translatefgo app. This will let you play the game in English.
Which version of FGO is better?
FGO NA was released after two years of the release of FGO JP. Both offer high-end graphics and a fantastic gaming experience. However, FGO JP offers more features and content compared to FGO NA. So, most users prefer FGO JP.