Musical geniuses can produce their masterpieces anywhere and anytime with hits of inspiration and GarageBand. The software has hundred of Hip-Hop, electro and jazz sounds plus, for those who want to learn to play music, some built-in piano and guitar tutorials. For sure, GarageBand is one of the most popular music production software available for MacOS and iOS devices but many people doesn't know that they can also download and install GarageBand for Windows by using some tiers softwares that's what we will show you here: How to download and install GarageBand for Windows 11 | 10 | 8 | 7.
| | | | |
| --- | --- | --- | --- |
| Name | GarageBand | Developer | Apple inc. |
| Year of Launch | 2004 | File Size | 1.7 Go |
| Supported OS | MacOS | iOS | Category | Music Production |
| License | Free | Language(s) | English | Spanish | Hindi | Arabic and 26 more. |
| Official Website | App Store | Mac App Store | Rating | |
Install GarageBand for Windows using VirtualBox
First of all, the installation of GarageBand on your Windows will depend of the type of processor you have in your computer. There is two processor manufacturers on the market: INTEL with their iCore and AMD which produces the Ryzen.
INTEL: If your computer has an Intel-based processor, you are all set for the download.
AMD: While the older AMD processors did not support AMD-V (AMD Virtualization), the more recent ones have grabbed the lead and performed better than i9 as well.
Running a Virtual-based OS on your Windows requires virtualization, which is a key component. Please verify, in case you have an old AMD processor version, it support virtualization.
How to verify if your processor supports AMD Virtualization?
AMD-V capability also features on:
Athlon 64 and Athlon 64 X2 family of processors with revisions F or G on socket AM2.
Turion 64 X2 and Opteron 2nd and 3rd generation.
Phenom and Phenom II processors.
APU Fusion processors also support AMD-V.
And of course, all Ryzen processor.
If you don't know which processor is in your computer, you can download an AMD-V | Intel Hyper-V compatibility tester as following:
To download the AMD-V compatibility tester, you can search it on AMD's official website or find an another similar software on internet such as this one on Softpedia for example.
Once the download is finished, locate the folder and use a tool to open the compressed files like 7-Zip (free).
Open the folder, then right-click and choose

Run as Administrator

.
If your processor is compatible with Hyper-V, you can go to your BIOS and turn it on. (Note that the AMD CPU won't support AMD-V if it's too old.)
Now, you can move to the next step which propose you some method to download and install GarageBand on your PC.
Download and install VirtualBox
The most recent MacOS version is Ventura. GarageBand can only be used on virtualized MacOS after being installed on a Windows via VirtualBox.
Here are the steps to install VirtualBox and GarageBand on Windows 11 | 10 | 8.1 | 7 :
DOWNLOAD VIRTUALBOX | Go to VirtualBox official website to download and install the latest version of this virtualization program and next, go to download the latest version: Ventura.
RUN THE PROGRAM | When the download is complete, launch the VirtualBox setup, leaving all the default choices selected.
CREATE MACOS VIRTUAL MACHINE | You will see three options when you launch VirtualBox, select

Build a Virtual Machine

.
NAME YOUR MACHINE | Select the MacOS version after choosing

Apple Mac OSX

then assign a name to your virtual machine and choose the minimum of 50 GB (the saved music files from GarageBand take some place) for the disk size of your virtual machine.
MANAGE MEMORY | You may raise the RAM using the slider from 2 GB to 4 GB or even more for improved performance.
INCREASE CPU CORES | Choose the

Processor

option to boost the CPU cores to a maximum of four but you can put more to improve performances if you want.
CHOOSE THE ISO | Click

Open File

and choose the MacOS Ventura

.ISO

image file you downloaded before from the menu.
FINISH THE WIZARD SETUP | Click

Finish

on the wizard to finish the installation.
RESTART VIRTUALBOX | To use the virtual machine, restart VirtualBox.
COMPLETE THE CONFIGURATION | You must complete the configuration, including selecting the location, time zone and date zone.
DOWNLOAD GARAGEBAND | MacOS will begin installing itself, which typically takes around 10 minutes, depending of your system configuration. You will then see the MacOS Ventura interface.
AND FINALLY | GarageBand may now be installed on the virtual machine through the virtual MacOS and you can finally use it!


Install GarageBand for using iPadian
iPadian is an iOS and iPad emulator for Windows. You can use iPadian to install GarageBand on your computer.
Note that iPadian isn't a free software, you can buy it on the official website for $25.
Once you got iPadian, here are the steps to follow to install GarageBand for Windows:
First of all, download iPadian on your computer and install it.
Once installed, open it and go to the App Store.
Type GarageBand in the search bar and press

Enter

button.
Once it appears, start downloading it.
After it has been installed, you can use GarageBand for Windows via the iPadian emulator.
Install GarageBand for Windows using BlueStacks
Another well-known and cost-free is the Android emulator BlueStacks which can run Android and iOS applications on Windows and MacOS.
You have to be advised that this method may not run correctly all the time depending of your system configuration.
You can get GarageBand for Windows 10 or 11 using BlueStacks by following these steps:
DOWNLOAD THE EMULATOR | Visit the BlueStacks official website to download and install the emulator.
SEARCH FOR THE APPLICATION | You have to download the file separately on Apple website for example.
INSTALL GARAGEBAND | Drag and drop the file in the emulator home screen, then BlueStacks will start to install it on your computer.
RUN THE PROGRAM | If you have chance, you can now run GarageBand on your computer with BlueStacks once the installation is complete.
Features of GarageBand for Windows
GarageBand Drums
There is a virtual session player in GarageBand. You can choose from EDM, Hip Hop, Dubstep, Blues, Metal and 28 other drummers. Each drummer is equipped with a signature kit. You can create multiple grooves and fill combinations. Plus, you can customize pre-recorded acoustic and electronic loops to your song.
GarageBand Synths
Every GarageBand synth has the Transform Pad Smart Control so you can drag the rectangular framing box on the floor of the Transform Pad to adjust the sound. The sound of GarageBand snapshots can be transformed to create a new sound. As for the GarageBand software for Mac, you can use the Touch Bar to control Transform Pad snapshots instead.
GarageBand Courses
There are 40 genre-based lessons in GarageBand, including blues, rock, pop and classical for example. Moreover, you can also watch recorded lessons from real artists. Sometimes you can get instant feedback to improve your musical skills in GarageBand.
GarageBand Loop Library
You can choose from over 3.000 GarageBand loops and over 400 sound effects for music production. The first time you use these GarageBand sound effects and loops, you must choose GarageBand Sound Library from the drop-down list. Choose Download all sounds to access it.
iCloud integration
All Apple users can edit music with GarageBand. If you are on the go, you can use iPhone or iPad to add tracks to GarageBand for Mac using iCloud. Plus, you can quickly record ideas and voices with iPhone whenever you're inspired. iCloud can help you easily import these song ideas into GarageBand for Mac software. Or you can also use GarageBand for iOS to organize and mix audio tracks.
Connect your own instruments
It's easy to personalize GarageBand by including external instruments, you can plug your synthetizer or guitar for example with an USB cable and start to play: GarageBand will record everything.
Play multiple instruments at once
Apart from playing more than one instrument at once, you can also mix all of these to create a unique music.
Share your masterpiece
Sharing your work of art on social media is simple with GarageBand. This way, you can acquire recognition from around the world.
Pros
Cons

✓

Simplified music writing process.

✗

Large output file size.

✓

Various loops from EDM, Hip-Hop or Indie for example.

✗

Unable to save preferences.

✓

Create music with 28 drummers and 3 percussionists.

✗

Consume a lot of computer resources.

✓

Tweak the sounds with 100 EDM and Hip-Hop inspired synth sounds.

✗

No official GarageBand tutorial videos.

✓

Offer integrated free piano and guitar lessons.

✗

Not friendly for non-Apple users.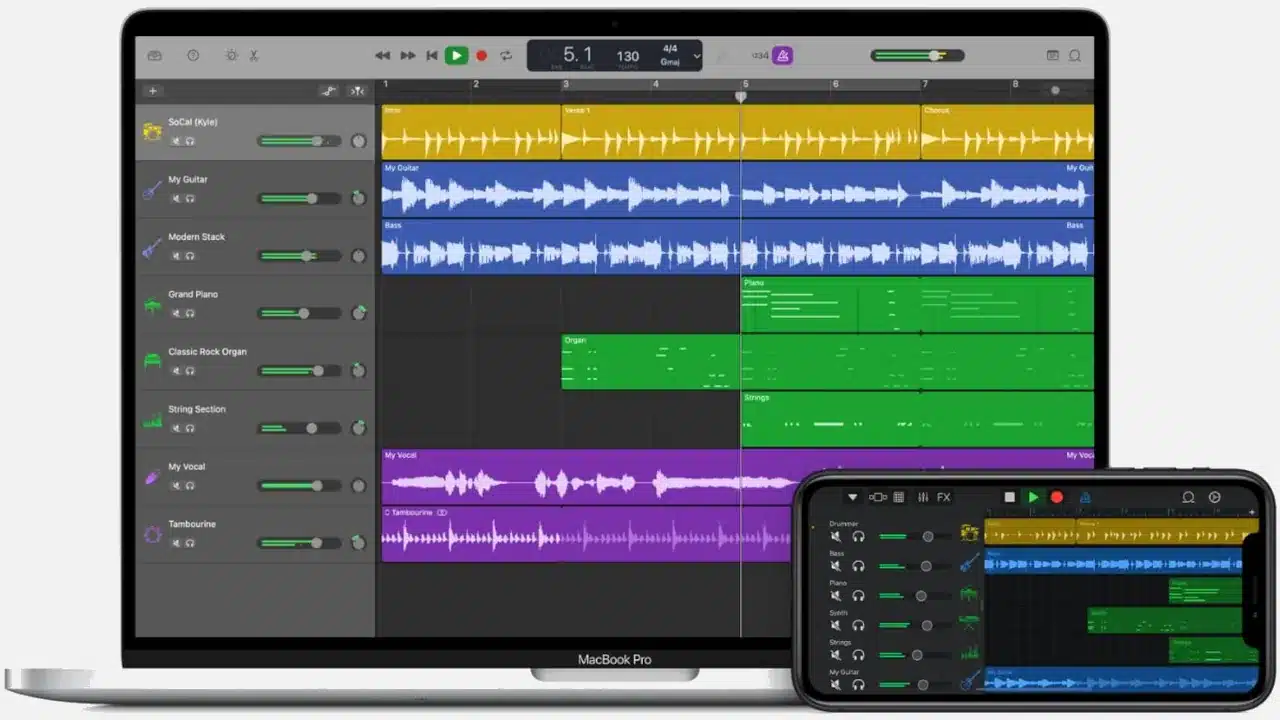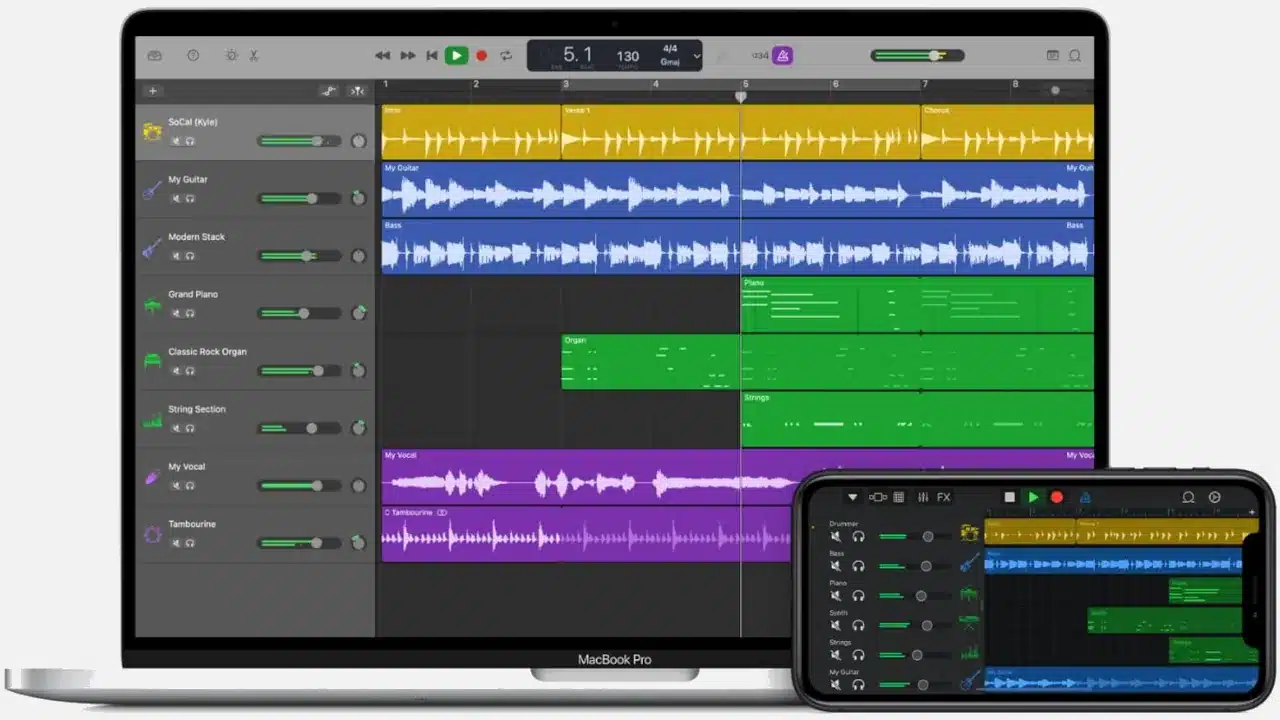 Alternatives to GarageBand for Windows
The fact that it's a simple, cost-free audio editor make audacity's a strong alternative. It contains many features while being basic and free. It's an effective tool that use third-party plug-ins easily. Additionally, you can enable macro and can quickly automate repetitious activity. With audacity, you can quickly add pre-made filters and effects, alter audios, supports a variety of audio extensions and can be used to record sounds.
In Adobe Audition the features eliminate unwelcome background noise, recover audio fragments and improve audio track stability. You have the choice to export the audio from among the several accessible formats. Adobe Audition integrates effectively with Premiere Pro, allowing you to import your audio track immediately from the timeline and export it after editing.
FL Studio is a fantastic music-making software. The workflow is simple and quick that you can create a beat in about 10 minutes. One of the beatmakers' favorite instruments is the channel rack. You will never get tired of this software's stunningly designed Vector-based GUI. Out of all the other digital audio workstations, The Piano Roll in FL is by far the finest. It allows you to easily create melodies and contains various features like chop or legato for example. With this incredible program, the possibilities are truly unlimited and the greatest thing is that it loads up within seconds.
Studio One has incredible usability and is improved for both experts and beginners with the inclusion of the new Sphere setup. One of the coolest features is the scratchpad. You will have a significantly productive benefit in your workflow since you can scratch out ideas without damaging your original project. Studio One's upgrade also allow you to access to recording templates. It's a great application to have in a low price range.
As a complex piece of software, this DAW works well for live recordings. Reaper is best recommended for professional-level musicians that demand a configuration that can meet all of their needs. Reaper outperforms its rivals with its cost-effectiveness and the incredible array of VST effects which can help you to make masterpieces.
Wavosaur is free audio editing software for Windows. You can consider Wavosaur as an alternative to GarageBand for Windows. With support for many VST plug-ins and the ASIO driver, you can create musical loops, record, convert and analyze audio on Windows. The Wavosaur Quick Start Guide is also useful for beginners.
Compared to GarageBand, Ocenaudio has a clean interface. You can edit audio on Windows, Mac and Linux for free. There are also many Ocenaudio sound effects that you can use but there is no support for editing multiple audio tracks. You can't record and mix multiple instruments but if you want to edit stereo music and mono audio files, Ocenaudio is a good choice.
Nero Wave Editor allows users to record and edit audio files on Windows 11 | 10 | 8.1 | 7. You can get multiple sound filters and optimizations as it's easy to cut, paste, edit and mix audio segments in Nero WaveEditor.
BandLab is a social music platform that enables creators to make music and share the creative process with musicians and fans. With a global community of creators and fans, BandLab combines music making and collaboration tools like the world's first cross-platform DAW, with social features like video sharing, messaging and discovery.
Frequently asked questions about GarageBand for Windows
What makes GarageBand for Windows so different?
Well, its virtual session player and pre-recorded loops are amazing. You can record, mix and edit up to 255 audio tracks like a pro. GarageBand reverb, visual EQ, stereo panning and volume levels are also good to use. Moreover, you can also use Piano Roll Editor to refine your music with other edits.
Why use GarageBand for Windows?
It allows users to learn, perform, record, organize and mix with great flexibility. You can install GarageBand on all your Apple devices, making it a very versatile DAW for music production.
How to use Garage Band for Windows?
The home menu offers the Magic Garage Band option for exploring computer-based music creation. You indicate the type of music and the instruments to use, then you end up with a virtual orchestra. Garage Band is software that turns your Mac into a multitrack recording studio.
What artist uses GarageBand for Windows?
It's a very popular software for beginner artists who own a home studio. The software offers the possibility of composing with or without instruments since it provides a library of sounds and effects such as amplifiers or reverb for example.
What is the difference between GarageBand for Windows and Logic Pro?
Apple currently has two music production suites: GarageBand, which is free and installed on every Mac and Logic Pro X, a comprehensive professional suite that includes virtual instruments, advanced sound creation tools, and sophisticated editing capabilities.
What's the best Mac to make music?
In summary, here's our pick of three favorite Macs for music production:
27-inch iMac 5K – the best choice for music production.
13-inch MacBook Pro – the best Mac laptop for music production.
Mac mini – the best budget Mac for music production.
Is Garage Band for Windows free?
Yes, Garage Band is free and also has features with iCloud syncing, so you can back up songs to the cloud for quick access from your iPhone or iPad. The software is completely free and comes pre-installed on all Apple devices (computer, smartphone and tablet).
Conclusion
Despite GarageBand being an application only available on the Apple App Store, it doesn't stop Windows users from accessing it with emulators. Without buying Apple products, Windows users can download and use GarageBand by following any of the three popular methods mentioned above to download and install GarageBand on your computer and get your creative juices flowing.