If you are one of those gamers who enjoy creating virtual avatars, you will certainly playing IMVU on PC. Apart from avatars, this 3D virtual social game lets you create and join various themes and environments where you can explore the virtual world with other users. Here, we will show you everything we like about IMVU, provide you with some alternatives that you might prefer and show you how you can download and install this game on Windows and MacOS.
Developer
IMVU
Year of Launch
2004
Processor
Intel i3 Gen. 8 | AMD Ryzen 3500
Graphic Card
Nvidia GTX 1050 | Radeon RX 570
Memory
4Go
File Size
195 Mo
Supported OS
Windows | MacOS | Android | iOS | Browser
Category
Social Networking | Game
License
Free to Play
In-App Purchases
View the list1000 Credits | $0.99
5000 Credits | $4.99
10.000 Credits | $9.99
20.000 Credits | $19.99
30.000 Credits | $29.99
50.000 Credits | $44.99
1 Live Room Token | $4.99
VIP Gold | $4.99
VIP Platinum | $9.99
VIP Diamond | $19.99
Language(s)
English | French | German | Korean | Spanish
Store(s)
Google Play Store | App Store
Official Website
secure.imvu.com
Rating
How to install IMVU on PC Windows or MacOS
IMVU is a 3D online Metaverse game that allows you to create avatars and interact with other users in the virtual world. There are many ways it can be played on your computer. The best and easiest way to play this game is by simply going to the official website and play the web-based version but you can also download the game from the website or use emulators if you wish to play the mobile version on your PC.
Features of IMVU on PC
Interact with users
The IMVU main feature, like those of all virtual social interaction, enables communication with users all over the world. You can make your own chat rooms on IMVU to interact with like-minded individuals. You can also join other chat rooms that serve your needs if you don't want to deal with the hassle of setting up a chat room. Users who may eventually become your friends can be saved here on your contact list. You can still save your conversations in the private chat if you're not sure whether to add them to your contact list. Here you have access to a variety of free chat rooms that feature numerous themes, including lounges and cafes. In IMVU, you can even create your own general meeting space. You can communicate with anyone through texts or choose from a variety of gestures and motions to get your message across.
Graphics and Interface
IMVU is a virtual social network with a detailed and appealing user interface. It's not just a platform where you can text people, here you can talk to anyone using your 3D characters. Whatever you type will appear as a speech bubble over your character's head when you are interacting with another character. You can interact with your friends in a variety of environments and themes on IMVU. These themes include gardens, cafes, beaches, meeting rooms and even haunted houses. IMVU's graphics are very intriguing and feature designer clothing, objects and accessories. The 3D themes and characters appear to be extremely realistic. Overall, it's a strong application with quick responsiveness and a short load time.
Character Customization
IMVU stands out from its rivals thanks to this feature that lets you make avatars and communicate with your friends. Not only can you make an avatar here but you can also change it whenever you like. You can easily create and modify a 3D environment using its customizable 3D interface. IMVU allows you to change a variety of things, including your hairstyle, hair color, accessories, shoes and clothes. IMVU also has a store where you can spend Credits to get apparel, accessories and various other things to customize your characters.
Exceptional Service
Both PC and mobile players of this game can get access to its excellent customer service. If you face any kind of trouble inside the game, whether it be with the game itself or other users, you can directly contact the support team of IMVU. There are numerous ways to contact them. To make a complaint, visit the company's official website or just use the live chat feature. A phone number is also provided in case you need an urgent response. Whatever option you select, you can count on getting your questions answered very quickly. On the create screen of IMVU, there is also a help section that can help you get started with the game.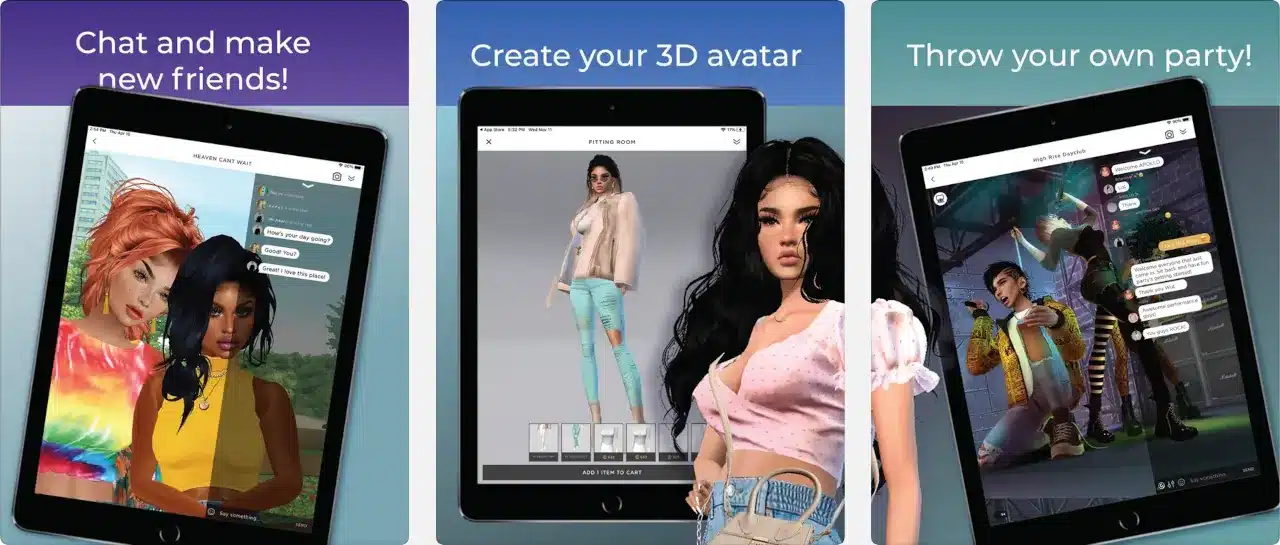 Alternatives to IMVU on PC Windows
One of the first virtual interaction games, Twinity, allows players to build clones of actual cities. The game has now changed its direction, allowing you to create both indoor and outdoor environments as well as your own in-game character. In the Twinity game, players can create, purchase or sell a variety of different items. Here you can design your own home, as well as clubs, shops, lounges, and many other buildings. Every player starts the game with a preinstalled house that they can use to furnish, decorate or throw parties for example. Twinity even offers a badge system as a reward for users completing certain tasks.
Habbo Hotel is very similar to other virtual simulation games which use the same outlook of social interactions, environment decorations, quests, and other adventures. There are numerous socially themed games that you can play with your friends at Habbo Hotel. There are millions of players playing this game, which is available in over 12 languages. One of the best things about Habbo Hotel is that it is completely web-based and free to play. All you have to do is open your browser and start creating an exciting virtual world. Here, you can gain access to extra features by earning credits. These can be earned simply by spending enough time in the game.
One of the best alternatives for interacting with other users through virtual characters is Second Life. Users of Second Life can explore the virtual world and take part in various group events. Here you can use its built-in software that helps you to create 3D virtual items and avatars. If creating your avatar isn't enough, you can even program their behavior according to your preferences but in order to play this game, you must be at least 16 years old. There are no limits on how many characters you can make. The graphics in the game looks a lot like cartoons which could be appealing to early teenagers. In this game, you also have no restrictions on the number of characters you can create.
VRChat is an online virtual world platform created by Graham Gaylor and Jesse Joudrey and operated by VRChat, Inc. The platform allows users to interact with others with user-created 3D avatars and worlds.
Frequently asked questions about IMVU on PC
What's IMVU on PC?
IMVU for PC is a fun 3D virtual social game where you can create themes and avatars to explore and interact with other users in the virtual world. Getting started with this game is really simple. All you have to do is open the IMVU website and start creating your ideal avatar and environment. Yes, you can play IMVU without downloading the game on your computer. Just open your browser and head over to the official website to start playing the game.
How to upload your product to IMVU on PC?
To upload a product to IMVU, you will first have to create a project. Once you are done creating, you can upload your product to the IMVU Catalog. You will then be given a Product Identification Number which can be used to publish and sell your product online.
How do you get more followers with IMVU on PC?
There are many ways to get more followers on IMVU. One of the first things you can do is join as many different chat rooms as possible to make new friends. You can also create products and publish them so that more people share your creations with others. One of the last things you can do is to stay active in the game. The more you play, the more people you are likely to meet.