MotionLeap is an application which allow you to put effect on your picture like moving water, leafs, sky etc but unfortunately MotionLeap is not available for Windows or MacOS. Nevertheless, you can still download the application using another method and run it on your computer like on your smartphone. Here, we will show you some working strategies to download and install MotionLeap for PC Windows or MacOS.
| | | | |
| --- | --- | --- | --- |
| Name | MotionLeap | Developer | Lightricks Ltd. |
| Year of Launch | 2019 | File Size | 214 Mo |
| Supported OS | Android | iOS | Category | Photo Editor |
| License | Free | In-App Purchases | Unlimited access | $3.99 to $59.99 |
| Language(s) | English | French | German | Italian and 8 more. | Store(s) | Google Play Store | App Store |
| Official Website | www.lightricks.com | Rating | |
Features of MotionLeap
Animation made easy
MotionLeap allows users to animate photos in a few clicks. It offers various tools to edit and animate images. You can hold anchor points to edit specific parts, freeze photo sections, and use arrows to define the image's motion. It also provides AI-supported water animation.
Photo effects
MotionLeap offers a range of effects to add to your images. You can add cinematic movements, camera effects, tilt, zoom, overlays, etc. You can also change the speed, direction, and style of videos.
Background changer
Most people look for image editing apps to change photos' backgrounds. MotionLeap has an in-built tool that allows you to precisely change the background and give a professional finish to the image.
Easy-to-use
MotionLeap is an intuitive app with a user-friendly interface. You'll barely need anytime to get comfortable with this app and its features.
Multiple export options
With MotionLeap, you can export your images to your gallery or directly post them on your social media. The app also lets you export the image as a live wallpaper.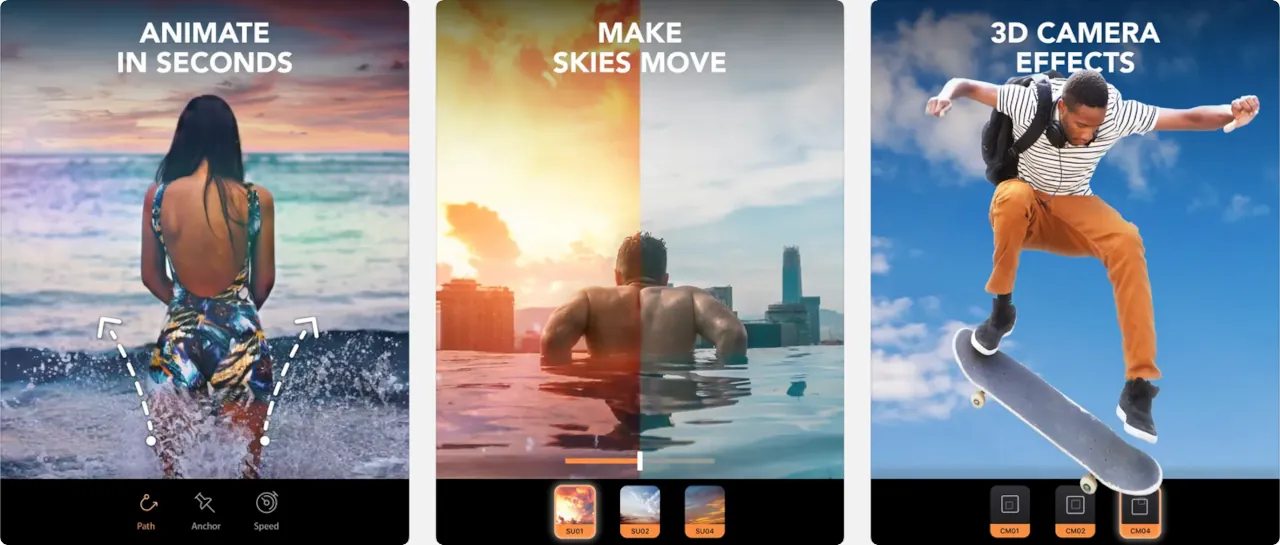 Install Motionleap for Windows using BlueStacks or NoxPlayer
BlueStacks and NoxPlayer are famous Android emulators that work well with Windows and MacOS. With them, you can download and install Android and iOS applications on your computer and also use external hardware like your mouse and keyboard.
You can officially download and install MotionLeap on your computer with NoxPlayer or BlueStacks by following these steps:
Go to NoxPlayer or BlueStacks official website to download and install one emulator.
Launch the software and sign into your Google account after successful installation.
Search for MotionLeap on Google Play Store and install the application.
Go to the emulator's home page, and you will find MotionLeap.
Click the app icon to open it on your computer.
MotionLeap vs. VideoLeap
| | |
| --- | --- |
| MotionLeap | VideoLeap |
| • Motionleap is a powerful photo editing app that allows users to animate or add motion to their images. | • Videoleap is a professional video editing app providing various functionalities for users to create high-end movies. |
| • Motionleap is ideal for users looking for an app to create animations, and 3D images, add effects, change filters, and change the image background. | • Videoleap is a video editing tool ideal for users looking to create movies and offer various video editing tools, effects, and filters. |
| •The app offers several powerful photo editing tools for users to create professional images. | •You can also use ready made templates to edit videos faster and more efficiently. You can save your work for later and even export it to share with the world. |
Overall, VideoLeap and MotionLeap are different apps providing different functionalities. So, if you want a video editing app, VideoLeap is worth checking out and if you are looking for an image editing app, go for MotionLeap.
Alternatives to MotionLeap for PC Windows
Handy Photo is an iOS and Android-based mobile application for editing and color-correcting images. The app is packed with tools to enhance the picture quality, image color-correction or reframe images. With Handy Photo, you can add motion to images, change effects, trim and crop images and remove unwanted objects from your photos.
Photo Mechanic is the go-to app to copy and organize all the files on your device. You can add keywords, captions and copyright to images. You can copy all the images from your memory card and upload them to online galleries in a snap! The app also allows you to effortlessly transfer images from one place to another.
VideoLeap is a video editing mobile app that allows users to edit videos of any length. The app provides access to professional editing tools. Users can edit the video speed, type, audio, add effects or transitions for example. You can export and share the edited videos without any watermark.
Adobe Photoshop is the most advanced and popular photo editing software for photo editors. The software is used by beginners, intermediate, and professional-level editors. You can use the software on almost every device, iOS, Windows, Linux, MacOS, Android to create and edit images, graphics and illustrations. The app provides every tool and functionalities you will need to edit your image, such as brush, shapes, colors and cropping tool.
Photo Mirage is another popular animation and image editing app that allows users to edit and add motion to images giving them a realistic feel. You can use the arrows to hold the anchor points and add motion to the image. The app also offers editing tools like cut, crop and effects for example. You can also share your images with the world via the social media sharing option.
If you are looking for a simple yet efficient image editing tool, Lensa is worth checking out! It's an all-in-one image editing app packed with tools to get your image ready in a few minutes. You can add colors to images, do facial correction, edit background and foreground separately and apply unique filters to your images. Though Lensa is ideal for all images, it's the go-to option for those looking to edit selfies.
Frequently asked questions about MotionLeap for PC
Is MotionLeap for PC Available for MAC?
Unfortunately, Motionleap isn't available for Mac users. So, you won't find the app on the Mac App store but as explained in this article, you can download and use Motionleap on your Mac via an emulator. The process is the same as explained above.
How to Install MotionLeap for PC Windows 11?
You can use MotionLeap on Windows 11. The process to install it is the same as mentioned above with an emulator such as BlueStacks or MEmu Play. The only thing you have to do once the installation is finished with Windows 11, is to right-click on the icon application and select Run as Administrator.
Is MotionLeap for PC a safe app?
Yes, MotionLeap is a safe app. You can download and use it on your device without any worries.
Do you have to pay for the MotionLeap app?
The MotionLeap app is available for free on Google Play Store. You can download it without paying a single penny and access its tools for free. However, you'll need to purchase its monthly, yearly, or lifetime plan to unlock its premium features.
How do I save in MotionLeap
You save your work on MotionLeap, click the Export icon on the top-right corner of your screen. You can select how to save or export your work from the available options.
How do you animate pictures in MotionLeap for PC?
MotionLeap is an intuitive app. You will barely get stuck while animating your images but if you are new, here is how to get started:
Launch the app on your device and click

New Project

.
Select any image from your device.
Click the animate button at the bottom of your screen.
Choose the Select icon.
You can now change the thickness and modify the image for animation.
Select the direction icon to change or set the direction of the image.
Once done, click the

Export

button to save your work.
How do I use MotionLeap for PC?
To use MotionLeap, you need to install it on your device. Then select an image to animate and start animating it using the tools available within the app. Finally, you can export your work or save it for future modifications.