If you are looking to study the Bible in a much more modern and straightforward manner, MySword Bible For PC is a must-have on your device. With it, you can read the Bible without any banners or ads, read popular commentaries and translations and write your own insights to gain a new perspective. This article provides you with a list of features of MySword Bible and alternatives you might like. We will also tell you how to download and install this amazing Bible study application on Windows.
| | | | |
| --- | --- | --- | --- |
| Name | MySword Bible | Developer | RiverSoft Inc. |
| Year of Launch | 2011 | File Size | 14.6 Mo |
| Supported OS | Android | Category | Books and Reference |
| License | Free | Language(s) | English | Spanish | Hindi | Arabic and 21 more. |
| Official Website | www.mysword.info | Rating | |
Features of MySword Bible for PC
Read the Bible effortlessly
It has never been more enjoyable or easy to study the Bible. MySword Bible offers you a unique and enlightening approach to the believer's life, scripture and Jesus' promises. Every Christian looking for a more contemporary way to read the bible should have this app. It includes a wide range of powerful tools and graphics. In addition to helping you study the Bible, MySword Bible can also be used to compare translations. You can access books, renowned commentaries, dictionaries, atlases and Hebrew and Greek Lexicon scriptures. You can also create your own journals, study notes and insights.
Translations and Notes
One of the best things about MySword Bible is that's more than just a Bible-reading app. There are numerous Bible translations available, including the dialect of the original text and the option to translate into your native language. Using the built-in notes feature, you can make a study note of a particular verse. You can begin right here to record your thoughts. This app also includes several commentaries that let you understand the deeper significance of each Bible verse. The majority of commentaries are available in MySword Bible, making them an invaluable resource to study the bible.
Widgets
One of the coolest features of MySword Bible is the widgets, which show random Bible verses on your home screen. Using this feature, you can alter the font sizes, background and text colors. You can also copy a verse from the Bible topic of your choice and paste it into the widget to display specific content. MySword Bible is not limited to only a single widget on the home screen. You can decide to have multiple widgets with the same or various Bible topics. Additionally, you have the option to randomize your choice or arrange them according to the book, verses or chapters.
Backup and Synchronization
You can backup and synchronize all of your downloaded data with MySword Bible. Your journals, notes and other data should always be backed up because you can re-download modules from the backup server. It can back up modules like dictionaries, translations, books and fonts in addition to your personal data. Your settings preferences, formats, verse list, bookmarks and highlights are all stored in the Remote Folder. This app also supports cloud storage, which let you store your data in tools like Google Drive, Microsoft OneDrive and Dropbox but you must register with a valid account to use cloud storage.
Modules
MySword Bible has two modules that can be downloaded.  The first module is the Standard Module which has over 125.000 verses and includes 19 well-known recent studies of the Bible, the Ten Commandments, Jesus' life and numerous other biblical texts. The Deluxe Module is the second module that costs a little but gives access to more than 120 Bible files. It falls under several categories, including Word and Wisdom, General History, Apologetics, Theology or Spirituality for example.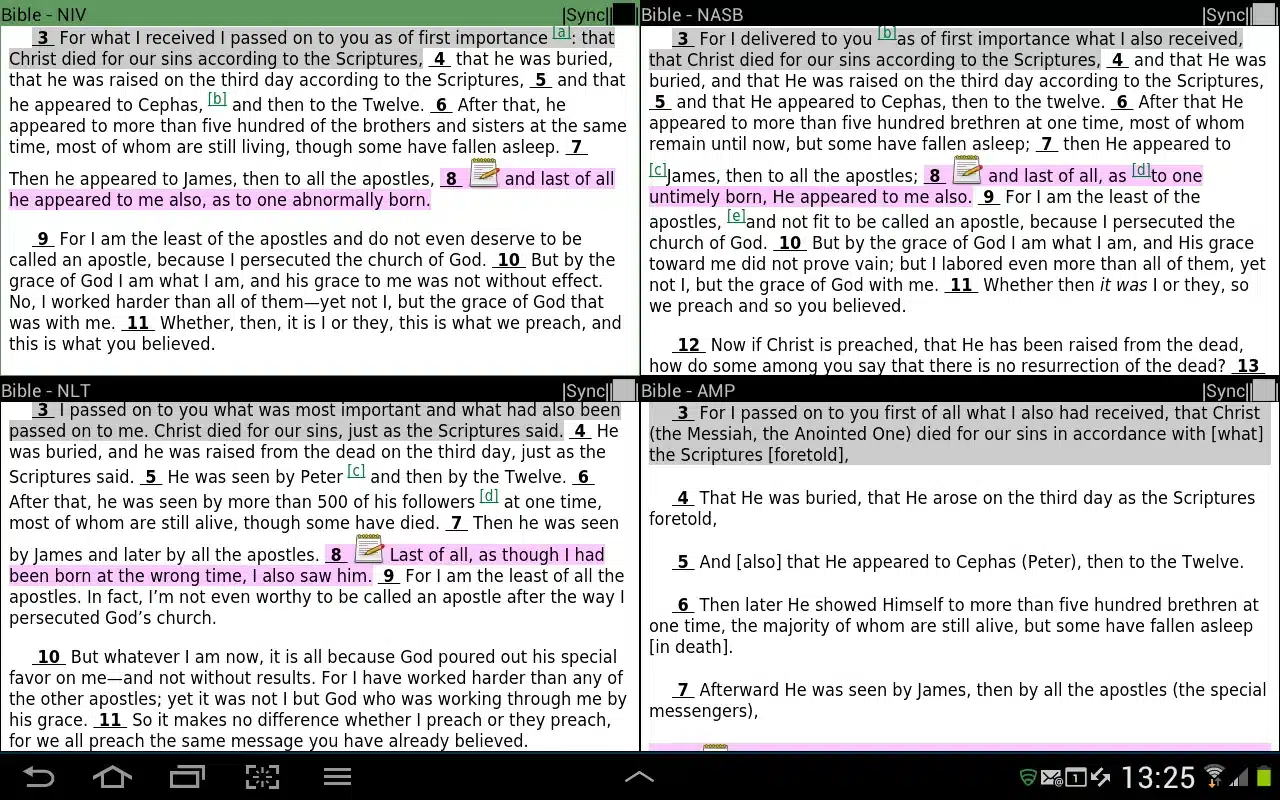 Install MySword Bible for PC Windows using BlueStacks
MySword Bible is not available for Windows but you can use it via BlueStacks on your computer. BlueStacks give access to mobile apps and games on PC. You can use this software to install MySword Bible on Windows.
Alternatives to MySword Bible for PC Windows
This user-friendly, free Bible reading app has many add-ons to meet your needs. With E-Sword, you can conveniently alter your needs with the help of its integrated editor. The King James version of the Bible is the most readed on E-Sword but there are many other versions available as well. Its audio speeches and commentaries are some of the app's best features as they are completely free, insightful and compelling to hear. Commentaries from well-known pastors like Andrew Barnes and Adam Clarke can be found here. E-Sword is one of the best apps for those who are looking to be priests and sermon writers.
In addition to aiming to be a Bible reader, this is a simple and effective Bible Study app that makes your study seamless, enjoyable and in-depth. AndBible: Bible Study makes Bible study easier than ever. It can be complex and challenging to interpret the Bible at times and this app has a sophisticated tool that enables in-depth verse analysis. One of the best parts is that it is a non-profit organization that is completely open-sourced and free. It doesn't contain any ads and has many original translations and insights that make it one of the best Bible study apps in the market.
With the tools and resources provided by Bible by Olive Tree, reading the Bible is fairly simple by giving you access to all the necessary information, including the passages, this app makes complex texts extremely easy to read. Here you can make notes, highlight passages, bookmark your favorite verses and write journals. You can even automatically synchronize all of your data to any device. By selecting a plan that works with your schedule, you can set reminders to read the Bible or get access to the Olive Tree Store, where you can build a freely accessible library.
Bible Hub is a digital Bible study app that offers various study tools such as scriptures, commentaries, cross-references and parallel texts. If you want to read the bible in your native language, see ancient maps and access various translations, Bible Hub can handle it all for you. It gives you access to many resources that can assist you in understanding all the verses in the Bible. Additionally, you can also highlight and bookmark passages, make study notes and write journals on Bible Hub.
Frequently asked questions about MySword Bible for PC
Is MySword Bible for PC free?
Yes, MySword Bible is totally free to download and use and you can get access to some additional features by paying a small amount.
Is MySword Bible available for Mac?
Unfortunately, there is no official way to download to MySword Bible on MacOS but you can use the Android version by downloading an emulator like BlueStacks for your Mac.
Is MySword Bible for PC safe to download?
Yes, MySword Bible is a safe and secure application that has been downloaded by millions users on internet. MySword Bible also does collect or stores user data to sell in any way.
MySword Bible for PC – Is it Possible?
MySword Bible is a straightforward and powerful application that allows you to study the Bible and read well-known commentaries and translations of the verses in the Bible. Unfortunately, this app is only designed for the Android OS so there isn't way to download the app on your computer but it can still be downloaded unofficially by using an Android emulator. All you have to do is to download any emulator and look for MySword Bible on the software.