Ookla Speedtest for PC is a service to know the quality of your network connection. Available for free on a large number of platforms, it is an effective tool for measuring the upload, download and latency of your Internet access.
Why use Ookla Speedtest for PC?
Ookla Speedtest (formerly Speedtest.net) is a tool designed to calculate the quality of an internet connection, whether it goes through wi-fi, ethernet or even a 4G/5G connection. For a computer, Ookla can be used to calculate the speed of a connection via fiber optic, ADSL, VDSL, cable, satellite, etc. The site has servers all over the world to guarantee reliable measurement regardless of the user's location.
3 types of measured data
Speedtest.net allows you to measure three types of information:
Upstream speed, i.e. the speed at which information is sent from the user's computer to the internet.
The downstream rate, i.e. the data stream received on the user's computer. This is the downstream speed which allows you to download files or watch streaming videos, for example.
Finally, the ping, namely the latency time. This is the time it takes for information to be sent from the sender to the receiver and then sent back to the sender.
This is a data particularly followed by video game players in particular, in order to know the potential latency on online games.
An easy-to-use website
Ookla is particularly easy to use for a simple reason: it is not overloaded with options and offers only one job, namely the calculation of a user's connection. You simply have to click on "start tests" in order to discover the calculation directly. You can also choose the unit of measurement chosen for the speed (Mb/s or Kbs/s), or determine the servers yourself according to those eligible in the parameters.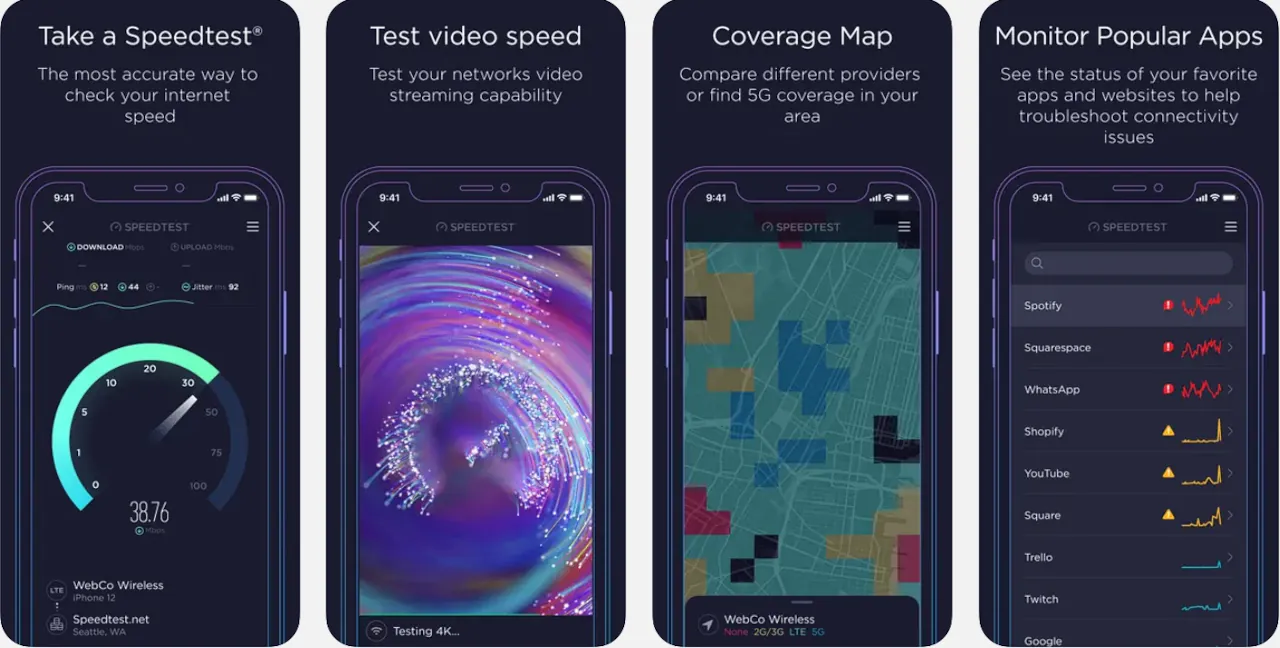 How to use Ookla Speedtest for PC?
Using Ookla Speedtest is extremely simple and does not require account creation or payment. All you have to do is go to the service's website, then directly launch the connection test. We then benefit from all the data collected by the site at the time of the test.
For this reason, it is possible to use Ookla Speedtest on all types of devices, provided you have a web browser. You can therefore carry out this connection test via computer (Windows, Mac, Linux), smartphone or tablet (Android, iOS). You can also use this site to test a connection via VPN.
Alternatives to Ookla Speedtest for PC
Various services also offer to test an internet connection. Ookla is certainly the most popular on the market today and usually the first option to appear on Google when looking to perform a connection test. However, there are other sites offering a similar experience.
There is for example DegroupTest.com, which provides access, like Ookla, to measurements of upstream/downstream speeds and the user's ping. This site also offers internet speed barometers to find out the best internet service providers.
LibreSpeed is a Self-hosted Speedtest for HTML5. Easy setup, examples, configurable, mobile friendly. Supports PHP, Node, Multiple servers and more.
Powered by Netflix, Fast.com estimates your current download speed. You will generally be able to get this speed from leading internet services, which use globally distributed servers.
SpeedOf.Me is an HTML5 Internet speed test. No Flash or Java needed! It is the smartest and most accurate online bandwidth test. It works well on iPhone, iPad, Android, Windows 8 and other mobile devices, as well as desktop computers.
More than a simple speed test, nPerf brings you the best and the fullest mobile connection quality measurement tool up to 10 Gb/s speeds!
The iperf series of tools perform active measurements to determine the maximum achievable bandwidth on IP networks. It supports tuning of various parameters related to timing, protocols, and buffers. For each test it reports the measured throughput, loss, and other parameters.