If you're looking for a free photo editing tool that can create amazing images and illustrations, then you must try PhotoPea for PC. Even if you are not an expert in graphics design, you can complete some of the most complex tasks with this simple image editor. Here we will show you some of the most important features of PhotoPea.
| | | | |
| --- | --- | --- | --- |
| Name | PhotoPea | Developer | Ivan Kuckir |
| Year of Launch | 2013 | Supported OS | Web Browser |
| Category | Photo Editor | Language(s) | Every browser's language |
| Official Website | www.photopea.com | Rating | |
Features of PhotoPea for PC
Workspace
The workspace replicates other image editors like Photoshop quite a bit. There is a Toolbar on the left, a Sidebar on the right, a Top menu at the top and a Work area in the center of the panel.
Toolbar
You can find all the necessary tools and functions on the toolbar. The icons in the toolbar allow you to switch between different tools and by keeping your cursor over an icon, you can also access additional related tools that you may need. The shortcut keys allow you to switch between different tools so you don't have to move your cursor all the time.
Sidebar
There are two vertical columns in the Sidebar. It can be folded and unfolded by clicking the line at the top of each column. These columns contain panels like layers, history or paragraphs for example, that you may need for the course of your work. Once a column is unfolded, several panels can be seen inside. Folding a column allows you to view or hide a specific panel by clicking the related button.
Top Menu
The Top Menu consists of two sections. The first section is the main menu, which includes options for file, edit or image. The second section contains the current tool's parameter which can be found below the main menu. The content varies for each tool.
Work Area
You can open multiple files simultaneously with PhotoPea. The Work Area, also known as the artboard, is where the list of opened files is displayed on the screen. Here, you can navigate between various artboards and pick the one you want to use. By clicking the cross next to the file name, you can also close one of the files.
Layers
Every file document has layers and parts of the image are represented by this layer. Typically, it's an area made up entirely or mostly of transparent pixels. To create the final image, layers can be rendered on top of one another. All the layers are listed and have thumbnails in the Layer panel. This is located in the right sidebar. The layers listed at the bottom are in the back of another layer, whereas those listed at the top are in the front. Simply click on a layer and choose the one you want to edit. Additionally, you can select multiple layers by pressing and holding the CTRL key.
Open Multiple Files
The fact that PhotoPea lets you open and edit various types of files makes it a must-have software. More file types can be opened in PhotoPea than in almost any other editing program. PSD, PDF, AI, XD, Sketch and XCF files can all be edited here. The software also supports common files like JPG, PNG, SVG, RAW, TIFF and GIF files. This is an excellent feature to have that is missing in many other programs.
Easy to use
PhotoPea is particularly known for the seamless experience it offers. Due to its simple interface, this software can be a fantastic option for beginners. There are many ways to access PhotoPea. The software can be accessed on your computer or you can open it from a browser, smartphone or tablet.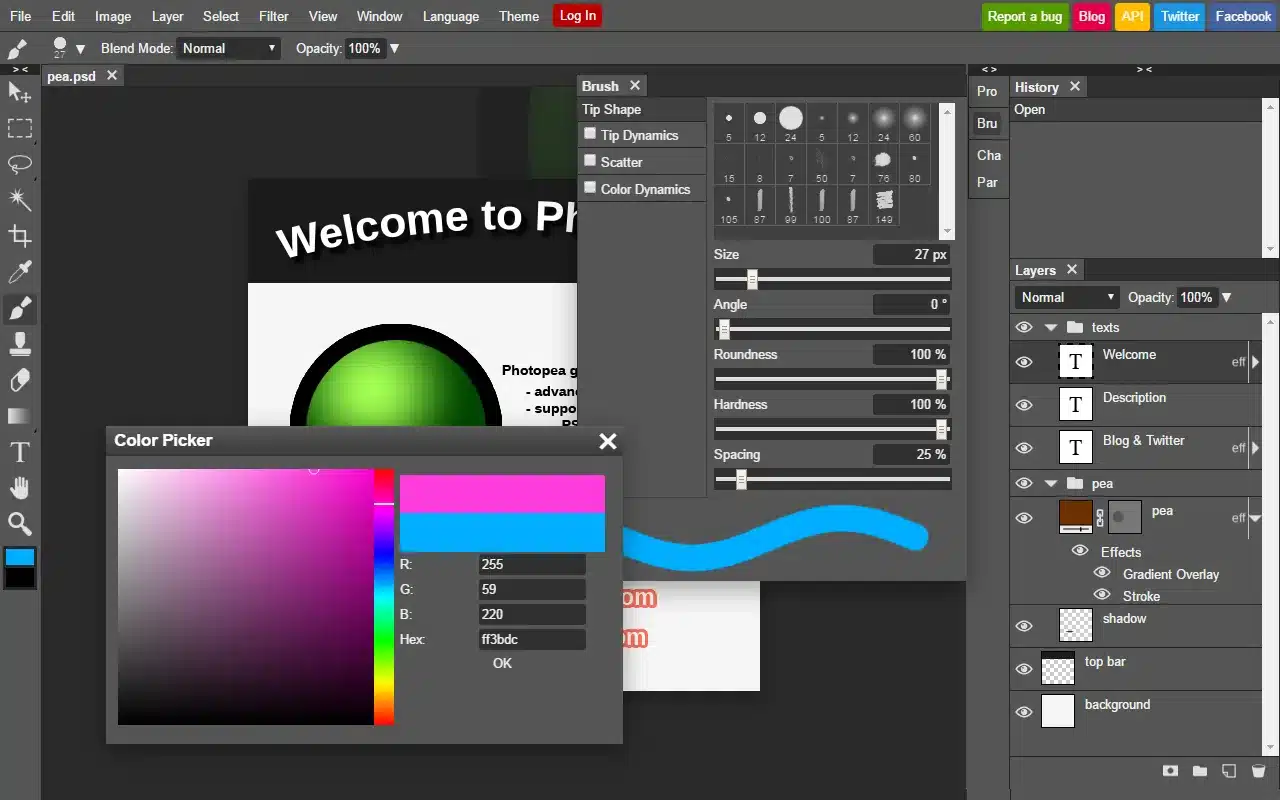 Alternatives to PhotoPea for PC Windows
This software has gained considerable popularity among photographers and creative professionals. Affinity Photo allows you to work with speed, power and precision. It's designed to work hand-in-hand with the latest powerful computer technology and the only fully-fledged photo editor programmed differently for Windows and MacOS. Affinity Photo also has retouching tools and features that help you make quick corrections.
This is a quality vector graphics design software used for working on illustrations, UI designs and pattern designs. Affinity Designer has an enormous zooming capacity of up to 1.000.000% which will help you to work on your artboards. This software also offers a grid system that can help create video game graphics. Additionally, it has snapping options where you can lock and position objects based on shapes and alignment guides. You can make smooth and precise curves by utilizing its window stabilizer feature. Not only can you edit vector graphics, but you can also edit pixel graphics with the same workflow.
One of the most widely used editing software, Pixlr allows you to edit unlimited images and share them on various platforms. Whether you're looking for a classic desktop theme or something more modern, Pixlr offers a wide range of editing themes. Pixlr X, Pixlr E and Photomash Studio are the three variations of this software. All the versions are AI-powered that give your edited images a polished appearance. Pixlr also has a free background remover and many pre-loaded templates for social media posts, newsletters, business cards and brochures.
Painnt turns your photos into masterpieces, for real! Use the most advanced AI tech to dramatically improve your art with tons of fully customizable HD filters. Turn your photos into artwork that look like real (and beautiful!).
Frequently asked questions about PhotoPea for PC
Why to use PhotoPea for PC?
Whether you are a beginner or an experienced graphic designer, PhotoPea works well for everybody. You can use it for simple tasks like resizing and retouching images or you can use it to perform complex tasks as well.
Can I download PhotoPea for PC?
Yes, PhotoPea can be downloaded on your Windows and Mac device from its official website.
Is PhotoPea free for PC?
Yes, PhotoPea is a web-based software that is totally free to use but there is also a premium version that you can purchase in case you don't wish to see ads.
Can I download PhotoPea for PC to use offline?
You only need an internet connection to open the software. Once it's opened, you can disconnect the internet and use PhotoPea offline.
Is PhotoPea for PC the same as Photoshop?
PhotoPea is a web-based application that offers many of the same features as Photoshop. However, there are some key differences. PhotoPea is free and can be used from your browser, whereas Photoshop is a one-time purchase that you will need to buy and install from the Adobe store.
Is GIMP better than PhotoPea for PC?
GIMP offers a complete cross-platform experience with third-party plugin support, customizable layers and support for RAW files. PhotoPea on the other hand is a simple web-based solution to quickly edit most types of files. GIMP is better for those who have expertise in professional photo editing, while PhotoPea is an excellent choice for beginners and for someone who wants to make a quick edit.
Is PhotoPea good for graphic design?
Yes, if you are looking for a free graphic designing tool, PhotoPea is a good choice for you. It's very closely as the other paid professional editing tools.