PUBG Mobile for PC is a famous Battleground FPS available on all platforms. Some specification are different between PC's version and mobile one. If you prefer to play PUBG mobile version, you can install it on Windows 11 | 10 | 8 | 7 or MacOS by using some methods we share with you in this article.
Name
Player Unknow Battleground Mobile
Developer
Tencent Mobile International Limited
Year of Launch
2018
File Size
2.4 Go
Supported OS
Windows | Android | iOS
Category
Battle Royale
License
Free
In-App Purchases
View the list60 Unknown Cash | $0.99
180 Unknown Cash | $2.99
600 Unknown Cash | $9.99
300 Unknown Cash | $4.99
1500 Unknown Cash | $24.99
3000 Unknown Cash | $49.99
6000 Unknown Cash | $99.99
PUBGM Prime(1 month) | $0.99
PUBGM PrimePlus(1 month) | $9.99
Language(s)
English | Spanish | Hindi | Arabic and 27 more.
Store(s)
Google Play Store | App Store | Amazon Appstore
Official Website
www.pubgmobile.com (Mobile) | www.pubg.com (computer)
Rating
What's PUBG Mobile for PC
PUBG Mobile for PC, isn't just a scaled down version of the PC title. This is the entire opus that we were able to adore last year on "larger" formats. Here, the experience is complete and we mean that all the features that make PUBG a unique Battle Royal come together in this app. For that, we have to salute the work of Brendan Greene and Korean game studios Bluehole.
Install PUBG Mobile on Windows using an emulator
BlueStacks and MEmu Play are famous Android emulators that work well with Windows and MacOS. With them, you can download and install Android and iOS applications on your computer and also use external hardware like your mouse and keyboard.
Mobile version Vs Windows version
On the screen is a large semi-transparent circle in the lower left corner that controls your legs, and therefore your movements. On the right side of the touch screen is the bullet icon which causes you to fire your equipped weapons. To look around you, place your thumb on this socket and shake it slightly. Be careful not to be too abrupt though, so don't advance this ball if you don't want to shoot and alert other players to your presence.
At first, we almost cried with frustration while playing, because it requires more precision than Fortnite and the handling is much harder compared to the PC version of the game but that's like everything, it takes time to get there and after the first three hours, we like to take good reflexes. Even if the first four hours were against bots, it's never boring!
Gameplay of PUBG Mobile for PC
The game is the same as usual: 100 players jump out of a plane, dive as fast as possible to the ground and try to find a weapon as fast as possible to kill (or be killed) each other. The fact that all 100 players try to survive as long as possible and the map shrinks after two minutes of play to force campers out into the open is a great base for some shooters.
Panic! Don't have a gun
Find a shotgun and a pistol for example and you will play a game that will be different from finding a rifle and a scope (long distance shooting scope). If all you find is a frying pan, well, you're probably screwed then. The maps are even more varied, which is huge. We were just getting to know Erangel when Miramar arrived and both maps are overflowing with detail.
It's not a particularly interesting detail and many assets are overused but these are great levels that you can come across again and again and always locate new stuff. This is further amplified by the initial parachute at the start of the mission, when everyone jumps out of a plane as they fly across the map (again, each match follows a new angle of approach).
Run, avoid shrinking map, kill… and run
If you can win the inevitable first duel, find a decent weapon and armor for your body, and maybe pick up some wheels, then you're in place and can race to truly challenge the game. Players flock in the same direction, avoiding bombardments overhead and a narrowing line on the map hurting those on the wrong side. After an initial flop of activity things may calm down but the shrinking playing area means it's just a matter of time before people bump into each other around the goal. The one-life setup ensures that the stakes can't get much higher and it's this marriage of intensity and conceptual simplicity that makes the game compulsive, engaging and compelling.
Some minor issues but one of the best in its category
Of course there are some minor issues that need to be addressed, the frame rate for example is not perfect and not as good as the mobile version of Fortnite on iOS. Additionally, there is a little more difficulty in aiming in this title than with its Epic Games competitor, mainly due to the perspective and the layout of controls on the screen.
Nevertheless, Bluehole released a very good version of their shooter in a pocket format that quickly made us addicted! If we compare with most free Iphone games, it is undoubtedly one of the best, and by far. The map is still big, the textures are far from hideous, and it's never riddled with ads every 30 seconds. In short, it's good, it's beautiful, it's great.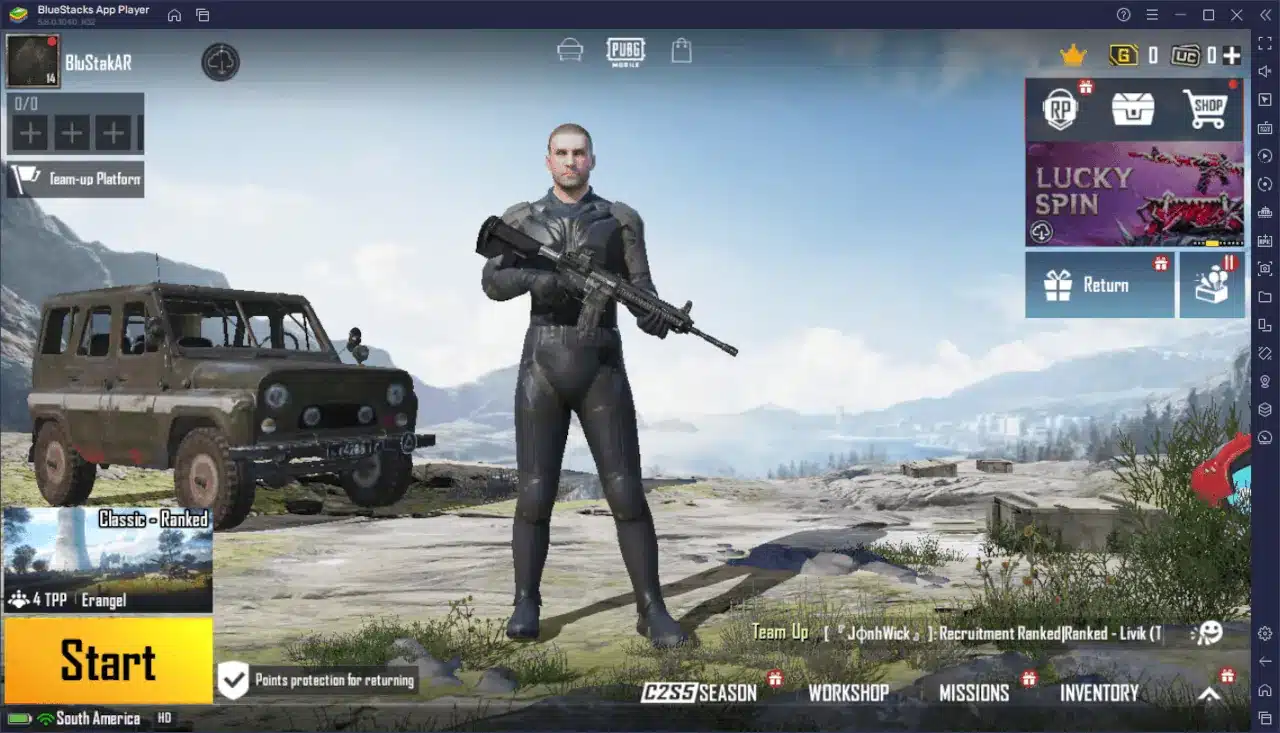 Alternatives to PUBG Mobile for PC Windows
Call of Duty Mobile has become a popular first-person shooter that features an extremely entertaining battle royale mode. He have a vast arsenal of weapons faithful to the Call of Duty universe. The battle royale mode takes place on a huge map called Isolated, with up to 100 players entering the fray at a time. With smoother game mechanics than PUBG and top-notch graphics, Call of Duty Mobile is a great alternative.
Free Fire MAX is a hugely popular battle royale game in India and Southeast Asia that offers a fast-paced battle royale experience involving 50 players who are dropped on an island and must survive to win. Free Fire MAX offers a range of weapons similar to PUBGMobile, so getting used to the weapon mechanics won't be a problem.
Knives Out is a battle royale game that features a massive 100-player battlefield. Although the mechanics are similar to other Battle Royale games, Knives Out have a unique feature that allows players to build structures to defend against enemies. Impressive graphics and smooth gameplay make it a great alternative to PUBG Mobile.
New State Mobile is an indian copy of PUBGMobile and looks like its original version, some menu items and the warm-up location have been refreshed. New State Mobile currently offers two battle royale maps, TROI and Erangel 2051, the latter of which is inspired by PUBG's original Erangel map. Additionally, a new map called Station is now available in beta for players to test their skills.
Rules of Survival is another great alternative to PUBGMobile. It features a similar game format but have many unique features. Before the game begins, players can customize their characters, which adds a personal touch to the experience. Rules of Survival takes place on a gigantic field map with a maximum of 120 players. A quick tutorial educates participants on the game's various mechanics and tools.