If you are a Samsung mobile user who is looking to transfer data on a new Samsung device, you should download Samsung Smart Switch for Windows. This tool allows you to easily transfer your data from your old device to a new Samsung device. Here we will show you the features of this popular data-sharing tool and some alternatives you might like.
| | | | |
| --- | --- | --- | --- |
| Name | Samsung Smart Switch | Developer | Samsung |
| Year of Launch | 2016 | File Size | 78 MB |
| Supported OS | Windows | MacOS | Android | iOS | Category | Files Transfer |
| Language(s) | English | Arabic | Dutch | French | German and 6 more. | Store(s) | Google Play Store | App Store |
| Official Website | www.samsung.com | Rating | |
Install Samsung Smart Switch on Windows 10 | 11?
To download Samsung Smart Switch for Windows 10 | 11, follow these steps:
Go to the Samsung Smart Switch official website.
Click on the

Download

button in the top menu.
On the download page, Click on

Get it on Windows

button.
The software will start downloading itself.
Once the download is complete, double-click on the downloaded file

Smart_Switch_PC_setup.exe

to open the installation wizard.
Follow the on-screen instructions to complete the installation process.
Features of Samsung Smart Switch
Compatible with various devices
With Samsung Smart Switch, you can quickly transfer data from one device to the other with only a single click. This tool is compatible with other devices such as desktops and mobile phones and all Samsung's tablets and smartphones.
Easy to use
One of the best features of Samsung Smart Switch is its easy to use and simplicity, you can easily download and install this tool on your new and old devices.  Once you have installed the software, you need to connect your device with wireless or an USB cable. Then, you can choose the file or data you want to transfer without worrying about losing any crucial information.
Transfer all sorts of data
Samsung Smart Switch is more than capable of transferring a wide range of data. It is an extremely flexible tool to transfer almost all kinds of data from your old Samsung device to your new device. This tool can transfer various data types, such as messages, call logs, app data or calendar events for example. Common data like contacts, music and photos can also be transferred quite easily.
Transfer your files to your new device with WiFi
Apart from transferring data through an USB cable, you can also transfer data by using a nearby Wi-Fi network. Samsung Smart Switch for PC allows you to transfer files by wireless, making it a handy feature if you don't have a USB cable. Using this feature is also quite simple, all you have to do is to connect your Samsung device giving data to the same Wi-Fi network as the devices who receives the data and follow the on-screen instructions to begin the transfer.
Update your old Samsung device
Transferring data is not the only function that Samsung Smart Switch can offer. You can also use the desktop version to update your old Samsung device. This feature is usefull if you have an old Samsung device that can't be updated. With this software, your old device can run the latest Android version.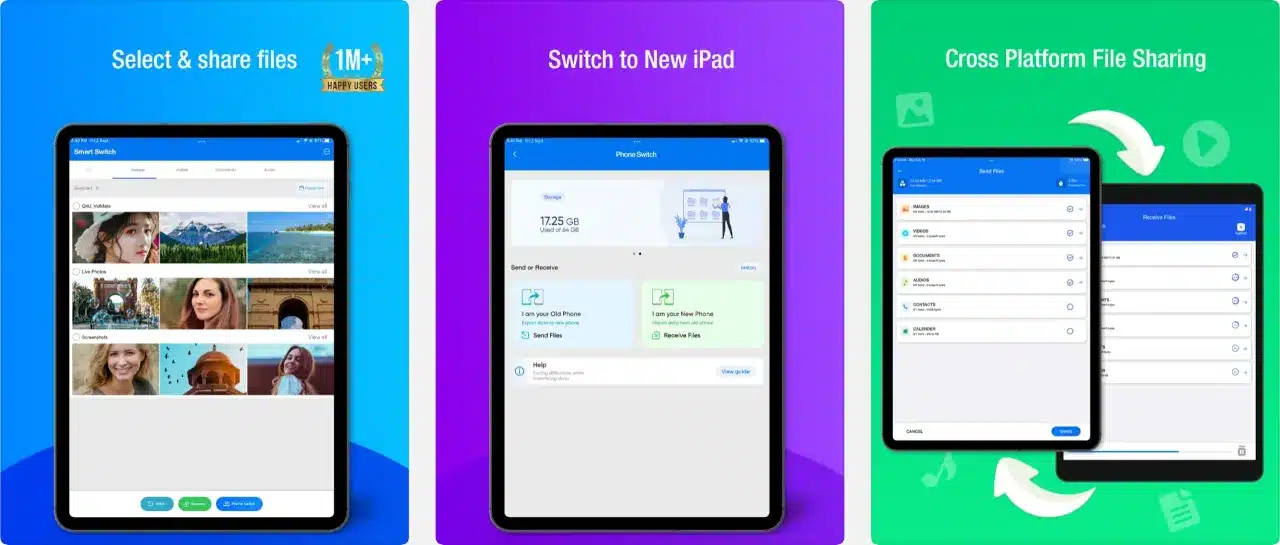 Alternatives to Samsung Smart Switch for Windows
CLONEit is a popular file-transferring software that seamlessly transfers data from one device to the other. With this tool, you can transfer all types of data to your new device, including photos, music, contacts and much more. All you need to do to use CLONEit is to install the software on both devices and connect them on the same WiFi. You can be sure that using CLONEit on your computer, you can transfer files to your new device without losing important information. This easy-to-use tool can save you a lot of time.
Google Drive is one of the best file storage and synchronization tool that safely stores your files in the Google Cloud. The Google Drive application allows you to access and share your data from any device. It also integrate with Google's office tools, including Slides, Docs and Sheets. This means any data saved on these applications can automatically be stored in Google Drive. You can also edit your documents or create new documents, presentations and spreadsheets directly from the interface. Google Drive has many other features besides storing your files securely and sharing them. You can also use this tool to scan various documents and automatically back up photos, videos, contacts, calendar events and many more different types of data.
Dropbox is another popular file storage tool that allows you to store your files in the Dropbox cloud. Over the years, Dropbox has become a powerful software that provides secured cloud storage and file-sharing services. Dropbox hosts and synchronize your files, allowing you to share archives and access your files remotely. Additionally, Dropbox has numerous features that benefit both individuals and businesses alike. With this tool, you can store and share your files and offer real-time collaboration on docs and other files that can be accessed in Dropbox. Moreover, you can also preview various types of data without downloading another software.
Developed by Microsoft, OneDrive is a fantastic service for hosting and synchronizing your files. You can use this tool to store files in the OneDrive cloud and access them from any device that is connected to the internet. Microsoft's collection of office tools is also integrated with the OneDrive application. This means you can instantly edit your current documents, presentations and spreadsheets with the tool. You can also use MS Office tools inside OneDrive, creating new docs and presentations without opening one of its applications separately.
SHAREit will help you to share files, apps, games, and more with the SHAREit file transfer app. SHAREit is a super-fast, data-free and safe app to transfer big files. Trusted by 2 billion+ users worldwide, SHAREit is the secure way to share your files, online & offline.
Frequently asked questions about Samsung Smart Switch
How do I get Samsung Smart Switch on my laptop?
Follow the same process of downloading and installing Samsung Smart Switch on PC to use it on your laptop.
How do I use Samsung Smart Switch on PC?
To use Samsung Smart Switch on PC, you must download and install the software. Once installed, you can connect your device to the computer to transfer any kind of data or files.
Can I get Samsung Smart Switch on PC?
Yes, you can quite easily get Samsung Smart Switch on PC. It's a tool that allows you to transfer all sorts of data from your old device to your new Samsung device. Simply go to the Samsung website to download Samsung Smart Switch for computer.