If you are someone who easily gets bored while working on the computer, perhaps Shimeji browser extension for PC can entertain you while you move your cursor around. This funny application will light up your mood with cute characters wandering around your computer screen. Here we will show you some of the best feature Shimeji-EE Desktop Pet have and some alternatives that are also great option.
| | | | |
| --- | --- | --- | --- |
| Name | Shimeji-ee Desktop Pet | Developer | Shimeji-ee group |
| File Size | 1.6 MB | Supported OS | Windows | Android |
| Category | Desktop Personalization | License | Free |
| Language(s) | English | Store(s) | Google Play Store |
| Official Website | www.kilkakon.com | Rating | |
Install Shimeji browser extension for PC Windows
You can get Shimeji-EE Desktop Pet to run on your computer as it's an open-source tool that allows you to make little desktop companions that wander around your computer screens. To download Shimeji-EE Desktop Pet on your Windows, go to the official website and install the program. Note that to run Shimeji-EE Desktop Pet you must have Java installed on your computer.
Features of Shimeji browser extension for PC
Convenient Interface
The Shimeji tool is simple and clear interface makes navigating through its primary menu which is splited into two sections. All of the downloaded and available virtual pets are displayed on the left side of the menu. On the right side of the menu, you will find all the customization and setting options. The Shimeji app comes pre-installed with a list of characters that can be used to run on your desktop screen. Simply click on any character you want, and it will show up on the home screen. The characters can also be easily modified. You can choose how often you want them to appear on your screen or how many movements they make. However, if you want to get the most out of it, you might want to just let the characters act naturally. You can also configure the characters so that they only appear on a specific desktop program. Users from all over the world can contribute and add new characters to expand the Shimeji ecosystem.
Shimeji browser extension for PC Characters
Shimeji is a desktop customization tool that enables you to personalize your screen with various funny animated characters. These characters often wander around on your computer screen and can be moved anywhere you like. It's an intriguing way to inject some fun into your tedious computer work. Shimeji is a type of animated screen decoration that can be applied to your computer screen but isn't necessarily a game. Even if you are not a fan of the characters in Shimeji, you will still enjoy seeing them because of how adorable they are. Shimeji's best feature is that the characters won't alter your wallpaper or screensaver. Shimeji characters can actually add a pleasing touch to your home screen with the right wallpaper. The only purpose of the characters is to amuse you with their adorable acts where you can move them around and do a lot more fun stuff. Every character also has a unique quality. All you have to do is click on them and they will show you everything they can do.
Customization
Shimeji characters can be customized in a variety of ways, making them interactive and enjoyable to play with. It allows you to modify the character and interact with your screen through pop-ups, icons and other activities where they act hilariously or just wander on their own. You can alter the characters' appearance, use a variety of colors, add amusing noises, change their sizes and much more using the customization tool. Shimeji allows you to move the characters around the screen by simply dragging the mouse. The character's actions as they move around your screen can also be controlled. You can also clone and add new characters using the customization tool. With multiple characters on the screen, you can make a variety of adjustments to the animations to enhance their visual appeal. Shimeji also has an option where you can let the characters clone or multiply themselves.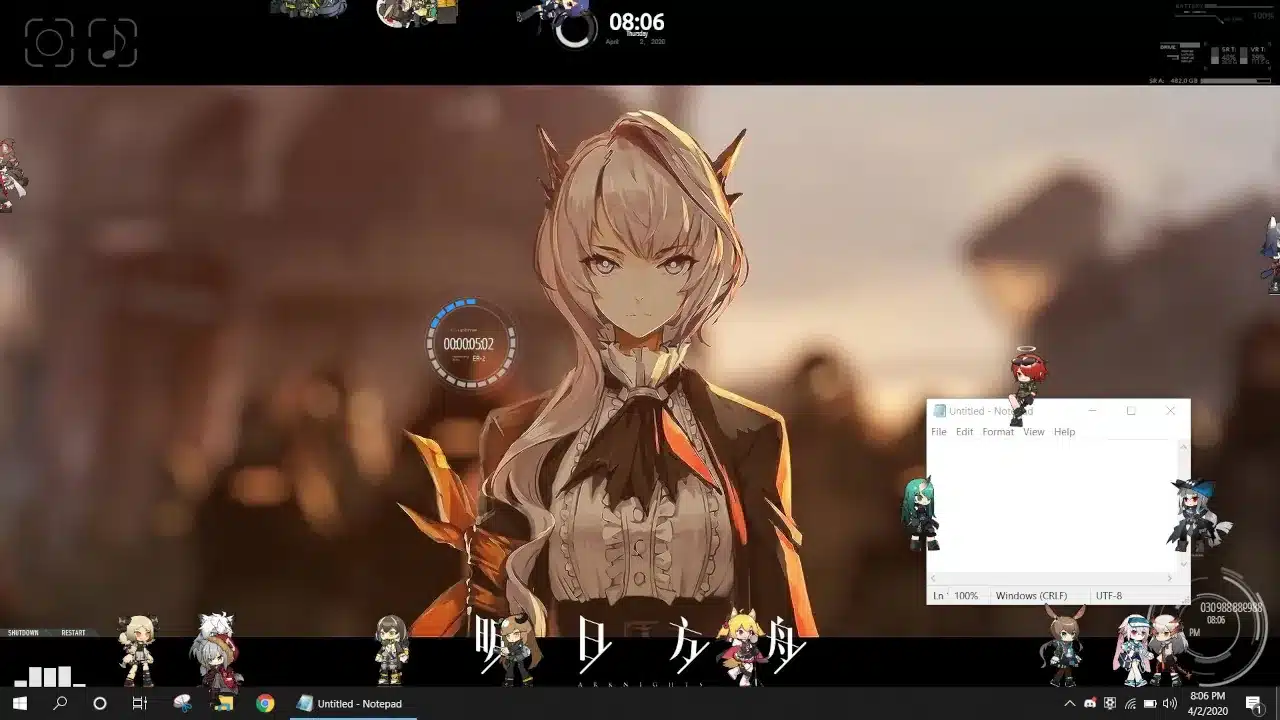 Alternatives to Shimeji browser extension for PC Windows
You can make unique emojis and customized avatars using Bitmoji, which you can then send to friends, post on social media sites and more. Bitmoji, formerly known as Bitstrips, was purchased by Snaps Inc., the company that created Snapchat. Even though Bitmoji is now a component of the company's social media platform, it also has a standalone application. The tool is fairly easy to use even if you are not an artist, you can create beautiful emojis with their user-friendly design. In addition to making emojis, you can also make emoticons, stickers, avatars and GIF to share with your friends. Bitmoji also recently transitioned to augmented reality, allowing you to create emojis by using your facial expressions.
Neko is a classic animated cursor application where a cat follows wherever the mouse pointer goes. With this tool's customizable options, you can change the animation of your mouse pointer to various cats, fish, mice or birds. The character behavior in the Neko tool is one of the most fascinating things to observe. By default, the cat will chase the cursor and perform many actions like scratching itself, yawning, staring at the screen and even dozing off, until you move the cursor again.  However, you can modify how Neko's characters behave. Here, you can control their movement speed, how often they make noise, and whether or not you want them to leave tracks behind as they move. You can also customize the size of the cats or change their appearance and colors.
This online multiplayer app is a virtual hide-and-seek game where you can create your own Tamagotchi characters to play with your friends. By attending to their daily needs, you must keep your characters in this game happy. This can be accomplished by feeding and amusing them and interacting with other Tamagotchi characters to make new friends. My Tamagotchi Forever is an Augmented Reality game that takes place in the city of Tamatown. Your character spends most of their time here looking for nearby players hiding. To advance to the next level, you must locate your friends who are hiding in the bushes, buildings or other places. You will be given various bonus items and coins to raise your overall score.
Frequently asked questions about Shimeji browser extension for PC
How do I get Shimeji browser extension for PC Windows 10?
You can get Shimeji on Windows 10 by downloading the tool from the official website or by using an Android emulator. Note that you must have Java installed to run this application on Windows 10. You can also use the Shimeji Chrome browser extension if you only want to use it on the browser.
Does Shimeji browser extension work on Windows?
Yes, Shimeji works fine on any Windows version. However, some minor bugs can be seen while you use the tool but it is negligible.
Is Shimeji browser extension for PC safe to use?
Shimeji is a safe and reliable Windows customization tool to use. It's a very popular tool and its official website also states that there have been no reports of safety and privacy issues from the users.