Run faster, jump higher, spin and collect as many rings as possible with the SEGA mascot. In Sonic Dash for PC, the legendary blue hedgehog will have fun in a runner infinite game. Currently overtaken by certain titles of the same type such as Temple Run or Subway surfer, Sonic has not yet said his last word! Will it catch up with the competitors? Nothing is less sure. Nevertheless, with more than 500 million downloads on Android, this game remains among the best of its category. Here, we will show you how to download and install Sonic Dash on Windows and MacOS.
Name
Sonic Dash
Developer
SEGA
Year of Launch
2013
File Size
536 Mo
Supported OS
Android | iOS
Category
Runner Game
License
Free
In-App Purchases
View the listBreeze Bundle | $3.99
Breakout Bundle | $3.99
Booster Bundle | $6.99
Chest Of Red Star Rings | $9.99
Classic Sonic | $3.99
Starter Bundle | $2.99
Sonic Dash Pocket Money | $1.99
Espio the Chameleon | $3.99
Free Revive | $1.99
Metal Sonic | $3.99
Language(s)
English | French | German | Italian and 3 more.
Store(s)
Google Play Store | App Store
Official Website
www.sega.com
Rating
What is Sonic Dash for PC?
In fact, it's a mix of a classic arcade game and a runner game where Sonic and his friends will run and spin around, beat enemies and save their world. Tails, Knuckles, Amy or even Shadow will be there by completing quests. The principle of Sonic Dash is therefore to sprint infinitely. The goal is to perform this action as far as possible while keeping the character alive. SEGA's mascot doesn't do it for fun as his mission is to fix ruined areas so animals can thrive there. Thus, during the adventure, our hero runs, takes loops and sweeps everything in his path.
Naturally, he must also dodge dangers, eliminate his enemies and unlock Items to go faster. The beginnings of Sonic Dash is one of the newest in the long list of Sonic titles. As a reminder, the very first title, called "Sonic The Hedgehog" which appeared in 1991, is a 2D platform game. Sonic Dash, launched in 2013 on appear on iOS and Android. This time, the developers have opted for a 3D runner game. It has also been available on Windows since 2014. Currently, there is even a Sonic Dash 2, called Sonic Boom. The PC game updates seem to be on stand-by for a few years now.
Sonic Dash for PC : An exciting free to play game
Sonic Dash is available in a free version and includes all the necessary options to inspire players but it still includes some paid In-App bonuses. For example, to unlock certain powerful characters, you will need to take out cash. You can also buy some ingenious items to go further and survive a little longer.
A 3D game with great graphics
Unlike previous Sonic games, in Sonic Dash, we mostly see the back of our favorite hedgehog. The interface is nicely decorated with an addictive visual to prevent the player from finding it monotonous. Thus, the latter will have morning scenery, sometimes beautiful sunsets. The animations as well as the effects of certain objects are also breathtaking, enough to make you want to spend a few hours there.
Attractive and fun gameplay
In the opus, the character will automatically run in a corridor divided into three parts. Simply tap continuously up or down and from right to left on your screen to boost the speed and manage directions. You also have to dodge obstacles. Above all, you will have to touch as many rings as possible by making a zigzag movement on your interface. As with other running games, you will find bonuses stars everywhere. You will have to take them if you want to improve your score and unlock more areas.
Also, your sprint will be safer if you do as you will gain speed and power. The fun part is that the faster your character runs, the more new environments you will discover and the better you will fight bosses. The objective is to fill the acceleration gauge so that you become invulnerable. You will also face Badnicks, robots in the form of animals created by Doctor Robotnik, which you will have to eliminate but these are just classic bots. To beat them, all you have to do is dodge first, then attack them at the right time.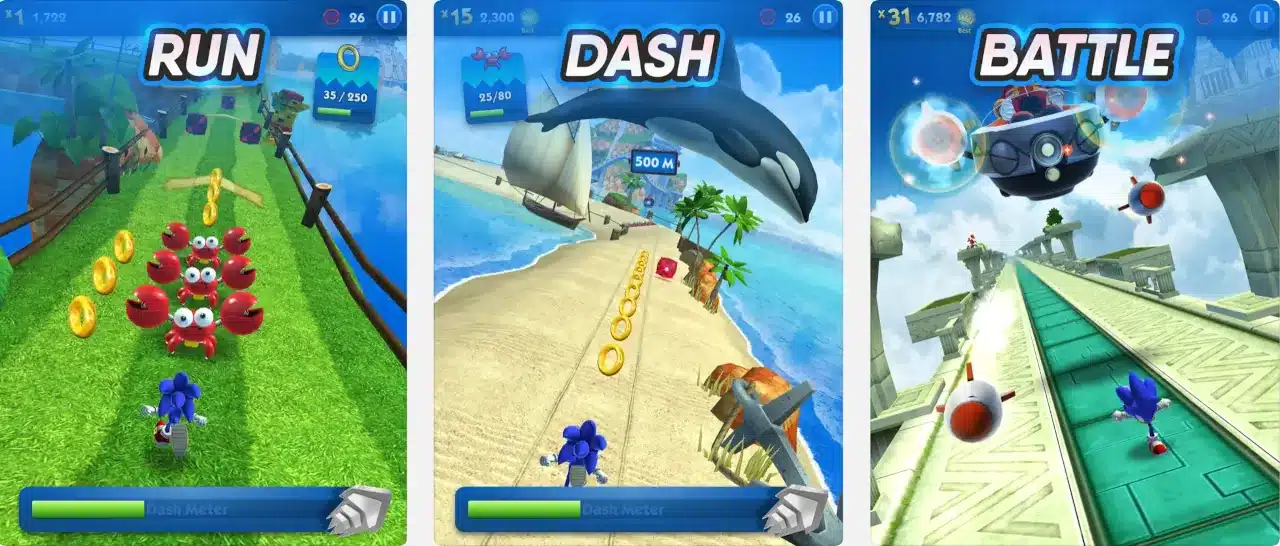 Install Sonic Dash for PC Windows using an emulator
BlueStacks and MEmu Play are famous Android emulators that work well with Windows and MacOS. With them, you can download and install Android and iOS applications on your computer and also use external hardware like your mouse and keyboard.
How to unlock other characters?
There are a multitude of characters available on Sonic Dash. Each of them has specific power-ups in addition to having a different visual of Sonic's blue on your screen. Find popular hedgehogs such as Sonic and his friends Tails, Knuckles or Shadow and play with other characters like Amy, Blaze or Charmy. To unlock them, you need to:
Get More Red Star Rings
The most common way to unlock characters is to accumulate Red Stars. These are obtained by completing missions. For example, you can get Cream for 40 red stars and Blaze against 60 of them.
Restore predefined areas
There are characters that you can simply use when an area is no longer destroyed. If you manage to repair Seaside Hill Zone for example, Knuckles will be unlocked, for Amy, you have to free Beach Zone and for Miles, you have to restore Green Hill Zone.
Buy characters online
By paying directly in the application, you can find new characters and continue to play with more powers and some are exclusive to it. For example, the Espio Chameleon and Metal Sonic are available starting at $3.99.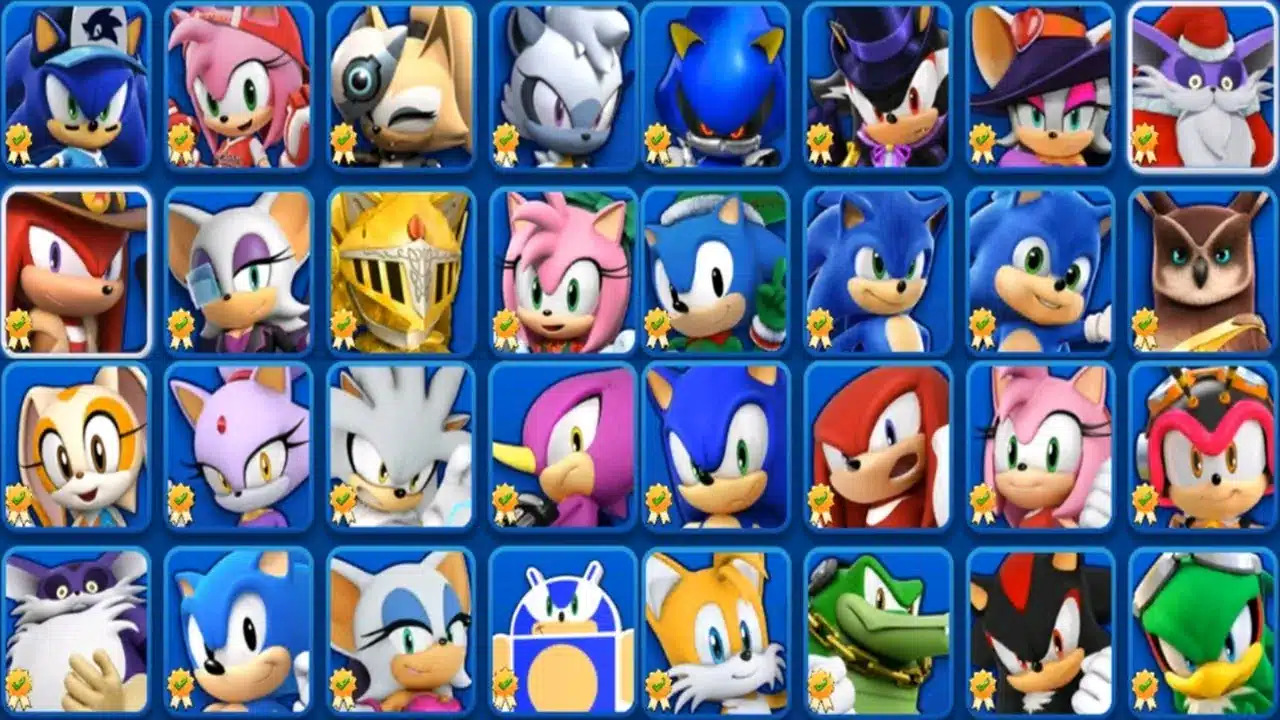 Few techniques to get to the end of the game
Avoid dying frequently
You have to dodge the various obstacles on the road to avoid dying and restarting the game each time. Most of the time, it's because of the buildings that you can touch or the water in which you risk falling. Don't forget the enemies on your way and remember that it costs rings to touch them if you aren't at full speed.
Defeat enemies in Sonic Dash for PC
If you accidentally bump into enemies, your rings will decrease. Fortunately, there is a simple way to take them down easily: You have to run over them while the game counter is running. This will make you invulnerable despite running at high speed.
What types of upgrades can I buy on Sonic Dash for PC?
Many upgrades will be offered to you once you accumulate more rewards or Red Stars. Thus, you will have the choice between speed accelerators to go faster or a lightning start for example. The best is to opt for the improvements that will remain with your character for life. Forget the consumable items at once and think about saving instead.
How to accumulate more red stars?
You will need to complete Daily Challenges to get Red Stars for free, it's not easy but they will be of great use to you on the way. A word of advice, don't resurrect Sonic with them. That would be a waste, unless maybe you are about to break the world record…
What can I buy with red stars?
Unlock characters
Some characters can only be unlocked if you have purchased them with red stars.
Resurrect heroes
To prevent the race from stopping permanently, you will have to keep your character alive as long as possible but it's not always easy with the various obstacles encountered. Thus, Sonic can be resurrected once for free. You only have to wait about ten seconds if you have fallen into water. Thereafter, if you fall again, you are dead and you must use a star to raise him. Nevertheless, the price will be doubled as the practice continues.
Strengthen character skills
To pass each level, you must increase your abilities. Using the red rings, you can improve the power of your favorite characters by obtaining new items. You also have the option of buying shields to protect yourself while running quickly.
Sonic Dash for PC daily challenges and rewards
To avoid monotony and often keep you on the game, there are unique missions to multiply the final score. Completing these daily challenges allows you to have more characters or generate more red star rings. To discover the quests of the day as well as the objectives available, just look in the Rewards section of the game. With the rewards obtained, you can, among other things, buy ring magnets for your supply of red stars along the way.