If you are looking for a user-friendly and versatile music streaming application, look no further than Spotify for PC which has become a leader in music provider that allows you to access to a huge selection of worldwide music, podcasts and playlists. In this article we will see the best features, some alternatives for Spotify and see how you can download and install on Windows and MacOS.
| | | | |
| --- | --- | --- | --- |
| Name | Spotify | Developer | Spotify Ltd. |
| Year of Launch | 2008 | File Size | 158 MB |
| Supported OS | Windows | MacOS | Android | iOS | Browser | Category | Music Streaming |
| License | Free | In-App Purchases | Premium from $3.99 to $12.99 |
| Language(s) | English | Spanish | Portuguese | Hindi | Arabic and 26 more. | Store(s) | Google Play Store | App Store | Microsoft Store | Amazon Appstore |
| Official Website | www.spotify.com | Rating | |
How to download and install Spotify
On Windows 10 | 11
Click on the

Windows Start Button

and select Microsoft Store from the list.
Sign in with your Microsoft account. If you don't have one, create it.
Visit the Apps or Games tab in Microsoft Store.
Select Show all at the end of the row to see more of any category.
Enter Spotify in the Search bar.
Select the application and click

Get

.
Once the App is downloaded, click

Launch

to open the application on your computer.
On MacOS
Open the Apple App Store on your Macbook.
Make sure you have signed in with your Apple account. If you don't have one, create it.
Browse or search Spotify in the Search bar.
Click the

Get

button. If you see the

Open

button instead of a price or

Get

button, you have already bought or downloaded it.
Features of Spotify for PC
Huge collection of music and albums
You can stream over 50 millions songs and albums on Spotify, which is an extremely massive collection. As a result, you can access all sorts of musical genres, from the newest hits to all-time classic albums.
Have your own customized music playlists
Spotify allows you to make custom playlists based on your preferences and tastes. By the kind of music you listening the most, Spotify can also automatically make these playlists for you. This makes it easier to find new music you can enjoy.
Listen to music offline with Spotify Premium
As a Spotify Premium user, you can download your favorite songs and albums to listen them offline and its completely ad-free.
Listen to music with the best audio quality
Spotify offers high-quality audio specifically tailored for various headphones and speakers to have the best sound quality.
Share your playlists
You can also publicly or privately share your Spotify playlists with your friends and allow you to discover new music together.
Listen to new music with the Discover Weekly playlist
Discover Weekly playlist is one of Spotify's most likable features. Spotify for PC carefully curates new songs and albums based on your preferences. Every Monday, this playlist is automatically updated with a new group for you.
Switch between songs with Spotify's Crossfade
The Spotify desktop application allows you to switch between songs with Spotify's crossfade feature. This can also be tailored to your music taste and it's useful for a seamless listening experience.
Read lyrics on Spotify for PC to sing along
Spotify allows you to view the lyrics of the songs you are listening in real-time. This is a great way for you to learn the lyrics of new songs so that you can sing along to your favorite tunes.
Switch between devices with Spotify for PC Connect
With Spotify Connect, you can manage your music across multiple devices. This is extremely beneficial for those who want to listen to music on their computer and continue on phone or tablet for example.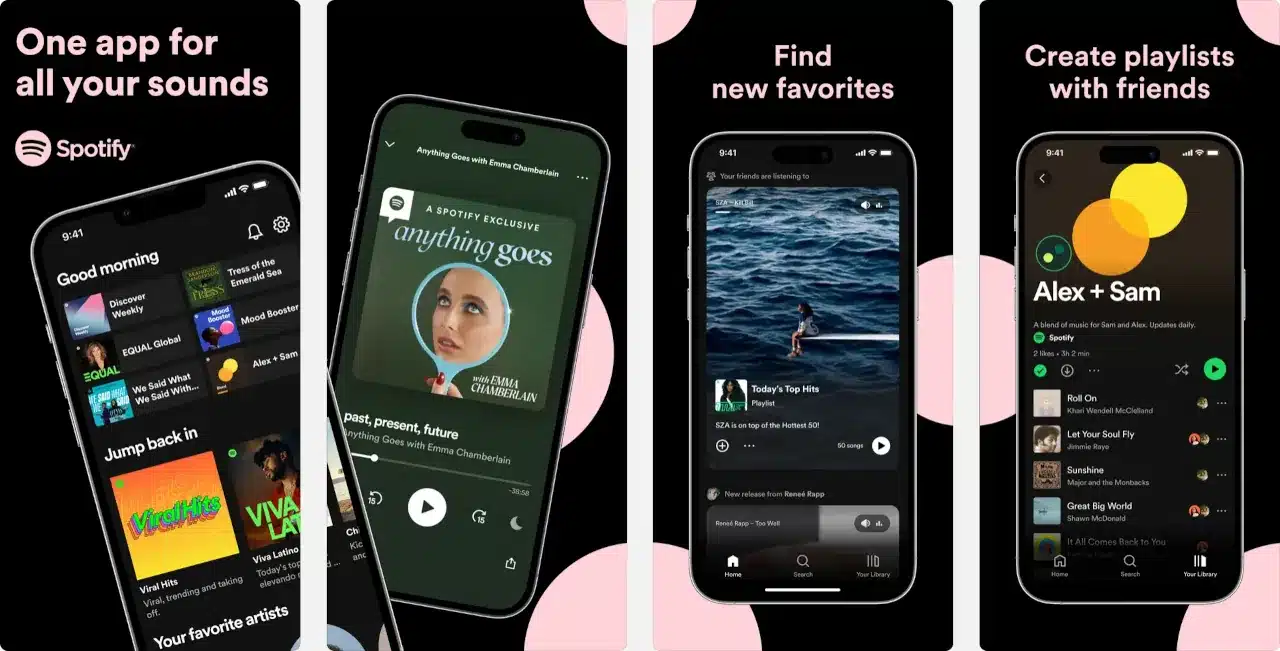 Alternatives to Spotify for PC Windows
Deezer allows you to access a massive library of songs and albums on your computer. This music streaming service is quite similar to other well-known music apps like Amazon Music. Deezer has around 56 million songs and albums, which is a massive collection for you to enjoy. In this app, you can also find all the latest tracks, make your own playlists and download to listen them offline.
Soundcloud is a popular music app that lets you distribute and upload your own music. You can't only upload music but here you can also upload all sorts of audio files as well. Soundcloud offers various songs and albums from many groups they are not known. One of the coolest feature of Soundcloud is the possibility to find the name of any song just by tapping on a button, this makes it easy to know the song and artist's name without needing to google it. Many independent musicians and producers use this app to produce their tracks for a larger audience.
Music Paradise Pro is a music streaming application where you can downloads various music and albums for free.  This applicaton is comparable to other free music streamer where you can listen to a huge library of songs for free. Millions of songs and albums are available on Music Paradise Pro and you can download to listen them offline.
Developed by the tech giant Amazon, this is one of the widely used music streaming and download apps with millions of songs and albums available. With over 10 million songs available, Amazon Music allows you to store and upload your music to its library.  Here you can make personalized playlists, listen to the radio and podcasts and also download anything to listen offline. Another substantial feature of Amazon Music is that just like Spotify, this application allows you to play tracks or albums for example from many devices. In addition to smartphones, tablets and computers, you can also switch between devices such as Amazon Echo and other speakers.
Frequently asked questions about Spotify for PC
Why to use Spotify for PC?
Spotify is simple and can be easily installed from its website or the Microsoft Store. Spotify for Windows is an excellent choice if you want a free and versatile music streaming application that offers millions of music in its library.
Why can't I install Spotify for PC Windows?
You won't be able to install Spotify on your computer if you use something lower than Windows 7. Also, make sure you have enough space on your hard drive because Spotify requires at least 250 MB to be installed.
How to download Spotify for PC Windows?
To download Spotify for Windows, you must go to the official website. Once the application is installed, log in or sign up using your email or phone number.
Is Spotify available for Windows 10?
Spotify is available on many Windows operating systems, including Windows 10 and 11. This popular music-streaming app has become a leading music app with over 200 million users worldwide. To download Spotify on PC, you have to go to the official website or even download it from the Microsoft store.