If you like to explore virtual world and to interact with other peoples online, you should watch about VRChat for PC. This VR game has been released for a while but begin to be popular after the introduction of the Metaverse. VRChat allows you to interact by making your own character and join a virtual world for explorations and adventures. Here, we will show you how to download and install VRChat on your computer, its basic features and some alternatives you might like.
| | | | |
| --- | --- | --- | --- |
| Name | VRChat | Developer | VRChat Inc. |
| Date of Launch | 2014 | Processor (Minimum) | Intel i3 gen. 8 | AMD Ryzen 3500 |
| Graphic Card (Minimum) | Nvidia GTX 1060 | Radeon RX 6500 XT | Memory (Minimum) | 4 GB |
| File Size | 1.5 GB | Supported OS | Windows |
| Category | Massive Multiplayer Online | In-App Purchases | VRChat Plus: $9.99 | month |
| Language(s) | English | Spanish | Portuguese | Hindi | Arabic  and 26 more. | Store(s) | Steam |
| Official Website | hello.vrchat.com | Rating | |
Features of VRChat for PC
Gameplay
The gameplay of VRChat is pretty similar to other virtual reality games. You can use the program to interact with other users through your virtual character. Thousands of interlinked virtual worlds are included in VRChat but you have to have some technical knowledge to create a character and worlds. If you are familiar with the concept of creating in-game characters, you might find it easy. VRChat has Unity SDK, a tool that allows you to learn how to create and upload characters and worlds in the game. You can do whatever you want on your characters.
You will be able to mimic your movements such as hand and head motions, lip-syncing, blinking and eye tracking. VRchat also lets you follow and copy the trends of other characters. Popular characters are always sold in the community and on different websites. If you are lucky, you can even acquire them for free. You can also use VRChat without a VR headset but only on Desktop Mode.
Character Rankings
Characters are ranked based on various levels and factors such as the amount of time you spend using VRChat. You can also figure out the rank of a character by simply looking at the highlighted color on their name. Each user who visits for the first time is ranked as a Visitor and has a grey-colored name. After you spend some time on the program, you are promoted as a New User and your name will be colored in blue. Once you get past the Visitor rank, you will have the ability to upload your own content.
When you get past the new user hierarchy, you will be moved to the User rank and be highlighted in green. User will be followed by Known User – highlighted in orange, and finally as a Trusted User – highlighted in purple. Once you have made new connections, characters will be ranked as Friends. If you see a yellow color in a character's name, that means they are in your friend list. You will be able to toggle between other characters and their feature, and also communicate based on the character's ranking.
Unity SDK
By being active in the VRChat community, you will find many creators using the Unity SDK to create characters and worlds. With Unity's Software Development Kit, you can create various virtual experiences and build new worlds. Unity SDK allows you to use your imagination to build a character that goes by your personality. It let you do a lot more than simply create worlds and characters.
You can also start an event, host a show, teach others, create a music concert or start your own VR masterclass. There are endless possibilities and use cases for VRChat. You can even share your best creations in the VRChat community, with your friends or with the entire world. Unity SDK also allow you to integrate an in-game Polaroid camera. With this, you can take a picture and share a 360-degree panorama image with your friends.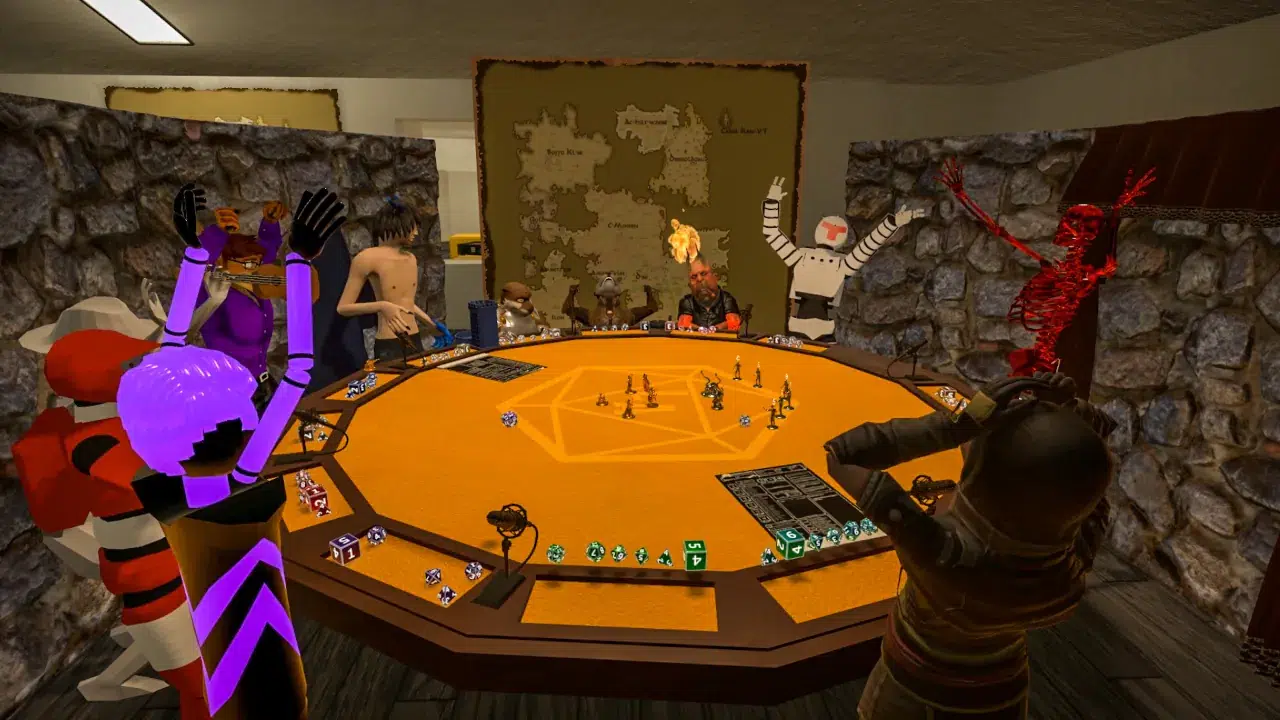 Alternatives for VRChat for PC Windows
Party Space can be used for engaging in some of the most online situations. It's a Metaverse software that allows you to attend virtual events and parties. You can use it to build up your 3D environment, to engage in various quizzes, built-in games and reactions. Users on Party Space compare various events and other online games from their devices. It delivers a whole new experience that can inspire users to engage in the Metaverse. As per your needs, you can use this platform as a multi-function social media platform. In Party Space, you can create a table and network with each other, go from one place to another and listen to the host of the network.
Yulio is one of the best Virtual and Artificial Reality software particularly designed for online businesses. It's an all-in-one program for architects, interior designers and other industries who want to use VR and increase sales through virtual storytelling and comes with loads of modification features. A variety of integrations helps you to design stunning pitching ideas and tell your stories through visual details. Using ambient audio and hotspots, you can also speak in your own voice for every project. Ambient audio will automatically play your voice when you enter a project, whereas audio hotspots allow you to aim for a specific area in your project.
This is a virtual hotspot that allows you to spend time with your friends, play video games, watch movies or collaborate with others for example. Bigscreen can be used for work purposes such as meeting with your co-workers, showcasing your skills or coding together. Here you can share popular content and view them in wonderful spaces. Bigscreen's unique features allow you to join or host a variety of different spaces. Its remote interaction is so realistic that it will seem like you are speaking to a person in the same room. Bigscreen also offers tons of customizable options for your avatar.
Horizon World, formally known as Facebook Horizon, is a VR game that enables you to interact with your friends in virtually. This game allows you to create personalized 3D characters to interact in the virtual world. Meta's Horizon World is a free game and the first of its Metaverse era. You can play this game with your Meta Quest headset, but you can also use other VR headsets. Horizon World is always expanding its social universe and there is always something new to explore. Here you can choose from over 10.000 worlds to interact with your friends, play games, attend events or meet new people for example.
Frequently asked questions about VRChat for PC
Is VRChat free on PC?
Yes, VRChat is a free-to-play multiplayer game on Windows PC.
Where can I get VRChat on PC?
You can download VRChat on Windows PC from Steam.
What kind of PC do I need for VRChat for PC?
You need at least an Intel 8-core or AMD Ryzen processor and a minimum RAM of 4 GB to play this game on your computer.
Does VRChat for PC cost money?
VRChat does not cost any money to download and play the game but the subscription-based tool VRChat Plus which comes with additional features would cost you $9.99 a month.
Can I play VRChat on my phone?
Unfortunately, there is no mobile version of VRChat available at the moment.
Can you play VRChat for PC without Steam?
Yes, you can play VRChat without Steam if you have Oculus or Quest 2 headset.
VRChat for PC – Is it Possible?
VRChat is one of the most popular free-to-play VR games that offers a lots of virtual social experiences. Downloading this game is really simple, all you need to do is to go to Steam and search for VRChat to install the game. If you own a VR Headset, you can play the game on Oculus Quest and HTC Vive.