An exciting introduction to the security and surveillance field, Wyze app for PC is the next level of security support as it's a monitoring app that let you access video records for all the cameras installed in your home or office up to 1080p. Wyze can now be accessed on Windows as an android-based app. In this article we will show you how to download and install this application on Windows or MacOS.
Name
Wyze Camera
Developer
Wyze Labs Inc.
Year of Launch
2017
File Size
487 Mo
Supported OS
Android | iOS
Category
Security
License
Free
In-App Purchases
View the listCam Plus Monthly (1 device) | $1.99
Cam Protect Monthly 1 Device | $3.99
Cam Plus Monthly (2 devices) | $3.99
Cam Plus Monthly (3 devices) | $5.99
Cam Plus Monthly (4 devices) | $7.99
Cam Plus Monthly (5 devices) | $9.99
Cam Plus Monthly Unlimited | $12.99
Cam Plus Annual (1 device) | $19.99
Cam Plus Annual (2 devices) | $39.99
Cam Plus Annual (3 devices) | $59.99
Language(s)
English | Japanese | Simplified Chinese | Spanish
Store(s)
Google Play Store | App Store
Official Website
www.wyze.com
Rating
Features of Wyze app for PC
Below are some essential features of the Wyze Camera app that you must consider when choosing a camera recorder surveillance application for your Windows PC.
Wyze have an intuitive user interface and is easy-to-use software.
With a fantastic video quality, this app is known for two-way audio options, eight times zooming ability and a sharp night vision feature.
You can live stream the camera recordings on your device. It let you record and store video on a cloud.
The app's cam have a motion detector option and innovative sound recognition capability.
You can sort the video recordings in the app by date and look for any footage using the search option.
Have a two-factor authentication, reducing the chances of anyone else accessing the app without your permission to zero.
Download and install Wyze app using BlueStacks (APK method)
The first option to download and install Wyze on your computer is through the BlueStacks emulator. BlueStacks is considered as one of the bests Android emulators, providing an excellent experience on Windows.
Follow the steps below to install the Wize APK file on your computer:
Download and install BlueStacks from the official website.
Download Wyze APK file from any trusted source.
Right Click on the Wyze Cam app APK file and open it with the

BlueStacks APK Handler

.
The APK file will install the Wyze Cam app on your computer.
Click it to start using the Wyze Cam app for Windows.
Once the APK file has been installed, you can use the Wyze Cam app using BlueStacks.
Install Wyze app for PC using NoxPlayer
NoxPlayer is considered as a good Android emulator for Windows and MacOS and is a free software giving a great gaming experience on computer.
You can use NoxPlayer to download and install Wyze on Windows by following the steps below:
Go to the official website of NoxPlayer emulator to download and install the software on your PC.
After the emulator has been installed successfully, the next step is to look for the Wyze.
Click on the NoxPlayer software icon. On the home screen, you will find Google Play Store.
Go to Google Play Store and search for the Wyze.
Once you find the right app (with the developer's name Wyze Labs), click on

Install

.
The app will be installed on your computer with NoxPlayer.
You can now access the app directly on your desktop.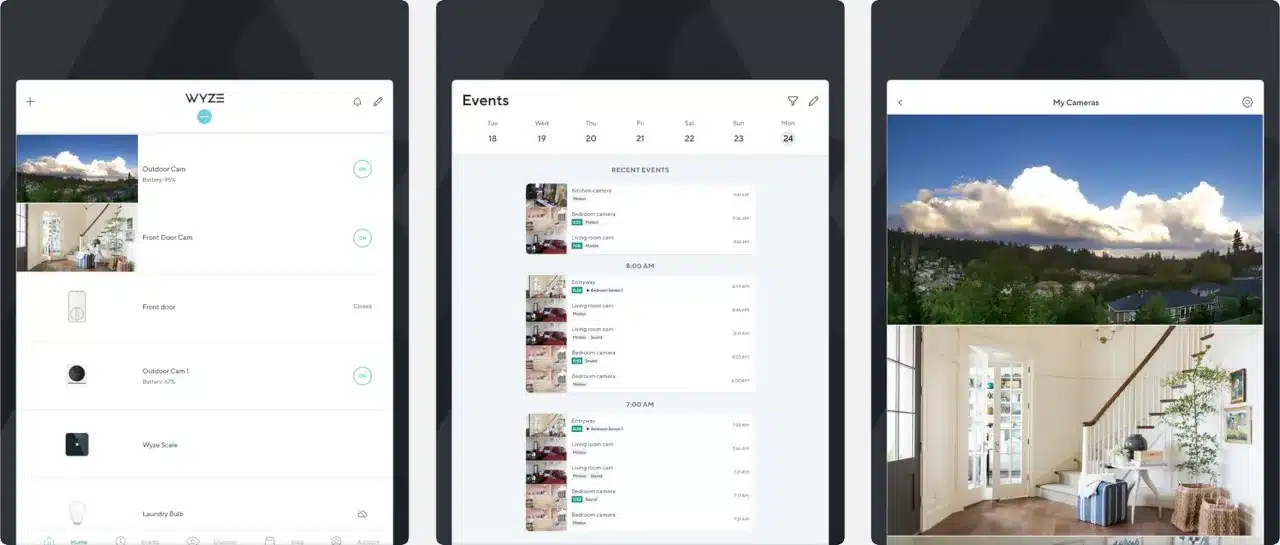 Alternatives to Wyze app for PC Windows
Nest Thermostat
The Nest Thermostat app is the first one on the list of alternatives for Wyze. Developed by Nest Labs, the Nest Thermostat uses sensors and algorithms, including your phone's location, to change the settings to turn off the air conditioning in the room and switch on the cameras when you leave the room. The Thermostat app also helps save energy this way. You can also change the temperature anywhere in the designated area with the app's help. It also lets you rearrange your schedule. The app is helpful if there is an extreme change in the temperature, allowing you to change the settings immediately.
The next one up is the Ooma Smart Cam. An intuitive, wireless intelligent security camera, Ooma Smart Cam allows you to maintain vigilance over all your prized possessions. The app also allow you to set the preference per your comfort, create customized alerts and keep close surveillance on the desired space in an HD video format.
Below are some crucial features of the Ooma Smart Cam:
This app's Activity Based Recording feature helps you save time, energy and money.
You can access highlight videos of everything you need to know without going through an entire day's footage.
The app supports combined analytics with processing strength for delivering the desired notifications.
You can also avoid any false alarms that generally occur with a simple movement in the room.
With the option for facial recognition, you can use this app to see all persons moving in and out of the space and create an intelligent alert accordingly.
To avoid false alarms, you can customize your alerts to recognize your family, friends and pets.
Overall, Ooma Smart Cam is a unique software that allows you to make choices and customize the features per your requirements.
The last alternative on our list is Logitech offering the Logitech Arx Control. Best known for offering an extraordinary gaming experience, this app offers you display details within the game and crucial stats on the go.  Logitech Arx Control offer remote access to media settings and visibility of all installed games on your PC. You can also check your computer's performance using your mobile device.
Hik-connect is designed to work with Hikvision series DVRs, NVRs and IP cameras which support Cloud P2P function. It allows you to live view your cameras remotely. All you need to do is creating an account and adding device into the account, then you can enjoy the real-time video from cameras on a global scale.
Frequently asked questions about Wyze app for PC
Why use Wyze app for PC?
Wyze Camera is an excellent way to check the security around your work or home surroundings. The app lets you watch all areas through a single screen. With its fantastic video quality, you can safely consider this app to install on your PC using one of the Android emulators mentioned in the methods above.
How do I download the WYZE Camera to my computer?
To download Wyze Camera on your computer, follow the steps below:
Firstly, you have to download Wyze and rename the file.
Now, download the Firmware file for Windows or Mac.
Now generate an RTSP URL.
After this, open Wyze on your Android device and select the

Settings

option.
Select the

Live View

option.
Can you view WYZE app for PC Cam online?
You can easily access the Wyze cam online using the Wyze Web View site. This site lets you live stream and do Event Playbacks using a web browser. You don't need to download anything on your PC to see it from a Windows, Mac or Smart TV.
What app do you use for the Wyze camera?
You can use the Wyze camera on your PC with the help of an Android emulator such as BlueStacks, NoxPlayer or MEmu Play.
Can you use WYZE app for PC Cam without an app?
Yes, you can use the Wyze cam without installing the app. You can do this by accessing the Wyze Web View directly but you have to purchase a Cam Plus or Cam Plus Pro license to view the camera.
Is the WYZE Camera V3 app free?
The Wyze camera V3 is free for the first month. After that, you must pay a subscription fee of $1.99/month.
Can I download the Wyze Camera App on Windows 11?
Yes, you can use it on your Windows 11. The process to install it is the same as mentioned above with an emulator such as BlueStacks or MEmu Play. The only thing you have to do once the installation is finished with Windows 11, is to right-click on the icon application and select Run as Administrator.