MultCloud for PC is a service that allows you to consolidate all your cloud storage accounts in one place. Clearly, this means that instead of opening as many web pages as there are cloud accounts, you open a single one that allows you to manage all your spaces (file, folder, etc.) and to synchronize them. You will not have to install anything on your computer since MultCloud is a web application. This means that all you need is a simple internet browser to access it and a connection.
| | | | |
| --- | --- | --- | --- |
| Name | MultCloud | Year of Launch | 2012 |
| File Size | 8.36Ko | Supported OS | Browser extension |
| Category | Online Storage | Language(s) | English |
| Official Website | www.multcloud.com | Rating | |
Thus the service is compatible with all systems (Windows, Mac, Linux, etc.). There is no mobile application, but you can always open the service from the browser of your smartphone or tablet. For Google Chrome users, there is an extension to download. Browsing is secure and transfers are encrypted, account usage alerts are provided to raise your awareness. Note that the service is completely free. More than thirty Cloud storage services are supported: Dropbox, OneDrive, Google Drive, Evernote, Flickr and many others.
Why use MultCloud for PC?
Cloud and FTP Explorer
When you open MultCloud you are in your cloud explorer. From this explorer you can manage your different accounts as if they were folders on the same computer. A single interface allows you to see all your files. This means that you will be able to search for a file, on all your accounts at the same time! Ideal if you do not remember on which it is recorded! But that's not all ! Indeed, thanks to MultCloud you can also manage your FTP accounts, and make transfers between FTP and Cloud accounts.
Transfers, backups and synchronizations
Thanks to MultCloud you can make direct file or folder transfers between each of your cloud storages, between your FTP storages and between cloud and FTP. To do this, you just have to copy and paste them directly from the explorer. No need to download them first on your PC before re-transferring them, the transfer is done in one step! Backup is faster.
This type of transfer is already very interesting, but how about pushing the technique a little further? MultCloud allows you to set up complete synchronization protocols from one cloud to another! You can even program them! An e-mail informs you of the end of the transfer. This scheduling system also allows you to schedule transfers either at a specific time or at regular intervals. To go even further, you can filter the type of files to transfer or synchronize according to their extension!
Note that transfers between clouds can be done even if you are not logged into your MultCloud account, since everything happens online. Transfer tasks are managed directly from the settings table.
Security
Multcloud protects your data with 256-bit AES encryption for data transfer. In addition, no information is recorded by Multcloud, whether it is your passwords or the data you transfer. Indeed for your connection to your cloud services, Multcloud uses the authentication system called OAuth, which means that your cloud applications connect to Multcloud and not the other way around.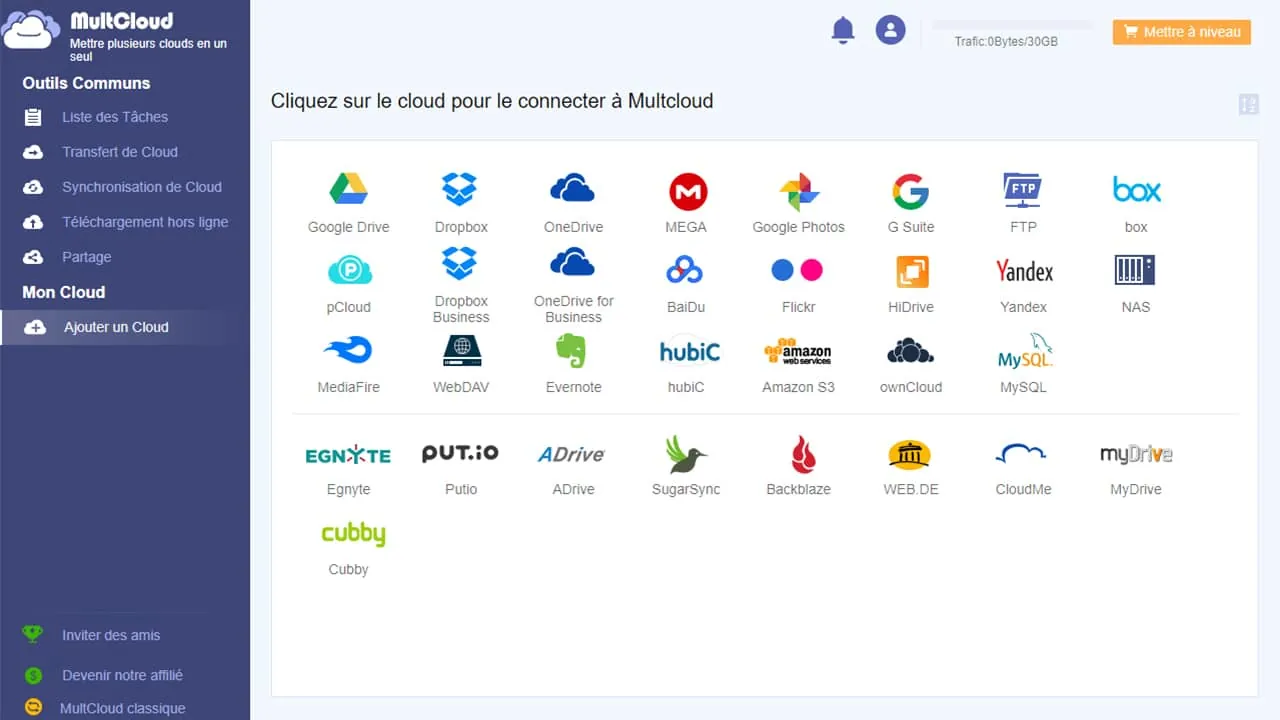 What's new in the latest version of MultCloud for PC?
Multcloud developers are continuously working to improve your experience. They also do the necessary to regularly add new cloud services to the list of those supported by MultCloud. About thirty services are already recognized: DropBox, Box, Amazon S3, WebDav, Google Drive, OneDrive, SugarSync, FTP/SFTP, Copy, pCloud, CloudMe, Cubby, MyDrive, WEB.DE, Yandex, HiDrive, BaiDu, MediaFire, OwnCloud, Alfresco, Adrive, Flickr, Hubic, My SQL, Evernote, MEGA, DropBox for Business, OneDrive for Business, Egnyte.
Which OS is MultCloud for PC compatible with?
Multcloud is cross-platform for desktop.
You can therefore download it for Windows, Linux or Mac.
In addition, thanks to its online service, you can access it from anywhere with a simple internet browser.
And for Google Chrome users there is also an extension that you can install on your browser.
Alternatives to MultCloud for PC
First of all AnyTrans, which has the merit of also offering mobile applications for Android and iOS, in addition to Windows and Mac, and an online service. AnyTrans does not only manage the cloud, since it also allows you to transfer content from a mobile to a desktop computer (via WiFi).
Then there is Odrive. More than just a cloud space manager, Odrive allows you to set up synchronizations to all your cloud folders, with amazing simplicity. In fact, you manage your files as if they were files on your computer! Like Multcloud it supports many cloud services.
Cyberduck is an open source FTP client that makes it easy to send and receive files on an FTP server. Available on macOS and Windows, the software also supports SFTP, WebDAV, Amazon S3, Google Cloud Storage, Rackspace Cloud Storage and more.
3uTools makes it so easy to manage apps, photos, music, ringtones, videos and other multimedia files. Fully view iOS device's different statuses, including activation, jailbreak, battery and iCloud lock statuses, as well as detailed iOS & iDevice information.
Conclusion
MultCloud is a good solution to easily manage all your online accounts. Many tutorials (including in French) are available on their site to help you use the service to 100% of its capabilities. It's accessible for free with a few small restrictions: data transfer limited to 30GB per month, no synchronization schedule, no synchronization filters, no encryption for uploading. For those who wish to benefit from all the features, there are several monthly subscriptions.